AMDL, Inc. (ADL) reported that its China subsidiary, Jade Pharmaceutical, signed on Heze Mudan Medicals Co. Ltd. to distribute Jade's Domperidone tablets, a drug used to treat nausea and vomiting. Jade's generic version of Domperidone is less expensive than its competitors. The agreement covers the Province of Shangdong, one of the more affluent regions in China.
Heze Mudan has promised to provide a minimum level of revenue, and Jade said it expects the arrangement to add at least $2.3 million annually to sales. In the second quarter of 2007, AMDL had revenues of just $2.4 million ($800,000 per month), so the additional $2.3 million annually is significant to the company.
Even without the new distribution deal, AMDL is growing quickly. The $2.4 million second quarter was a 69% improvement over the first quarter of 2007. Frank Zheng, managing director of Jade Pharmaceutical, expects the company to book $24 million in sales during the coming 12 months. Gary Dreher, CEO of AMDL, said he expects annual sales to hit a level of $100 million in the next four to five years.
AMDL has 12.6 million shares outstanding. At its present share price of $4.33, the company has a market capitalization of $54.5 million. AMDL is headquartered in Tustin, California. The operations of Jade, which AMDL acquired in September 2006, are in Shenzhen, Jiangxi and Jilin, China. Jade manufactures 107 generic, over the counter and supplemental pharmaceutical products under certified Chinese Good Manufacturing Practice [CGMP] standards.
ADL 1-yr chart: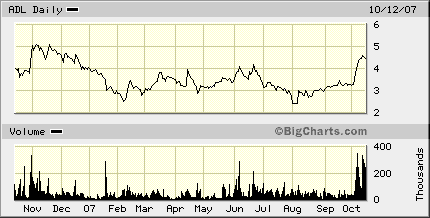 Disclosure: none.