With the recent liquidity crisis in the subprime market, the formerly red hot housing sector has finally started to cool off. Home equity loans are costing significantly more now and future home price appreciation expectations are finally getting back to reality. These factors have caused investors and shoppers to curtail their demand for home improvement retailers.
Home Depot (NYSE:HD) and Lowe's (NYSE:LOW) dominate the home improvement retail sector. Both of these stocks are trading close to their 52-week lows. Interest in these stocks started to pick up on Value Investing News, so I started a poll on September 26th to find out which of these leading home improvement stocks provides a better value.
Here are the results: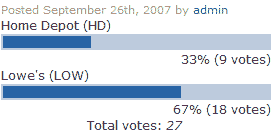 Two-thirds of the value investors that took this poll found Lowe's to be a better value. Surprisingly, only 9 out of the 27 poll takers thought Home Depot's stock provided a better value.
I actually voted for Home Depot even though I really don't like Home Depot as a consumer. Home Depot has a lower P/E, P/B, and P/S ratio than Lowe's. I compared those ratios and more in the table below: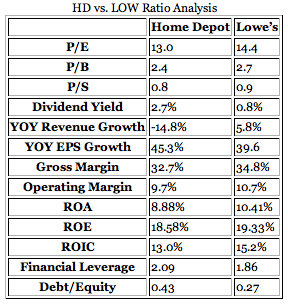 Looking at these key ratios, it is still too close call which of these two home improvement retailer stocks is a better value. On the one hand, Home Depot is cheaper relative to its current revenue and earnings, and it has a much more generous dividend yield. Lowe's has better margins, growth rates, and lower debt. Either way, I'd still like to see both of these stocks get cheaper before investing.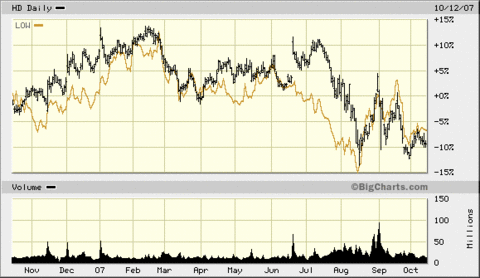 Looking at these ratios, which of these two stocks is the better value and why? Share your thoughts in the comments section below.
Full Disclosure: I do not own shares of Home Depot or Lowe's.