NovaGold Resources (NYSEMKT:NG) engages in the exploration and development of gold and other precious mineral properties in Alaska and Western Canada. The company has both solely owned properties and joint ventures as well as sales of sand, gravel, and land. Despite having limited mining operations, NovaGold has little debt because of the aforementioned activities. These non-core activities allowed the company to cover overhead expenses when gold prices were half of what they are now. NovaGold does have operations in Nome, Alaska that have provided steady cash flow since being acquired in 1999. In addition to these operations, they have initiated the building of mining infrastructure in three key sites.
1) Rock Creek / Big Hurrah Nome Gold - 100% interest
Initiated Construction - August 2006
Expects Commercial Production Q1 2008
100,000 ounce 5 years+
2) Donlin Creek - 70% interest
One of the world's largest gold deposit sites
Barrick (NYSE:ABX) owns 30%
3) Galore Creek - 50% interest
Joint Venture with Teck Cominco
***Ambler - 51% interest - Option of a Joint Venture with Rio Tinto.
Total Gold: 25.1 million ounces

Total Silver: 181.5 million ounces

Total Copper: 13.4 billion pounds
Total Zinc: 2.2 billion pounds
NovaGold is rapidly transforming itself from a exploration/development company to an exploration and production company. Reliable revenue from gold royalties, land sales and sand and gravel operations have covered exploration and overhead costs. These revenues have also fueled ambitious and expensive exploration activities making the company debt free. More importantly, the company has 233 million in cash and has un-hedged gold reserves so its metals assets are fully leveraged to current prices. Being that precious metals are in a bull market, underlying asset value will grow with the market. NovaGold's management has done an extraordinary job of acquiring assets in historically low market periods, all the while remaining un-hedged to capitalize on future precious metal gains.
NovaGold's story gets even better from here. It's closest competitor, Barrick Gold, attempted to buy the company for $14.50 per share on July 24, 2006. Barrick Gold acquired a 12% interest in NovaGold and made a tender offer of $14.50 which was rejected by 88% of shareholders. Soon after Barrick upped its tender offer to $16.00, which was once again refused. Since the first tender offer, shares of NovaGold have likely moved from "weak hands" to "strong hands". This means the 60.50% of shares outstanding now held by institutions aren't likely to be sold to Barrick cheaply. Nor will the 12.50% of common shares held by insiders of the company. Barrick will be unable to buy the 50.1% of the Float cheaply, preventing a hostile takeover.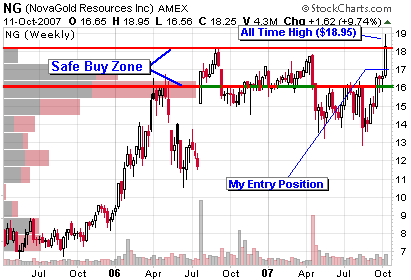 Although NovaGold didn't get a bid from Barrick high enough to seriously consider, the bid did serve a crucial purpose for shareholders. Almost a year ago the bid was rejected, meaning shareholders and management "drew a line in the sand" when dealing with the company's value. They were saying, "we won't sell you our shares because we are 100% certain our shares are worth more than $16.00." With this statement, shareholders have created a "price floor" for the stock price. NG's share price actually touched $13.00 after the buyout offer expired as a result of profit taking by short term investors. Now that share price has hurdled all the way up to $18.00, it may not see sub $16.00 levels ever again.

The company has also made significant and exciting progress since the buyout offer from Barrick. Commercial production from the Rock Creak/Nome Gold mines is expected to go live in the first quarter of 2008. Furthermore, they expect to produce 100,000 ounces of gold for a minimum of 5 years. With this initial revenue stream NovaGold will be able to fund infrastructure development for their 70% owned Donlin Creek project, which is among the world's largest gold deposit sites. As the NovaGold story unfolds, the company will likely discover other gold reserves from its exploration initiatives. Furthermore, the company will transform itself into a production company and should receive a producing company's type of multiple. All of these factors lead me to believe that NovaGold is conservatively worth $23.00 per share. If the company has successful production at the Nome and Rock Creek sites in 2008, that value would increase to $28.00 per share.

Disclosure: NovaGold is the largest holding in my portfolio at an average cost basis of $17.10 - I will be adding to my position should NG shares dip under $18.00. My soft stop has been set at $15.50.