Shares of Renren Inc (NYSE:RENN), also known as the Facebook (NASDAQ:FB) of China, have nearly doubled so far in 2012. While this move is impressive, there are three reasons why RENN will continue to rally. I also still believe that RENN has more upside than other social media stocks.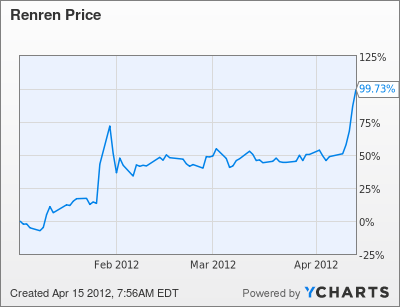 Facebook IPO
The upcoming IPO of social media giant Facebook is bullish for RENN because it alters the valuation of the whole sector. With estimates for the value of FB currently around $100 billion, RENN should easily be worth more than the current $2.8 billion. While RENN is not as big as FB, it certainly has more room to grow as Chinese social media growth is much stronger than social media growth in developed nations where FB operates.
Partnerships
RENN has recently announced a few interesting partnerships. RENN will partner with Intel (INTC) to provide users with a more secure network. RENN also announced a partnership with Japan's food photo app Snap Dish. RENN is also said to be in discussion with Angry Birds about bringing the App to China. I believe that these deals indicate RENN is willing to work with other companies as needed. RENN could easily open itself up to a partnership with major U.S. companies looking to have a stake in the Chinese social media market. Needless to say, any such deal would be a major positive for RENN.
Cash
RENN has $1.04 billion or $2.65 per share in net cash. This cash could be used in a few different ways to boost the stock. One potential use for RENN's cash is to increase the share buyback or start paying a dividend. However, I believe it is more likely that RENN uses its cash to acquire other smaller social media companies in China. Arguably, this could be more beneficial for share holders than an increase in the buy back or initiation of a dividend. Smart acquisitions would likely set the company up for a stronger hold on the Chinese social media market place.
Conclusion
While RENN has had a massive run so far in 2012, it remains likely that the stock will continue to rise. The Facebook IPO, flurry of partnerships and cash point to a higher stock price.
Disclosure: I have no positions in any stocks mentioned, and no plans to initiate any positions within the next 72 hours.