It's been almost two months since NovaStar Financial (NFI) filed a prospectus for its third securitization of 2007, NovaStar Mortgage Funding Trust 2007-3, but in that time frame, it seems that little progress has been made towards closing the $548 million deal.
It's not as if NovaStar couldn't use the cash; they are required to repay $30 million in advances on a Servicing Rights Facility with Wachovia (NASDAQ:WB) by October 18th. The securitization market for RMBS remains absolutely frozen, as only Thornburg (TMA) has completed a deal since August. Even then, Thornburg admitted that most of the MBS went to one buyer.
Looking at the underlying collateral of NovaStar's NMFT 2007-3 deal, however, there seems to be no reason why this deal can't get done. 92.4% of the loans are conforming, 62.8% of them have private mortgage insurance, and the collateral is geographically diverse, with the only concentrations being in Florida (20%), California (11%), and Texas (8%). The weighted average coupon in the aggregate is an impressive 8.86%.
Let's hope NovaStar can close this deal soon and raise some much-needed cash. Otherwise, we might be looking at another victim of the credit crunch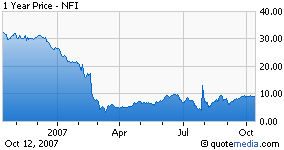 Disclosure: none