Over the last few months, shares of YPF Sociedad Anonima (YPF) have been getting taken to the woodshed over political rumblings regarding potential nationalization (in the last week, the beatings have accelerated).
Sunday we read (on Bloomberg) that:
Argentina's government has decided to postpone a planned state takeover of YPF SA (YPFD), the country's largest oil company, La Nacion reported.

The government of President Cristina Fernandez de Kirchner will wait until she returns from the Summit of the Americas to make an announcement and will negotiate with the parties involved, the Buenos Aires-based newspaper said, citing unidentified people within the government.
On Thursday of last week we saw the following from Dow Jones Newswire via Fox:
Argentina's President, Cristina Kirchner, has sent legislation to Congress that would allow the government to take a controlling stake in the country's largest oil and gas producer, YPF SA (YPF, YPFD.BA), at the expense of its two largest shareholders, newspaper Clarin reported Thursday.

The bill would declare 50.01% of YPF's D class shares of "public interest" and subject to expropriation with compensation to be determined by a special tribunal and the Energy Secretariat, Clarin said, citing the legislation.

The newspaper said that Argentina's Eskenazi family, which owns 25.5% of the company through its Grupo Petersen holding, would be forced to give up 100 million of its class D shares.

Spain's Repsol YPF SA (REP.MC, REPYY)--YPF's largest shareholder with a 57.4% stake--would have to cede 96.6 million shares, Clarin said.
So it looks like the pain is going to be levied on the Eskenazi Family and Repsol. Interestingly, it appears that they could both be sharing the pain equally although their respective stakes in the company are anything but equal.
As you would expect, the market has not been kind to the company given the speculation: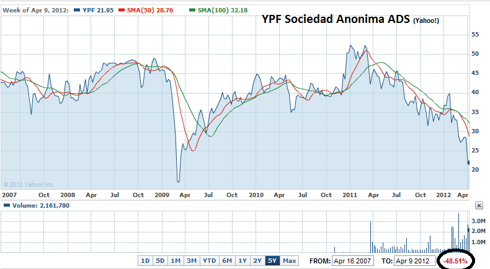 With this sell-off, the equity of the company has the following characteristics [with comparisons to peers Repsol YPF SA (OTCQX:REPYY), Petroleo Brasileiro SA (PBR) and Total SA (TOT)]:
| | | | | |
| --- | --- | --- | --- | --- |
| Metric | YPF | Repsol YPF | Petroleo Brasileiro | Total S.A. |
| Price | $21.95 | $22.78 | $24.50 | $47.77 |
| 52 Week Range | $20.71 - $46.60 | $22.60 - $36.35 | $20.76 - $38.42 | $40.00 - $64.44 |
| Market Capitalization | $8.6B | $27.8B | $159B | $107B |
| Dividend Yield | 15.46% | 6.63% | 4.36% | 6.33% |
| Price/Earnings Ratio | 8.83x | 9.71x | 7.94x | 6.72x |
| Enterprise Value / EBITDA | 4.14x | 4.89x | 6.31x | 3.19x |
| ROE | 25.51% | 9.20% | 11.18% | 19.1% |
| Price / Book | 2.49x | 0.91x | 0.91x | 1.20x |
The above table will give little comfort to the Grahamists among us as the price is still 2.5x book, but the stock has traded well off its highs (sitting near its lows currently), has an impressive ROE and potentially decent upside when this is settled.
Other financial facts:
In 2011 the reserve replacement ratio was 113%, which is higher than the level reached in 2010, which was 84%. Moreover, it is important to highlight that in 2011 the oil replacement ratio was 169%, which is higher than the 100% reached in 2010.
Operating income was ARS 1,459 million in the fourth quarter of 2011, 21.9% lower than in the same period of 2010. This drop was mainly due to higher purchases and operating costs, which proportionally outpaced the higher income of the quarter.
Cumulative operating income in Upstream throughout 2011 was ARS 4,977 million, 19.9% lower than in the same period of 2010. This downturn was mainly driven by: a fall in crude oil production (-7.6%) due to worker strikes in the second quarter of 2011; lower natural gas production (-10.2%) as a consequence of the natural decline of the fields; higher operating costs and exploration expenses. Higher revenues resulting from price adjustments in crude oil and gas have not offset the negative effects mentioned above.
Operationally, the company has been doing well, although operating income was affected by having higher purchase volumes as a result of a supply disruption in Santa Cruz and Chubut (those Provinces that most recently revoked concessions). A brief snapshot of 2011 operations is:

From the above table, we can see that the company has been replacing reserves at the bit, rather than buying them - a characteristic that, in my opinion, is very favorable.
Never count your chickens before they're hatched:
Some looking at the company's dividend yield might be inclined to buy the fattest yield in the big boy oil patch. But wait, YPF announced (emphasis mine):
the Board of Directors of the Company, at its meeting held on March 21, 2012, approved by majority to make the recommendation set forth below to the General Ordinary Shareholders' Meeting that will evaluate the accounting documentation corresponding to Fiscal Year N° 35, ended December 31, 2011, concerning the distribution of profits:

(i) to transfer the 1,057 million pesos which is currently included in the line item 'Reserve for future dividends', which was not used, to 'Unappropriated retained earnings', which together with the earnings of the fiscal year, add up to a total amount of 6,353 million pesos; (ii) carry out a capital increase in the amount of 5,789 million pesos, which represents approximately 91.125% of such total; (

iii

) to assign the amount of 299 million pesos to meet the restriction imposed by the CNV regulation concerning the distribution of profits in connection with deferred negative earnings; and (iv) to assign the amount of 265 million pesos, which represents 5% of the fiscal year earnings, to partially meet the increase in the legal reserve which will be required when such capital increase is carried out.

Through this important capital increase, the Board of Directors proposes its shareholders to enter into a new commitment with the Company. This effort adequately responds to the situation in which the Company is developing its activities and projects and allows it to maintain the high level of investments and undertakings of the last few years.
Ok, we have seen that Argentina is leaning on YPF, a decent company with strong skills in finding and developing reserves. So what stands in the way of Argentina "buying in" 50.1% of YPF's stock? Conceptually, as a sovereign, not much. But then, politics are politics.
Spain leans on Argentina:
One has to keep in mind, however, that Spain's flag carrying oil company, Repsol, stands to lose value should a "nationalization" occur. Naturally, this company is important and held in high regard in Spain. As a result, the Spanish are pursuing diplomatic means of mitigating the event.
From Dow Jones:
Spain moved Friday to exert diplomatic pressure on Argentina amid continued uncertainty over the Latin American nation's plans for the local unit of Repsol YPF SA (REP.MC), Spain's flagship oil company.

Jose Manuel Garcia-Margallo, Spain's foreign minister, on Friday called Carlos Bettini, the Argentine ambassador, to a meeting where he reinforced Repsol's importance to the Spanish state. At a subsequent press conference, Garcia-Margallo said his government is in daily touch with Argentina on the situation, and said that while Spain wanted dialogue, it was also studying possible measures to be adopted in the event of any intervention.

Were Argentina to forcefully injure Spanish business interests, it will prompt some kind of response, Energy Minister Jose Manuel Soria indicated prior to Kirchner's speech Thursday. Any hostile gestures toward Spanish companies will also be considered "hostility toward Spain and the government of Spain," he said, adding that such actions would have "consequences."
Okay, the heat is on, the political saber rattling and tug of war is in place. There are two primary outcomes that I see ocurring with this situation:
Argentina takes control of 50.1% of the company for effective control and the ability to increase expenditures on exploration within the country,
Spanish diplomatic efforts to have Repsol continue with control of the company succeed although concessions will have to be made to increase exploration, production and development within the country
Either way, the outcome is increased capital expenditures.
Bottom line: The stock is off significantly, which represents value in one sense of the word (P/B notwithstanding) as it should recover some of its market capitalization when this issue is behind them. This could, however, take some time. That said, I do not see too much more downside in the stock as the news (and worst case sell off) is out there.
The increased capital expenditures are a concern as a dividend cut will not cover the increased capital expenditures. I would expect that the company will reduce its dividend, cut expenses and borrow more money to fund increased finding and development costs. Short-term, I see a trading buy, longer-term, I see reduced results for the company.
Disclosure: I have no positions in any stocks mentioned, and no plans to initiate any positions within the next 72 hours.