Apple (AAPL) has started off 2012 with a bang as it rapidly surged from $400 to $600 in mere weeks. I have recommended option strategies for Apple since 2010 with tremendous results (remember past results do not guarantee future results). For reference, please view the first and other articles in the series to fully understand the strategy and its strong potential returns. I perform a weekly analysis of Apple's stock, options, recent news, and competitive analysis. In essence the investment objective is to capitalize on Apple's volatility by selling out-of-the-money options to generate weekly income without sacrificing long-term returns.

(Source: Yahoo Finance)
A brief recap of this week in Apple [Down $20.90 (-3.3%)]:
New iPad U.S. Traffic as Percent of Total iPad Traffic: 9.99% (Down .69%)
Apple suffered its worst week of 2012 by a significant margin as the 3.3% decline was the largest since the week of January 20 when it slid 1.3%. In that time frame Apple has risen from $420 to over $600 so a pullback was inevitable. The selling this week likely relates to concerns over the Department of Justice eBook suit more than anything else. This is puzzling because there has been discussion about this action for months and this relates to a small, albeit growing, aspect of Apple's operations.
One company that does stand to benefit is Amazon (AMZN) as any perceived weakness by Apple in this competitive space could shift the balance of power to Amazon. As you know, eBooks are far more important to Amazon as they are to Apple. Essentially, I consider the sell-off merely investors 'looking for a reason to sell' as they were likely sitting on significant unrealized gains and wanted to lock in profits.
On Friday afternoon I was watching the live Level II quotes and what I saw gave me confidence that Apple will rebound this week. The bid-ask for the full last ten minutes of trading was indicative of frantic panic selling. Apple usually has a tight bid-ask due to the volume traded but it was frequently .10 or more versus .01 in "normal" trading.
Whenever Apple declines significantly I receive numerous queries as to why and this Friday was no different. I predicted last week that Apple would stall on its way to 720 and here is an excellent opportunity for investors to take advantage of the $30 weekly pullback from Tuesday's all-time high. I respectfully disagree with Regarded Solutions that the decline will continue into next week.
My educated guess as to why Apple dropped so precipitously was that investors were worried about the scary US Government targeting Apple, panicked, and continued to sell. Investors will return to their desks on Monday after a beautiful April weekend, see Apple down around $600, remember that it reports earnings in one week (if you recall this is the first quarter with new iPad sales baked in), and accumulate shares once again after the mini-correction. Aside from the DoJ suit the news for Apple was on the positive side and I wholeheartedly believe that Apple will be higher after reporting earnings in eight days.
Below I present three possible scenarios and the potential returns for the Apple options. The first scenario represents a negative outlook for Apple while the final two scenarios are more reasonable. These scenarios are just projections and there is no guarantee that they will come to fruition. Even if you are optimistic it is important to generate both positive and negative circumstances in order to stress your assumptions. As a general rule, selling calls with higher strike prices has greater potential return but additional risk of loss due to the lower (or lack of) downside protection. For more information on the fundamentals of covered calls, consult Investopedia.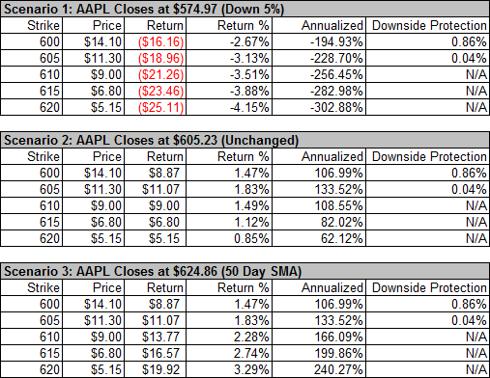 Additionally, if you would like even more information, I have prepared a sensitivity analysis for absolute return and percent returns, respectively. After studying the information above, these two charts make it easy to pick a strike price based on where you believe Apple will close at the end of the week. Estimate where you believe Apple will close and select the strike price with the highest return.

With this information, executing a buy-write on AAPL April 21 (Monthly) 620s is the optimal risk-return strategy. This makes for an excellent trade if you are currently not long Apple; however, if you are a long-term Apple investor I would exercise restraint. Apple was down $15 alone on Friday and it would be more logical to wait for Apple to rebound before selling calls.
Please consult with your accountant or personal financial planner. If you are uncomfortable with this strategy I suggest a buy-write in the range of 600-625s. Even if you are extremely bullish you can still profitably sell covered calls; Apple is volatile enough that you will have opportunities to repurchase on dips. An alternative approach is to sell out-of-the-money 605 puts and collect the premium without having to purchase the stock outright. Note that if the stock declines to the strike price, you are obligated to buy the stock (or closeout the position).
Disclosure: I am long AAPL.