I have always been an investor that goes where the bargains are, even if that means buying firms that sell products that some portion of the population might have ethical objections to. As distasteful as it may be, Vice sells…..always has, always will. Here are two cheap stocks that benefit from man's desire for "entertainment" in all its forms.
Rick's Cabaret (RICK) - "Rick's Cabaret International, Inc., through its subsidiaries, owns and operates upscale adult nightclubs serving primarily businessmen and professionals in the United States. Its nightclubs offer live adult entertainment, restaurant, and bar operations". (Business Description from Yahoo Finance)
4 reasons Rick's is cheap at just under $10 a share:
The stock is cheap, at under 7 times forward earnings and selling at just 19% over book value.
Rick's has a miniscule five year projected PEG of just .2, one of the lowest I have come across recently.
Insiders are holding tight to their shares, and there has also been some small net insider buying over the past six months.
It is one of the few stocks that sells for less than 5 times operating cash flow and is increasing revenues 7% to 8% a year.
Monarch Casino & Resort (MCRI) - "Monarch Casino & Resort, Inc., through its subsidiary, Golden Road Motor Inn, Inc. owns and operates the Atlantis Casino Resort Spa, a hotel/casino facility in Reno, Nevada". (Business Description from Yahoo Finance)
4 reasons MCRI is a smart value at $10 a share:
Revenues are showing solid growth. The company booked revenues of just over $140mm in FY2011, and is projected to show $166mm in sales in FY2012 and $193mm in FY2013.
The stock seems cheap at under 8 times operating cash flow, 11 times forward earnings and just 27% over book value.
For less than $172mm at current stock prices, an investor gets an 824 room hotel in Reno, 61,000 sq ft of casino space, a race & sports book, spa, and various table games and slots. This seems quite a bit under replacement value to me.
The stock has long term technical support in the $9 to $9.50 range (See Chart).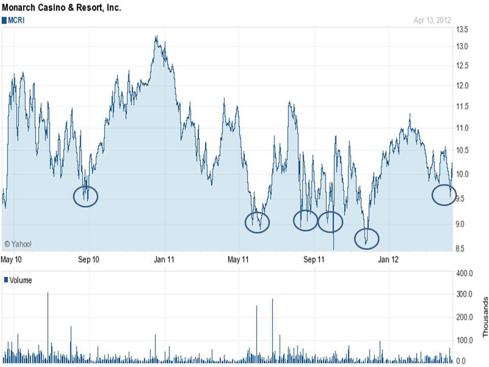 Disclosure: I have no positions in any stocks mentioned, but may initiate a long position in (RICK) over the next 72 hours.