Several important data points were released last week. The stocks started last week with a bearish outlook due to unpleasant jobs market report. While the non-farm payrolls grew by 120,000 in March, that was well-below the expected increase of 203,000. The following day, stocks showed a big disappointment, as global debt worries caused investors to liquidate their positions. A weak growth report from China added more pressure on the equity markets. The losses did not extend to Wednesday. Markets, led by financials and discretionary stocks, rallied on Wednesday. The FED's Beige Book report added more fuel to the positive outlook. Thanks to the extended lower interest hints from FED and European Central Bank, the rally gained momentum on Thursday. However, the gains on Wednesday and Thursday did not continue on the last trading day. Due to the disappointing growth data from China and the decline in consumer sentiment, stocks ended the week in negative territory.
Amidst this investing atmosphere, several stocks made it to new lows last week. A stock is usually considered oversold, when the relative strength index slides below 30. That does not mean that these stocks are dirt-cheap stocks. I would rather consider them as out-of-favor stocks, under short-term selling pressure. Investors have a tendency to panic when their stocks show a strong negative performance in a short period. Therefore, these stocks might offer good opportunities for contrarian investors. Based on the Relative Strength Index [RSI] indicator, I noticed five stocks that are being dumped by the investors. Let's see why these stocks are in the oversold territory, and whether they can be good contrarian picks after making significant losses recently.
Micron Technology (MU) - Hold
The last year has been a tough one for most semiconductor producers, including Micron Technology. The company's market cap was slashed by 35% in the last 12 months. The stock has shown some positive movement, making it to as high as $9 in this year, but it could not resist the sell-off pressure. By the end of this week, Micron traded at $6.96, after losing 8.30% throughout the week.
Micron Technology is one of the largest semiconductor companies in the world. In the last year, it generated revenues of $8.48 billion. However, the sales did not turn into profits, as Micron reported a loss of $471 million. While sales increased at double-digit rates, the profits show an extremely volatile profile. The forward P/E ratio of 10.88 implies an expected profit of around $700 million in this year. Analysts also expect double-digit growth for the next 5 years. If their estimates hold, Micron could be an outperformer. However, even after the recent sell-off, the stock is currently trading almost 75% above its 52-week low. Therefore, I rate it as a "hold."
Nokia (NOK) - Speculative Buy
Nokia is one of my favorite companies. My first cell phone was a Nokia 5110 which was running on simple software with quality hardware. Nokia still makes world's highest quality talking machines, but their products could not match with the consumer needs. The lagging technology in Nokia's software became a serious concern, as Android-based and iOS-based smart phones dominated this industry. While Nokia used to be a huge cash-cow, the company started losing money. It generated sales of $50.50 billion in last year, but reported net loss of -$1.5 billion. The stock lost 16% in this year alone.
After losing more than half of its market cap, Nokia fell into extremely oversold territory. I think Nokia is one of the cheapest stocks in the market. The stock got even cheaper due to the recent sell-off. Mr. Market gives Nokia a valuation of $15.4 billion, which is 70% lower than the pre-crises valuation. Surely, there is a lot going on in Europe, and European stocks have been badly punished in 2011. However, Microsoft's (MSFT) strategic alliance with Nokia has yet to bear any fruit. Recent reports suggest that Windows-based Nokia Lumia phones are already shaking the smart phone sales. According to the majority of Amazon.com (AMZN) customers, the Lumia 900 4G phone feels better than iOS and Android-based smartphones. Apparently, customers are very satisfied with their purchases. I think this alliance could prove to be highly profitable in the long-term. Therefore, I rate Nokia a speculative buy.
Enerplus Corporation (ERF) - Buy
Enerplus is among the most respected drillers in Canada. Established in 1986, the Calgary-headquartered company is primarily engaged in the exploration and development of crude oil and natural gas reserves in North America. As of the last quarter, it had 322 million barrels of oil equivalents (MMBOE) in proved and probable reserves. Since reaching its peak of $30 in early June, Enerplus keeps going down. The stock lost 24% this year alone. The annual return of -34% has significantly lagged broad market indices.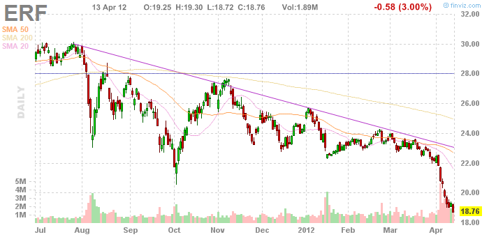 (Source:Finviz)
I think Canadian oil companies have substantial upside potential in the long-term. After all, Canada has vast amounts of natural resources yet to be explored. The country is rich in oil and natural gas reserves, as well as precious and essential commodities. According to the country's official statistics, revenue from natural resources constitutes more than 11% of Canada's GDP.
Enerplus looks like a good deal after the recent sell-off. The price to earnings ratio of 29.8 is above my fair value estimates, but it has other attractive ratios. The P/B, P/S, and P/CF ratios stand at 1.1, 2.4, and 5.3. Morningstar suggests a 4-star rating for this company, which I believe is well deserved. It also pays substantial dividends. The operating cash flow is more than enough to cover the dividends. Therefore, I rate Enerplus as a buy.
Sandisk Corporation (SNDK) - Buy
Sandisk is primarily engaged in the semiconductor and memory chip business. Established in 1988, the California-headquartered Sandisk is one of the world's most popular brand names in the USB flash drive business. The company also provides high-capacity storage solutions, which are widely used in mobile phones, consumer electronics, and also portable computers.
Technology stocks are among the cheapest stocks in the market, and Sandisk is no exception. The stock is trading at attractive trailing and forward P/E ratio of 10.18, and 8.48. The price to cash flow ratio of 11.58 suggests a large margin of safety. Analysts expect an earnings growth estimate of 16% for the next 5 years. If their estimates hold, Sandisk could substantially outperform the market. The stock looks like a cheap deal with significant upside potential. Therefore, I rate it as a buy.
France Telecom (FTE) - Buy
France Telecom is one of the largest telecommunication providers in the world. While the company is headquartered in Paris, it has operations in France, Spain, Poland, United Kingdom and several other countries around the world. Sales in France account for half of the revenues, whereas the rest comes from company's international operations.
Morningstar suggests a 5-star rating for the company, claiming it as the top telecommunication choice in Europe. While there might be better alternatives to France Telecom, the company looks like a cheap deal. It is trading at a forward P/E ratio of 7.4. France Telecom supports a gross forward yield of about 13.5%. The net yield depends on individual tax circumstances.
France telecom is also trading for almost 10% discount to its book value. At the current valuations, it is priced lower than the peak-crises levels. I do not think the stock could go any lower than $13. Therefore, I rate it as a buy.
Disclosure: I have no positions in any stocks mentioned, and no plans to initiate any positions within the next 72 hours.