Here's a stock idea courtesy of money manager and Forbes columnist Ken Fisher: Brazilian wireless company Vivo Participacoes S.A. (NYSE:VIV).
In his October 15, 2007 column, Fisher wrote that this fast-growing company,
was put together in a series of mergers and looks anything but cheap with nothing but losses. But its true profit potential hasn't emerged yet. It sells at only 1.2 times trailing revenue and what I think can be 15 times next year's earnings. When fully consolidated, it will be the biggest wireless phone company in the southern hemisphere, with more than a third of Brazil's market.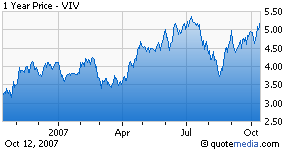 I don't know much about Vivo or the Brazilian wireless market, but this strikes me as an idea worthy of further research. Why? I like the competitive barrier large wireless companies have in terms of an economy of scale that's hard to match--especially when placed in the context of a growing economy like Brazil's. Also, Fisher claims that the stock's attraction is hard to see because history shows all losses, but the future promises to be different from the past. Hidden value could be providing the opportunity.
Morningstar analyst Allan Nichols wrote that pending acquisitions stand to return Vivo as the clear wireless leader in Brazil--a market which he calls "one of the fastest-growing wireless markets in the world . . . and still has significant growth left." And while he sees Vivo as the top wireless brand in the country, Nichols seems to be cooler on the name than Fisher, with a $5.50 fair value estimate, versus today's price of $5.18. Nichols' concerns include high capex, failure to earn cost of capital, the Brazilian economy, and competition--all of which serve as reminders for the value of doing homework before placing those buy orders.
Disclosure: at this time I have no position in Vivo Holdings.