Shares of grocery store operator Supervalu Inc (SVU) have rallied over 20% over the past five trading sessions following a better-than-expected earnings report. However, shares of SVU are still down more than 80% over the past five years. Currently, SVU has the potential for massive upside, but only if the company continues to improve its operations.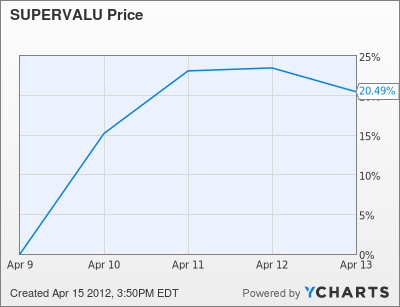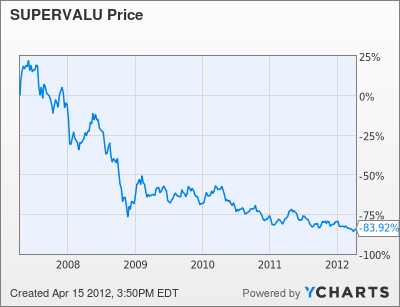 CEO Craig R. Herkert comments from the Q4 conference call:
We delivered full year adjusted earnings of $1.25 per share. We improved full year identical store sales by 300 basis points, finishing the year at negative 2.8%. We removed $165 million from our cost structure, and we strengthened our balance sheet.
SVU has done a good job of improving same-store sales. However, overall, SVU sales are down because of store closings. The $165 million in costs cuts is good, but it will take more than costs cuts for Herkert to turn around the struggling grocery store operator.
Our business transformation strategy and the 8 Plays to Win framework are helping us to redefine our value proposition. In the 12 months since we unveiled this strategy, we developed and rolled out new tools and capabilities to improve the way we run our business. We implemented hyperlocal initiatives to better match our in-store offering to the needs of the communities we serve, and we invested in price across our traditional retail network.

In our retail stores, we are now leveraging proprietary data to improve performance and create a better shopping experience for our customers. Through fiscal 2012, we deployed new reports that allow us to pinpoint out of stocks by day and by time of day so that we can take prompt corrective action and improve availability. We improved freshness and assortment in produce based on space allocation tools and we have begun to manage inventory levels better with new ordering and forecasting tools, which benefit our DSD vendors.
While SVU's efforts to be more efficient are important, it is more important that SVU improves the shopping experience for its customers. After all, it was not inefficiency that led to SVU collapse over the past five years, rather, it was a decline in the shopping experience for its customers.
Short Interest
As of the end of March (when short interest was last updated), short interest stood at just over 35% or 73 million shares. While this figure has probably gone down some over the past five days, short interest likely remain very high in SVU. The high short interest is indicative of the doubts that investors have over SVU's business plan. However, investor skepticism is also the reason SVU may have more upside. If SVU is able to pull off something of a turnaround, the short sellers will be forced to cover sending the stock to much higher levels.
Conclusion
If SVU continues to improve its business, the stock likely has major upside because of the current investor skepticism. However, if SVU fails to continue to improve the quality of its customer experience, the stock will likely fall to new lows.
Disclosure: I have no positions in any stocks mentioned, and no plans to initiate any positions within the next 72 hours.