Arm Holdings (ARMH) is a European Intellectual Property firm that designs low powered microprocessors that are used in the majority of the mobile devices around the world. ARMH is a fabless company, meaning that they do not actually manufacture their chips, but rather license their technology to companies like Apple (NASDAQ:AAPL), Qualcomm (NASDAQ:QCOM), Nvidia (NASDAQ:NVDA), Samsung and many others. Unlike other well known semiconductors such as Intel (INTC) or AMD (AMD), ARMH's two sources of revenues come from the Royalties and Licensing (R&L) fees they receive for each device that is using their low power chip technology. ARMH's stock has had a major run over the last several years, and has become another company that is priced to perfection.
ARMH's current market cap is a generous $13 billion, even though they are expecting to report total revenues of approximately $900 million for 2012, with cash generation of about $200 million. Its respectable growth of over 20% over the last few years, and banner contracts with the biggest tech names in the industry, have been applauded by investors to the point where their valuation exceeds companies that are generating nearly 10 times more profits, sales and everything in between. Investors have created enough noise from their own applause to silence the rationale that we believe makes our short argument easy to become comfortable with. Here are some of the key details as to why ARMH is one of our largest short positions.
Although we do think that ARMH has built a very nice business over the years, we believe that the market has priced in a huge $13BB premium into a billion dollar/year business because of their relationship with Apple. This relationship clearly does not yield anywhere near as much in revenues or profits as it did in additional market cap. It seems like the bulls believe that by buying into ARMH, they are getting AAPL for a discount. This couldn't be more ridiculous, as the two companies have nothing in common. In our opinion, this significant dependence on AAPL actually creates an additional risk factor for ARMH shareholders, in case they lose that entire contract, or even part of it, due to healthy competition.
While the overall fabless business model does have some cost and overhead benefits, ARMH's Royalty + Licensing fees model is completely flawed over the long run. Our research shows us that since they do not actually manufacture, package or sell their products, their business has already become commoditized, with average licensing fees per unit dropping nearly 10% per year since 2005 ($0.117 to $0.042 per unit). At this rate it would become almost worthless in just a few years. Royalties are not doing much better, dropping by a total of almost 60% per unit since 2005 ($0.099 to 0.063 per unit).

Please note that our averages may be different than the ones reported by ARMH, since licensing is a 1 time fee, while Royalties are paid per unit. We decided that calculating a weighted average for all, still delivers the points.
The relentless argument by bulls is that ARMH will sell more devices in the future. This argument may be true but is flawed for 2 reasons. First, they have already reached near capacity in the mobile phone industry by having their IP in 95% of the Smartphones. Despite the growth projections of the Smartphone industry (which we agree with), this overwhelming market share leads us to believe that there is more downside than upside for ARMH's Smartphone future. It's harder to stay at the top than to get there in the first place. Second, although rapid growth is anticipated in the rest of the mobile industry, the commodity-type business model ARMH has already established miniscule R&L fees that continue to decline. So even if they continue selling more chips per device, the margins will continue to suffer, which we believe may lead to them netting less profits for even double the sales in the next few years.
Since ARMH is fabless, they own close to nothing outside of their patents. This makes the company nothing more than a big team of (approx. 2000) very intelligent people, with patents that will depreciate in value over time as competitors get into market and make current technology obsolete. Unlike the AOLs (AOL) of the world that managed to sell their patents for a price that's nearly half their market cap, ARMH doesn't have that same option if they plan on staying in business.
European exposure is not a permanent negative catalyst, but it is a catalyst today in case the European financial crisis deteriorates. Although it may not affect their business as much as it would a European based manufacturer, a crisis can easily trigger an attack on the stock's momentum, as they would be deemed guilty by association. This was clearly shown during this past summer when the stock dropped 25% in a matter of days, before recovering partially.
Insiders have been selling this stock in the same fashion (or even more so in some cases) as our friends from GMCR. Selling part of your shares is okay, but getting rid of a stock as if it is poisonous is giving us more confidence that management at least understands the overvaluation of their own stock. With one of the company founders and president, Tudor Brown, resigning (effective 5/12), we are safely assuming that the majority of his shares will be disposed of soon. Major insider sales always remind me of a musical chair game, only now the competition has an unfair advantage. I don't want to play.
Mobile Competition is coming for the 1st time in ARMH history, from both INTC, and inevitably AMD (and possibly others). After successfully implementing their low power chip strategy, ARMH has had a clear road to rule the market, with no major company in their way. This is about to end. Say what you will about who has the better more energy efficient chip, having a business with no competition is better than one that competes with the 800lb gorilla and its 250lb nephew.
IP business has no brand recognition. A simple way to prove that is by asking yourself if you knew (or cared) that your current Smartphone was likely powered by ARMH. If you're a techie it's possible you knew, if you're everyone else, it's unlikely. This lack of brand recognition means that licensees like Qualcomm, Apple, Samsung and others will have little hesitation to use other suppliers as soon as ARMH's idea is no longer the best idea. Just the risk of that happening makes it a bad business model. At least other tech companies let you know that you're using their technology even if many users don't know what it means.
The other small player in the sector, MIPS Technologies Inc. (MIPS) has not had as much success, and was recently rumored to put themselves on sale in the market. This sale is actually as critical for ARMH shareholders as MIPS because it would not only quantify how much an acquiring company really believes the IP business model is worth, but it would also tell ARMH who else they're going to be competing with in the next couple of years. Apple, Samsung, Google or Qualcomm would not be very good.
ARMH Conclusion
Under the current business model we break down valuation into two parts: Current/Future business + Patents.
With the limited growth in Smartphones [available to ARMH] and a product price that has declined every year, we see the value of the business and its earnings power at $1.5 to $2 Billion (3.25-4.50 per share).
The main asset that ARMH has is their patents. Although this asset does represent the only reason this company even exists today, it is difficult to determine how valuable this asset will be in the future, as these patents become obsolete and are no longer "the best idea." We believe a fair valuation of those patents "today" is between $2 to $4 Billion (4.50 - 9.00 per share).
Since the first business would not exist without the patents, we believe that a fair intrinsic value for ARMH is at some middle point of approximately $10/share. The big [short] catalyst that can become a possibility with any technology company is their reaction once they lose their "best idea" status. If they do not react fast enough for the market, the value of the business then becomes only the "old" patents. A good example of the Great to Obsolete in the current market would be RIM (RIMM).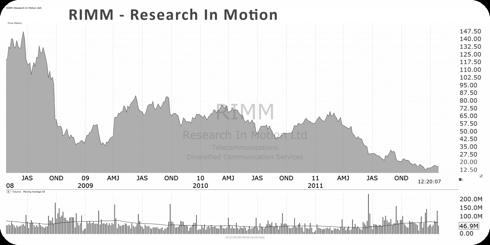 Yes, we wish we were short RIMM too! The good news is that RIMM is not the first or the last falling star in the technology world. As in the GMCR short position, we are consistently implementing derivative strategies to mitigate some of the short term risk of the stock going against us. As a side note, ARMH was also our most profitable short term trade of 2011, when we took advantage of its temporary fall from $30 to 23 this past summer.
Disclosure: I am short ARMH. By I, I'm referring to our fund. Reuven Capital Investments LP has a short position in ARMH holdings.