Seadrill Ltd (SDRL) owns and manages one of the largest fleets of offshore drilling rigs in the world. The company has grown its fleet tremendously in the last few years, growing from five rigs in 2005 to 62 rigs today. The company is showing no signs of stopping its growth anytime soon, though. This is clearly illustrated by two rig construction contracts that SeaDrill has entered into over the past few weeks.
On April 12, 2012, Seadrill announced that it exercised an option to build a new tender rig at the COSCO Nantong Shipyard in China. This rig will be christened the T18 and is scheduled for delivery in the fourth quarter of 2013. SeaDrill expects to pay about $135 million in total costs for the construction of this rig.
I have discussed Seadrill's potential to profit from the niche tender market in previous articles. This newbuild order reinforces that conviction. The company's management clearly sees the market for tender rigs as a growth center for the company. According to Alf Thorkildsen, CEO of SeaDrill Management AS:
"The tender rig business continues to deliver excellent operational results. Based on the further strengthening of the offshore drilling market we continue to see compelling investment opportunities that will provide solid earnings growth for SeaDrill."
Seadrill provided a brief profitability analysis of tender rigs at the Howard Weil 40th Energy Conference on March 28, 2012. The presentation that Mr. Thorkildsen gave at this event is available on the company's web site. Here is the profitability analysis that was provided:
Click to enlarge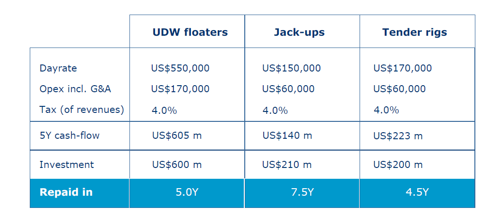 Source: Howard Weil 40th Energy Conference
According to this chart, tender rigs have the shortest payback period of any of the three types of rigs that Seadrill owns or operates. Unfortunately, the company did not differentiate between the two types of tender rigs: Tender barges and semi-tenders. This is unfortunate because the economics of the two types of tender rigs are most certainly not the same. The new rig that Seadrill ordered is a tender barge and not the more profitable semi-tender type. The provided chart assumes a dayrate of $170,000 for tender rigs. While that number is certainly accurate for semi-tender rigs (if even slightly low), it is too high for tender barges.
Seadrill stated earlier in the same presentation that the current spot rate for tender barges is approximately $120,000 per day. If we assume the same $60,000 per day in operating expenses that Seadrill provides then we are left with roughly $60,000 per day in pre-tax profit. Subtract 4% from that for taxes and we have about $57,600 in cash flow per day from the tender barge. That works out to approximately $105 million over five years. The investment required for a tender barge is also lower than the chart shows. A tender barge requires an investment of about $135 million. The payback period would thus work out to about 6.5 years. This is worse than both UDW rigs and semi-tenders but better than jack-ups.
Seadrill also did not specify how it will be paying for this rig. This purchase may increase the company's outstanding debt (although likely not immediately). While $135 million is not a significant increase, it is still something to be aware of. If the company is indeed paying for this new rig with debt then that would also increase its interest expense, all else being equal. Given the low interest rates in the world today, it is unlikely that this increase in interest expense would even be noticed on the bottom line. The company is unlikely to have any difficulty contracting out the rig upon its delivery and so the revenues earned from it will cover any interest expense if this purchase is financed with debt. For this reason, I am not particularly worried as overall this newbuild will have positive effects on Seadrill 's bottom line. I would simply like to have a little more information about the financing of the purchase.
The purchase of the second of the two rigs was announced on April 3, 2012. On that date, Seadrill's majority owned subsidiary North Atlantic Drilling (NATDF.PK) stated that it has entered into a turnkey construction contract with Jurong Shipyard in Singapore for the construction of a harsh environment semi-submersible drilling rig. This is in direct response to the increasing level of drilling and planned drilling activity in the North Atlantic and Arctic regions.
This rig has the potential to be much more profitable than the previous one according to the chart and analysis above. Seadrill shows that these rigs are currently being contracted out at an approximate dayrate of $550,000 which gives the rig a payback period of five years. There is some evidence that an estimated dayrate of $550,000 may be too conservative. Seadrill itself shows earlier in their presentation that the company has managed to get higher dayrates for the same type of rig as this newbuild.

Source: Howard Weil 40th Energy Conference
If this rig is ultimately contracted out for more than $550,000 then that will shorten the payback period and increase the cash flow to the company. It is important to keep in mind that the direct benefits of this will go to North Atlantic Drilling - and not to Seadrill itself. Of course, since Seadrill owns 75% of North Atlantic Drilling, what is good for NADL is good for Seadrill .
This new rig is expected to be ready by the first quarter of 2015 at the latest. That results in some uncertainty over the dayrate and operating expenses that we will see with this rig. Most indications are that dayrates will remain elevated for a substantial period of time. This causes me to be optimistic about the potential that this new rig offers to North Atlantic Drilling and, by extension, Seadrill.
Disclosure: I am long SDRL.