Groupon Inc. (GRPN) is in the business of discount vouchers. It just gave us a nice discount on its shares and a quick 16% profit in less than 2 weeks. Those who bought at-the-money put options are now sitting on gains of well over 100%.
On April 3rd, I recommended to short the shares of GRPN. We shorted the stock at the open at $15.28. It is now trading at $13.12. This is what happened to the stock price since my initial recommendation: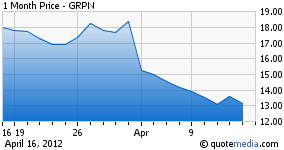 It is important to emphasize that we did not attempt to 'catch' this trade at the very top, i.e. at the $18 area. Instead of taking this extra amount of risk, we decided to wait on the sidelines for a breakthrough event that will put some downside pressure on the stock. This event was soon to arrive in the form of the revision of the company's Q4 reports.
Valuation still matters
Below is a table of the current valuation metrics of recent social media 'hot' stocks:
| | | | | | |
| --- | --- | --- | --- | --- | --- |
| | LinkedIn (LNKD) | Zinga (ZNGA) | Groupon | Yelp, Inc. (YELP) | Angie's List (ANGI) |
| P/E (TTM) | 908 | N/A | N/A | N/A | N/A |
| Price/ Book | 17.2 | 5 | 12.4 | 14.3 | 18.8 |
| Price/ Sales | 20.8 | 7.7 | 5.4 | 18.8 | 9.6 |
| PEG Ratio | 2.1 | 1.95 | 2.14 | N/A | N/A |
| Dividends | Non | Non | Non | Non | Non |
We can observe that as of now, after GRPN's share price plummeted in the course of the last month, GRPN appears to be the least expensive of the social media stocks. Nevertheless, we will still remain in the short trade, with a few slight adjustments, for the following reasons:
Groupon, in contrast to other social media companies, is an immediate suspect of lacking any internal controls. It seems like its board of directors has a lot of responsibilities other than the sole and ultimate responsibility of any director - to make sure that the interests of shareholders are properly protected. In other words, this current Groupon fiasco might have begun as a valuation aberration but continued to evolve as an accounting gimmickry.
The 'lock-up' period for the shares of insiders ends in approximately a month. This should put some more downside pressure on the stock price as insiders rush to sell some of their positions for the first time.
My Recommendation
Close 50% of our original position in order to protect our unrealized gains. That means you should either buy to cover 50% of your position if you sold the shares short or sell 50% of the number of put contracts you purchased put options on the stock. We will place our stop loss at $14 to protect our profits.
I will keep monitoring this trade and issue timely recommendations.
Disclosure: I am short GRPN.