With SAP (NYSE:SAP) buying Business Objects (BOBJ) for $59.35 cash per share, it was just a matter of time before archenemy Oracle (NYSE:ORCL) would make a move to close the gap. Oracle responded by bidding for BEA Systems Inc. (BEAS) only to be rejected by the board as being too low, several hours later. This implies that the attempt was a knee-jerk reaction that was not coordinated with BEAS.

Before getting into how Cognos (COGN) fits into the picture, just a few more words about BEAS. BEAS is a 'middleware' company. Oracle has made some successful acquisitions in the database and applications segments. Currently ORCL wants to beef up its middleware segment. This would render ORCL the head-to-toe capability that it is striving to obtain. In layman's terms; one stop shopping for all your software needs.
Cognos, the Other Business Object
To sum up what middleware is all about; here is an excerpt from COGN's homepage:
Business intelligence is the technology and practice of applying information to make decisions. In this way, business intelligence is different than data warehousing, which is more about storing information. It is also more comprehensive than data mining. Information shows its real value when many people can use and share it. This is the goal of business intelligence.
Cognos has over 23,000 customers in over 135 countries. More importantly, COGN has built a versatile BI (business intelligence) system that allows out of the box integration with a host of platforms. For example:
Report against any data source

Relational sources including Oracle, SQL, IBM, Teradata, Sybase, and ODBC.
Dimensional sources such as Cognos OLAP, SAP BW, Microsoft SSAS, Essbase, Oracle 10G, and IBM DB2 CubeViews.
ERP systems like SAP, PeopleSoft, and Siebel.
Modern sources including XML, Java beans, JDBC, LDAP, WSDL.
Satellite sources such as Excel files, Access files, and flat files.
Legacy and Mainframe systems such as VSAM, IMS, IDMS, and Cobol Copybooks.
Content management data, including FileNet, Documentum, and OpenSoft.
High-performance federated data access across all sources.
Support for Windows, UNIX, and Linux operating systems, including mixed platform deployments.
SAP-certified BAPI® and iViews, Certified Powered by SAP NetWeaver®.
Single portal, metadata layer, and point of administration
On a comparison basis, SAP has acquired the larger of the two competitors. Business Objects (BOBJ) has approximately 5,400 employees procuring $1.4B in annual revenue, though net profits are shy of $100M. Cognos (COGN) employs 3,600 turning in over $1B a year and maintains net profitability above the $125M mark. Aside from being more profitable, COGN lags BOBJ in EBITDA and overall revenue growth.
Though apparently ORCL would prefer to integrate BEAS as its next move towards making software (application) services a four way horserace, it may have to change course and go after COGN. ORCL may be forced to do so just to stop SAP from snatching up another 32,000 clients. Chances of any regulator interfering with SAP, whether in the U.S. or in the EU, are slim to non existent. The competition status is well known. It would be prickly to claim and more difficult to prove that the acquisition of COGN by SAP would create a monopoly.
Ten Year Option is Not an Option
The primary reason that investors have concluded that Cognos will be bought out sooner rather than later is because the alternative is for ORCL or SAP to build similar systems and client base. This would take either of them ten years or more to achieve. By that time, competitors that gain market share through calculated acquisitions will have obtained market domination.
Software companies that have relatively simple programs have to rely on a massive client base in order for them to be considered an acquisition target. Alternatively, a complex platform to emulate from a development standpoint, with a limited client base also makes for a viable acquisition target. When you have both a sophisticated software platform and a large lucrative built in client base, the odds of courtship increase drastically. Wooing the likes of Cognos is far from simple. The lass knows what she's worth and to whom.
Valuation
Both Jefferies and Roth Capital cut their ratings from buy to hold as COGN surged from $41.50 to $51.90 per share. The reason given in both cases was valuation. Both Jefferies and Roth Capital went one step further in explaining that the current share price reflects any acquisition multiple. Perhaps this is true concerning Hewlett-Packard (NYSE:HP), IBM (NYSE:IBM) and Microsoft (NASDAQ:MSFT), but does this apply to Oracle (ORCL) and SAP (SAP)?
Another downgrade came from Robert Baird:
We do not believe the acquisition of Business Objects changes Cognos' near-term acquisition prospects…Ontario-based Cognos could face challenges in currency fluctuation and the analytics market, as clients are reluctant to standardize.
Now wait a minute. The Looney is strong in comparison with the U.S. dollar; there is no question about that. But isn't BOBJ headquartered in France? Comparing the Euro with the Canadian dollar is a whole different analysis. And what's this nonsense about standardization?

Even if COGN misses its EPS targets, who cares? The name of the game here is how much is 32,000 clients worth to SAP and ORCL. How much is each willing to pay to insure that the other doesn't get a leg up!
Goldman Sachs joined the horde and removed COGN from its 'recommended portfolio'. The only disserting voice in the crowd came from Raymond James analyst Steven Li. Li maintains that COGN is a lucrative target for both IBM and Microsoft. This may be a hard one to sense; frolics aside, the notion of a MSFT incursion is tantalizing.
The Oracle acquisition of Hyperion last year does not preclude the acquisition of COGN as the Hyperion Essbase is geared towards different clientele. (CrossProfit note: we're not certain about this.) Besides, even if there was some cannibalism we are talking about increasing market share overnight.
The way ORCL was taken by surprise with the BOBJ deal; one wonders if COGN is betrothed to SAP!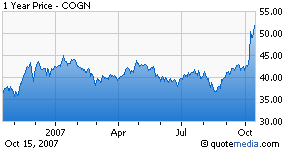 Disclosure: none