Q3 earnings season begins in earnest for the financial sector this week with many big names reporting earnings for a tumultuous time period, which saw continued carnage from the mortgage crisis, a global credit crunch and Fed intervention. Whilst problems within the credit markets definitely impacted bank earnings negatively, it also gave the banks a convenient "excuse" as they can claim that their earnings declines and/or losses were from the credit crunch and were a "one-time" event. The problem with this line of thinking is that the banks were dealing with escalating loan losses, triple digit increases in bad loan provisions, etc, in Q2 and the credit crunch didn't cause these problems to worsen in Q3, nor are they going away any time soon.
When reviewing the bank's earnings reports, it will be importantly to discern between problems stemming from the credit markets vs. from the mortgage crisis (and larger consumer lending related issues); the level of candor we receive from the banks may very well be a telling indicator of their future performance.
The big thing that will be on the minds of many investors as the banks issue their earnings reports this week is the series of warnings many of the major banks have issued, with respect to mortgage and credit related write downs and YoY earnings declines. Between the brokers that reported in September and the bank warnings from the last two weeks, there has been roughly $20 billion worth of write-downs related to mortgages and the credit crunch, with the bulk of that figure coming from bad mortgages. Whilst it's possible that some of the banks chose to exaggerate their write-downs so they can better leverage potentially better performance from debt securities down the road, it's also possible that many banks are overly optimistic about the future and the situation could easily worsen.
Here is a quick synopsis of some of the banks reporting next week and what to expect:
Citibank (NYSE:C) has already reported this week and its Q3 earnings included a $1.35 billion write down for leveraged loans, $1.56 billion write down for subprime mortgages and a $2.2 billion charge to increase their reserves for bad loans. In total, Citigroup recorded nearly $7 billion worth of pretax losses, charges and write downs in Q3. Media coverage noted that Citibank beat estimates and/or framed the results within the context of the credit crunch. However, I think the alleged earnings beat is irrelevant in face of a 57% YoY earnings decline. Furthermore, the write downs and charges for subprime loans general lending losses are more reflective of bad lending standards, the mortgage crisis, lending money to the wrong people, etc. Citibank had these issues in Q2 and will probably have them well into the 2008; the credit crunch is just the scapegoat du jour for Q3.
Long-term, the issue isn't whether or not Citibank will thrive with respect to profitability but whether or not they can generate enough stock price appreciation for CEO Chuck Prince to keep his job. I think the company needs to clear out the U.S. consumer debt morass afflicting the company, continue to grow its international business and possibly expand its retail banking footprint inside the U.S.
Washington Mutual (NYSE:WM): The story with this bank is simple: over-exposure to subprime and bad mortgages in general is biting them in the balance sheet. Q3's warning of a 75% decline in earnings could easily be followed by a similar earnings decline in Q4, as it's not like the mortgage situation is getting better. The bright spot for WM will probably be a significant increase in the number of retail deposit customers (if last quarter is any indication), and I anticipate the company reporting growth in its credit card business as well. However, present day growth in their credit card business has to be looked at with skepticism as the company has been courting subprime credit card customers rather aggressively over the past year.
From an investment perspective, I'm taking a "wait and see" approach with WM, as it remains to be seen when the company will be able to stop the bleeding within its mortgage businesses and get back on track.
Capital One Financial (NYSE:COF): So far, the company has issued a warning related to the closure of its GreenPoint mortgage division, lopping a third of their 2007 earnings estimates. However, there is a strong likelihood that earnings could decline even more than that, as the company has to deal with the "subprime triple whammy" due to their exposure to subprime mortgages, auto loans and credit cards. Not to mention the fact that the company is likely seeing increases losses from its other business mortgages, ARM loans, prime mortgages and HELOCs. In Q2 profits from their auto loan division declined by 60% YoY and it's probably a matter of time before the credit card business sees declines as well. For Q3 I anticipate seeing increased signs of weakness within their credit card business (declines, loss provisions, etc) and a possible loss within their auto lending business.
Due to the relatively small size of their retail banking operations in relation to their credit card and other lending businesses, COF's overall performance is probably a good indicator of the overall health of the consumer lending market. If their credit card business shows continued weakness, it could be an indication that the consumer credit bubble I discussed earlier is weakening, not to mention weak consumer spending during the holiday season.
Bank of America (NYSE:BAC): Back in Q2 BAC reported accelerating lending losses and a 23% YoY decline in net income from their consumer division (retail banking, mortgages, credit cards, etc), which was a clear indicator of a larger crisis within prime mortgages and consumer lending in general. Additionally, BAC has exposure to the subprime problem not through direct loan origination, but through the capital markets i.e. debt securities. The company issued an earnings warning of sorts, stating that the problems with the credit markets in Q3 will have a "meaningful impact on results", but until we get the actual results, the level of earnings impact, write down amounts, etc, is all speculation. I'm going to be fairly interested in how BAC frames its results, are they going to delineate between credit market related issues and the mortgage crisis, or will they go the "blame the credit markets" route?
I'm also especially interested in the performance of BAC's credit card portfolio, as they're the largest credit card issuer in the nation, and if both COF and BAC report significant weakness within their credit card divisions, I don't expect the holiday season to be particularly merry for retailers. Overall, the questions heading into BAC's earnings report are: how did the credit card business fare over the last quarter? How exposed is the Bank to mortgage backed debt securities, especially those backed by subprime mortgages? What is the overall health of the bank's consumer lending business, has the accelerating loan loss trend from Q2 gotten worse?
Thinking about the larger banking sector, when BAC issued their earnings warning a few weeks back, the first thing that came to mind was: "BAC has the largest retail deposit base in the country, and pays less for those deposits than its competitors. If the credit crunch had a significant impact on their earnings, what did it do to smaller competitors?"
When I say this, I'm not so much thinking about competitors like Wells Fargo, J.P. Morgan or Wachovia, but smaller regional banks, particularly those in areas hit hard by the declining real estate market.
All that being said I like BAC long-term, because I think its sheer size, focus on retail banking and large base of consumer deposits are a virtual guarantee that the bank will thrive in the end. In a sense, BAC is almost a proxy for American banking in general, some banks will falter but many will thrive and BAC will likely be one of them.
E-Trade Financial (NASDAQ:ETFC): For a time, E-Trade financial claimed that nothing was wrong with its mortgage portfolio after various analysts expressed concerns. Later, they revealed that the analysts were right when they issued a Q3 earnings warning. I'm wary of companies that "protest" a lot when analysts uncover bad news, as it seems to indicate that they're trying to spin away a bad situation. Either way, 10/17/07 is a veritable day of reckoning as we'll see how bad things actually are and what they're doing to fix it.
Find below, a quick listing of the reporting dates for the big financial firms and the analyst consensus earnings estimates. The list isn't intended to be comprehensive and merely lists various banks I'm keeping an eye on and includes all data available to me at the time of publishing. Please also note that the write down data is preliminary and the actual numbers from the banks may be higher or lower.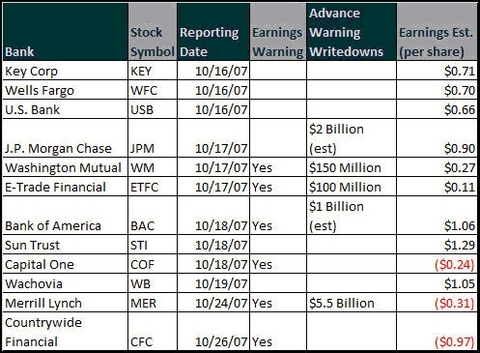 Sources:
Reuters: "Bank of America: Volatile Market to Hurt Q3 Results" - Jonathan Stempel, September 17, 2007
Bloomberg: "JPMorgan, Bank of America May Write Down Buyout Loans" - David Mildenberg, October 5, 2007
Reuters: "Washington Mutual sees 3rd-qtr profit down 75 pct" – October 5, 2007
Reuters: "Citigroup net slides 57 pct on writedowns, losses" – Jonathan Stempel, October 15, 2007
Disclosure: at the time of publishing, the only companies mentioned in this article that the Author owned a position in were USB and JPM.