Our EquityAnalytics department is always updating price targets and ratings on companies that we cover based on new information. Our price targets and ratings are thoroughly researched and use financial analysis tools to determine stock prices. Today we are updating the following companies from our coverage Big Lots (BIG), Costco (COST), Dollar General (DG), Dollar Tree (DLTR), Family Dollar (FDO), Fred's (FRED), Gordmans Stores (GMAN), PriceSmart (PSMT), Target (TGT), Wal-Mart de Mexico (OTCQX:WMMVY), and Wal-Mart Stores (WMT).
The chart below shows new ratings, price targets, and buy/sell ranges vs. old ones: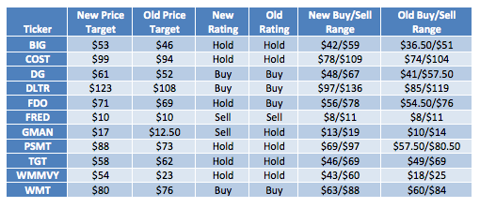 Big Lots: Maintain At Hold, Increase PT From $46 To $53
We maintained our Hold rating on Big Lots but increased our price targets. The company's latest quarter did outpace our expectations for operating income, and we had to up our targets for the rest of the year based on healthy same-store sales growth as well as continued positive growth of new stores. We believe that the company continues to show healthy growth levels in the closeout retail sector, but it does lack a solid economic moat. It needs to have better value to be bought, and it would on a drop a bit from these levels. We do find the company's Canada expansion to be appealing to continue solid organic growth as well.
Costco: Maintain At Hold, Increase PT from $94 to $99
We have upped our price targets on Costco as sales are looking solid for the bulk goods store, and we were pleased with their latest results. We upped our operating income targets for this FY to $2.6B. We believe the company is looking solid for growth this year, but we do believe that the company has a lot of this growth priced into the stock at this time. The company is sitting at a 25 PE, which we believe is a bit high for the discount sector and less growth than some other names in the industry. We like the stock on a drop to around the $80 area.
Dollar General: Maintain At Buy, Increase PT from $52 to $61
Dollar General continues to be one of our favorite discount store companies. We have them Buy-rated and continue to increase PTs as the company has made great strides to continue to increase same-store sales as well as lots of organic growth in new store openings. The company has a solid 20 PE, but its future PE is sitting at 14. We look for the company to move operating income over $1.5B this year. Capital expenditures have risen as the company has remodeled stores to make them even more user friendly, but we look for that increase to cool off over the next two years. Dollar General combines growth and value and is still a nice entry point after another great quarter.
Dollar Tree: Maintain at Buy, Increase PT From $108 to $123
Dollar Tree, much like Dollar General, continues to benefit from its ability to leverage tough economic times into a growth opportunity as well. The company had another great quarter with nearly 25% rise in earnings and another 13% jump in revenue. This company is growing at a strong multiple in comparison to other companies in the sector, but it is priced at the same valuation as lower growth stocks. DLTR is also improving margins and dropping SG&A expenses, which is great to see as a sign of strong management. The company is doing share repurchases as well, which helped raise our valuations. We upped our growth model for the year as the company looks to continue to improve margins and sales. The company continues to generate free cash flow and share repurchase plans signals that the company believes more free cash flow opportunities exist.
Family Dollar: Downgrade From Buy To Hold, Increase PT From $69 to $71
Family Dollar lags DG and DLTR for us slightly, and we did not see their latest results as impressive as the other two. Revenue rose 9% while earnings rose 11%, and the company's latest results came pretty much in line with what we expected. The difference we saw for FDO is that they are not able to improve margins quite as well as their competition. Their forecasting came in line with our expectations as well. Cash and cash equivalents have been steadily dropping over the past year, which did negatively impact our equity value figures. We slightly raised our expectations for FDO, but we believe they are playing third fiddle to DLTR and DG at the current time.
Fred's: Maintain at Hold, Maintain PT at $10
No changes to Fred's. Latest results are in line with expectations, and share prices have not changed much.
Gordmans Stores: Downgrade from Hold to Sell, Increase PT from $12.50 to $17
The price target increase for GMAN comes from a great quarter and improvement in results well past our expectations, but this stock is not appealing to us at these prices. With less than $50M in operating income expected and a very limited economic moat, we believe that the recent price value increase in GMAN has taken it past where we expect the stock to be priced. A major issue we have for the company is that capital expenditures are fairly high in comparison with operating income, and we have seen FCF get worse not better. Capital spending continues to grow, and while we know the company is expanding, we are not sure that its financial health is comparable to many others. We prefer selling shares at these levels after the recent move and waiting for more weakness to buy.
PriceSmart: Maintain at Hold, Increase PT from $73 to $88
PriceSmart is an appealing, high growth stock in the Caribbean that is growing at 15-20% over the next two years in sales, but we believe that most growth is priced in at these levels. The company is a buy on weakness. One issue that continues to remain for the company is that they continue to struggle with margins and controlling prices. The company is seeing a lot of trouble with inputs rising and being able to maintain margins. That issue coupled with a high P/E does worry us. We have seen a lot of solid growth that outperformed our expectations, which were quite low. We would be cautious, though, with PSMT.
Target: Maintain at Hold, Decrease PT from $62 to $58
Right now, we just do not see Target as one of the best investments in the discount sector. The company has some definite growth positives in Canada expansion, good sales, and good guidance. Yet, at the same time, the company continues to see debt increasing, FCF dropping, margins being squeezed, and a stock that may be getting stuck. Right now, we worry that Target is becoming a dividend stock that operates in the moderate growth sector and maintains a nice yield at 2.1%. There is no doubt that there is value in this company, but its PE and future PE are very similar. Therefore, the company is just discounted more heavily right now. That may be due to high amounts of debt or just a general dividend malaise. Right now, we just do not see a lot of growth for this stock in these market conditions unless Canada, really sparks the stock to get back into a growth phase. There is value here, and its a nice buy for that on a dip. Otherwise, we think there are better opportunities.
Wal-Mart de Mexico: Maintain at Hold, Increase PT from $23 to $54
We heavily increased our expectations as we reduced our discount rate for the company as beta came down as well as FCF has stabilized at a relatively healthy level. Additionally, the Mexican version of Wal-Mart continues to see really strong growth. Its issue is being only available on pink sheets right now. We cannot recommend buying at these levels as well, but on a dip below $50 we like this company. Its a matter of then if you are comfortable holding pink sheets.
Wal-Mart Stores: Maintain at Buy, Increase PT from $76 to $80
Wal-Mart continues to remain a company we like at these levels. The difference for it is that we like WMT's attack and ability to see much larger growth in emerging markets. Target has refused to break out of North America, and we believe it is missing a giant opportunity overseas. China and Brazil remain high-growth markets for the company, and we like the fact that those markets exist for the company. WMT, additionally, is outperforming our expectations while TGT underperformed our expectations. We believe that Wal-Mart's value is very solid right here, and we like it as a nice play that has the ability to maintain great growth for 3-5 years. Target may not be able to sustain 5% growth if it does not expand out of North America for as long as WMT can. We would like to see margins turnaround as well as continued drop in overall debt.
Disclosure: I am long WMT ,DG ,DLTR
.