In a dispute that highlights Russia's growing belligerence towards the West over energy projects in its former subject states, Chevron is facing Russian opposition in its attempts to double capacity in an oil pipeline from its Tengiz oil field in Kazakhstan to the Black Sea, the Wall Street Journal reports.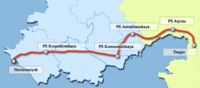 The pipeline (pictured), called the Caspian Pipeline Consortium [CPC], travels through Russian territory to bring oil to world markets, and is 24% owned by Russian state oil monopoly OAO Transneft. Chevron has spearheaded a $6 billion project to nearly double Tengiz's capacity from its current 300,000 barrels a day to 550,000 barrels a day by the end of 2008. The CPC, which is 933 miles in length, currently has capacity for 620,000 barrels a day. Chevron would like the CPC to up that to 1.35 million barrels a day by the end of 2008 to enable it to pump its added capacity at Tengiz. Russia continues to block expansion of the pipeline, of which Chevron is a 15% owner, arguing it deserves more revenue from the CPC. According to Russia expert Martha Brill Olcott, "I think there is a broad consensus among the Russian elite that the government should control the pipeline." While Chevron and the Kazak government hope they can resolve their disputes with the Russians, they have jointly spent more than $500 million building and expanding the railway system so that more Tengiz oil can be exported by railcar, an imperfect solution as rail fees are much higher than pipeline tariffs.

Sources:
Wall Street Journal
,
Reuters
Commentary:
Refining Margins to Hurt Chevron Profits
•
The Borat Trade: Investing in Kazakhstan
•
Today's Most Powerful Energy Companies
Stocks/ETFs to watch:
CVX
. Competitors:
COP
XOM
,
BP
. ETFs:
XOP
,
IEO
Earnings call transcript:
Chevron Q2 2007
Seeking Alpha's news briefs are combined into a pre-market summary called Wall Street Breakfast. Get Wall Street Breakfast by email -- it's free and takes only seconds to sign up.