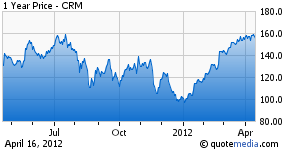 With scores of large, enterprise customers, including Dell (DELL), HP (HPQ), VMware (VMW), Kimberly-Clark (KMB), and others, replacing their outdated Siebel platforms with Salesforce (CRM) platforms, and with thousands of SMBs adopting its various platforms to help manage their businesses, it seems that Salesforce is on target for another quarter (its 10th) of consecutive acceleration in transaction growth.
I first considered investing in Salesforce back in 2008, when a good friend of mine was highly praising this new disruptive company that he was paying to manage his CRM needs. At the time, Salesforce was trading around $30 per share, after coming down from its then high of around $70 earlier that year. With the current recession just beginning, and with many uncertainties on how industry leaders SAP (SAP) and Oracle (ORCL) would respond to this new threat, I admit, I was bearish.
Although shares of Salesforce since have only trended up, I was looking to see steady growth, and this was not the case. Throughout 2009, Salesforce demonstrated negative Quarter-on-Quarter (Q/Q) growth, and it wasn't until that trend shifted at the end of 2010 that I began to look more seriously into Salesforce again. Since that last quarter of 2010, Salesforce has done nothing but grow at an incredible pace, delivering quarter after quarter of exceptional growth, and has seen positive Q/Q growth in every quarter since. With over 92,000 customers, and almost $2.5 billion in revenue, Salesforce is looking really good.
I believe that Salesforce is one of those companies that we will look back on years from now with awe, and I have no doubt that it will continue to disrupt Oracle, SAS, and other large competitors, which have been forced to spend huge sums in acquisition costs just to keep up. SAP recently shelled out an astonishing $3.4 billion (representing an incredible 52% premium) on purchasing human resources software maker SuccessFactors, and recently agreed to acquire mobile asset management and field service solutions provider Syclo for an undisclosed sum. Oracle has also been on a cloud-shopping spree, paying $1.5 billion for CRM provider RightNow, and $1.9 billion for talent management provider Taleo (NASDAQ:TLEO). If you were looking for validation of a thesis that cloud enterprise solutions will be dominant, look no further, as Oracle, SAP, and other giants have essentially validated Salesforce's model, and are now trying to play catch-up. However, Salesforce is proving to be a fast moving target.
Salesforce has recently introduced its Social Marketing Cloud which leverages the Radian6 acquisition it made last year, as well as its powerful Chatter platform. Its human capital management platform SuccessForce, based on the recent acquisition of Rypple is additional confirmation that Salesforce means business. The SiteForce developer platform (re-branded as Site.com) based on Salesforce's Heroku (Ruby) and Apex platforms is quickly gaining momentum, and it looks like 2012 will be a pivotal year for the company. Salesforce has demonstrated an appetite for acquisitions, and has proven that it can compete in this space.
Sure, Salesforce's questionable GAAP performance (when compared to non-GAAP results) is not as impressive as I would like to see, and the continuous dilution of shareholders raises questions surrounding long term goals. EBITDA multiples, both current and forward looking, are through the roof (somewhere in the 150 range), and one could easily turn bearish. Adoption of Apex has not been on par with predictions, and Salesforce's intention to allow integration of Oracle and SAP platforms could seem like a bit of a step backwards. Competition from Microsoft (NASDAQ:MSFT) Azure platform and Google (NASDAQ:GOOG) is also expected to be fierce.
Even so, my thesis remains unchanged, and SAP and Oracle's aggressive entry into this space confirms that non-cloud platforms will soon be a thing of the past. Salesforce has proven itself to be a worthy competitor, and has demonstrated beyond any doubt that it is just as hungry and aggressive in this space as its larger rivals. Salesforce has much room to grow, and despite the high multiples, is a great opportunity for the long run.
Disclosure: I am long CRM.