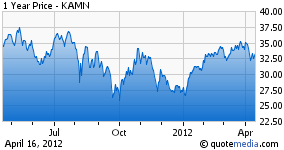 Unmanned aircraft are nothing new. What is very new is the use of these aircraft for logistical support in a combat zone.
The K-Max Helicopter made its first flight in December of 2011 and is currently being used by the Marines to move supplies. The K-Max is a joint venture between Lockheed Martin (LMT) and Kaman Corp (KAMN). According to Kaman's website the K-Max is capable of carrying a payload of 6,000 pounds and can operate for over 12 hours a day. It can also take off and land automatically and fly pre-programmed routes or be controlled remotely.
Unfortunately for these two companies the war in Iraq is over and the war in Afghanistan is quickly ending as well. So right now, while the product is there, the buyers are not. While this is an amazing product, Kaman and Lockheed are losing out because the military doesn't have money to spend on these amazing tools. Normally this would be a great catalyst to buy Kaman but I'm avoiding it for the moment.
An Army Times article reports that since December two of the helicopters have been able to move over 750,000 pounds of supplies through 240 missions. Equipment like this frees up manned helicopters to conduct medical evacuation and close air support missions. Having been over there, travel can be described as treacherous at best. A 63 mile convoy in Afghanistan can take over 15 hours because of horrible infrastructure and IEDs. That is if there are roads that connect two bases. At times bases are completely cut off by mountains or other terrain.
While the Marines are enjoying their new equipment, the Army has yet to adopt an unmanned vertical takeoff and landing program. One thing the Army is looking at is the ability to take helicopters already in use and give those the capability to be flown remotely. Unfortunately the technology for that needs to mature and could be several years from the battle field. This is because the aircraft would have a much larger payload capacity if cargo can go inside as well as be slung below.
Textron (TXT) is currently working with Carter Aviation on a four-person rotary-wing solution that can be flown manned or unmanned. The K-Max was originally looked at by the Army in 2008 and tested in 2011, but they still haven't adopted it. On Carter's website the closest prototype that seats four is listed as only being able to carry a payload of 3,000 pounds. I would think the Army would stick with the K-Max or there must be something in the works that has a better payload capacity that isn't posted on Carter's website. Especially since the specifications that the army gave is that it wants an unmanned VTOL system that can deliver 5,000 to 8,000 up to 300 nautical miles at 250 knots. It also needs to fly 24 hours a day and in a variety of weather conditions.
Northrop Grumman also (NOC) has a VTOL UAV platform, but according to specs on its website it appears to be mainly surveillance as well. The Navy however, is preparing to arm the device for missions off the decks of warships.
The Army Times article also mentions the possibility of Boeing's (BA) Hummingbird. According to specifications on Boeing's website the platform can only carry 300 pounds. It does however have a distance of 2,500 nautical miles and can go for over 24 hours. This would make for a great surveillance platform, but it would need a big increase in payload to be a viable cargo platform.
These systems would best fit at the brigade level. For the brigade combat teams they could easily be integrated into the brigade support battalions (BSBs) to facilitate the transportation of equipment and supplies to forward deployed organic units. This would take a huge weight off of the overwhelmed air assets that are in theater.
With the war ending, however, it is not certain what kinds of technologies the military would want to buy and how much it can afford to spend on development. I think the K-Max would be a good asset and it is already proven by the Marines to work under combat conditions. And Helmand province is as bad as it gets in terms of enemy threat.
I think it's a promising venture to take because regardless of terrain. The military never has enough aerial assets, especially when it comes to combat dropping cargo. It has to be a VTOL capable aircraft because of the accuracy. Sure supplies can be dropped out of an airplane, but there are too many variables that could blow the cargo off course and cause the team to have to go recover the cargo. Whereas the rotary-wing or VTOL platform could accurately drop that cargo safely and securely within the walls of the base.
All of these companies need to be watched. Until government spending picks up or another war starts, sales will be down and they will be spending R&D money on products/technology that will not be bought in the near future or maybe ever. I'll be watching Kaman and may buy in if it drops back to $26-$27, and then hold until defense spending increases.
Disclosure: I have no positions in any stocks mentioned, and no plans to initiate any positions within the next 72 hours.