Apple (AAPL) is currently scheduled to report earnings April 24. Over the past few years, Apple has been one of the fastest-growing stocks and has become the most valuable company in the world. After Google (GOOG) reported strong earnings this past week, investors will be looking forward to Apple's release.
In anticipation of the upcoming earnings report, investors can look at past earnings releases and the information contained in them in order to foreshadow stock behavior. This article looks at the data in past earnings releases, the stock movement before and after earnings releases, and the change in Apple's implied volatility -- while making sense of the information contained in them.
Earnings Results
| | | | | | |
| --- | --- | --- | --- | --- | --- |
| Date | Qtr | EPS | EPS Est. | Revs | Rev Est. |
| 4/24/12 | Q212 | N/A | $9.78 | N/A | $35.88B |
| 1/24/12 | Q112 | $13.87 | $10.08 | $46.33B | $38.85B |
| 10/18/11 | Q411 | $7.05 | $7.28 | $28.3B | $29.45B |
| 7/19/11 | Q311 | $7.79 | $5.80 | $28.6B | $24.92B |
| 4/20/11 | Q211 | $6.40 | $5.35 | $24.67B | $23.27B |
| 1/18/11 | Q111 | $6.43 | $5.36 | $26.74B | $24.34B |
The above table shows the earnings history for Apple stock. Apple stock has experienced dramatic growth over the past several years, becoming the most valuable company in the world. Investors believe Apple's unprecedented growth will continue as there is no indication it will end. The iPhone still doesn't have a majority market share and consumers in developing markets such as China are eager to purchase Apple products.
The upcoming earnings release has an EPS estimate of $9.78 and a revenue estimate of $35.88 billion. The earnings estimate represents a projected 53% growth in earnings year over year, while the revenue estimate represents a projected 54% growth in revenue year over year. This is massive growth, but it is accomplished through large margins.
Stock Movement
Click to enlarge all images.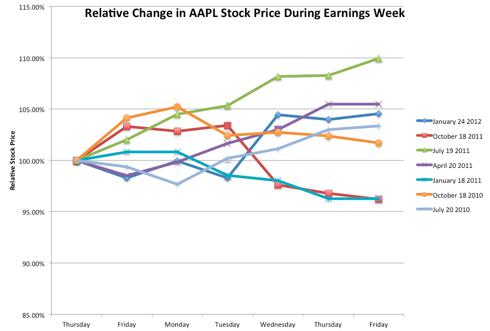 The above graph shows the relative change in the stock price of Apple for the week of earnings. The stock price for each earnings week has been normalized to 100 so that its price movement can be compared.
It is quite interesting that Apple stock has relatively few price swings during earnings week.
When Apple smashed earnings estimates last January the stock moved less than 5%, although it has moved dramatically since then. This is in contrast to last July, when Apple also beat earnings and moved up almost 10%.
Last October is the only occurrence of an Apple earnings miss, and it fell less than 5%.
Implied Volatility
The implied volatility for the weekly option price during recent Apple earnings weeks was also graphed.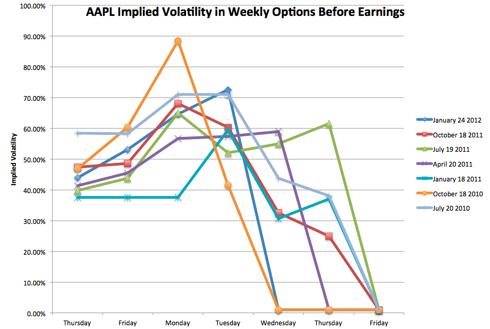 The above graph shows the rise in implied volatility on Apple options.
What stands out the most about Apple's implied volatility is that it doesn't go to zero after earnings and will remain elevated. This is in contrast to other stocks.
The implied volatility of Apple shows a very clear pattern. The implied volatility will begin at a level less than 50% but greater than 35%. The implied volatility will certainly rise, although its rise is quite broad. The implied volatility usually peaked from 60% to 70%, but it nearly reached 90% in October 2010.
Depending on when an investor enters the trade, a target implied volatility of below 45% might be ideal. The implied volatility should be exited if it reaches above 65%.
Conclusions
Apple is a relatively stable stock. It has shown a propensity for massive growth. It is obvious that earnings will continue to rise, but the question remains if the company can continue to meet the lofty expectations of investors.
Apple stock also shows a resistance to sudden price swings, despite substantially exceeding investor's earnings expectations. Regardless as to what Apple's earnings are, it appears unlikely to move more than 5% in overall price.
Apple weekly options will rise in implied volatility leading up to the earnings release, but it will not immediately decline after the release.
Disclosure: I have no positions in any stocks mentioned, but may initiate a long position in AAPL over the next 72 hours. Also, I have an iron condor option trade that expires at the end of next week. I may initiate a long or non-directional trade position in AAPL or GOOG over the next 72 hours.