Shengkai Innovations (VALV) is primarily engaged in the design, manufacture and sale of ceramic valves, high-tech ceramic materials and the provision of technical consultation and related services. The company's industrial valve products are used by companies in the electric power, petrochemical and chemical, metallurgy and other industries as high-performance, more durable alternatives to traditional metal valves.
I see at least 5 reasons to buy the stock currently.
1. The stock trades at almost one quarter of its cash balance
The company has currently 16.7 million shares. As of December 31, 2011, the company had cash and cash equivalents of approximately $69.0 million ($4.13 per share). The company has no short-term or long-term debts.
2. The company is expecting to be cash flow positive
The company stated at their quarterly report published at February 9th 2012.
We expect the company to continue to run with positive but significantly reduced cash flow from operations.
I see this as a positive sign because this shows that the company has a high priority of preserving cash although they are forecasting significantly lower revenues.
3. Demand for industrial valves will expand
The demand for industrial valves will expand from its present level of just under $50 billion/yr to over $100 billion/yr by 2030. The main driver will be the energy needs of the developing countries.
4. The stock is currently trading near its 52 week low
The company's 52 week high is $7.70 and the low is $1.04. The stock is currently trading at $1.13.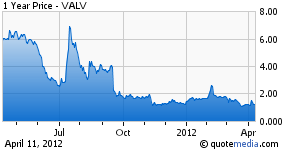 5. The trading volume has increased substantially during the last 6 trading days
The total trading volume during the last 6 trading days has been well over 10 million shares. The company only has 16.7 million shares outstanding. The CEO owns currently 49.44% of the shares.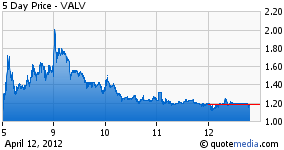 Conclusion
The stock has had a very wide trading range of $1.10 - $2.04 during the last 5 trading days. The last time the stock had this high 6 day trading volume was in the summer of 2011. I like the current price ($1.13) as a good entry point for the stock.
Disclosure: I am long VALV.