Nokia (NOK) and RIM (RIMM) share a similar fate, a kind of backward evolution which is turning them into entities less suited to survive in today's smartphone market: both companies seem to represent the past of something (consumer and enterprise handsets, respectively), rather than players with a viable future, and several analysts have already started writing their obituaries.
Both companies changed the handsets market, at one stage, through their contribution to the development of GSM and the introduction of the first "smartphones" (Nokia), and by marrying email with mobility (RIM). Customers, however, have turned their back to their most recent offerings, and both companies are struggling, with new CEOs, to reinvent themselves into something different.
A quick look at both companies' great pasts.
Nokia was instrumental in building the Global System for Mobile Communications, or GSM, which started as the European way for digital cellular telephony, capable of carrying data as well as voice traffic, and has now become the most ubiquitous standard for cellular networks.
Its Nokia Communicator product range is seen as one of the first attempts to offer a full keyboard smartphone experience to business people, and the company was the largest producer of smartphones until the iPhone (and Android) entered the market.
Nokia was mentioned as the 14th best global brand in 2011 by Interbrand, with an estimated value of $25 billion. Hardly recognized by the stock market today, as the company recently hit multi-decade lows.
Nokia's new CEO's infamous "burning platform" memo was actually a great representation of the company's main problems:
The first iPhone shipped in 2007, and we still don't have a product that is close to their experience. Android came on the scene just over 2 years ago, and this week they took our leadership position in smartphone volumes. Unbelievable.
While forecasts for smartphones remain very strong, Nokia is seen as representing a market share of just 11% in the long term - actually an improvement on today's numbers, but a shame for a company that did account for 40% of smartphone sales just 3 years ago.
RIM's technology changed the way business people approached email.
The BlackBerry brand established itself as a "must have" among managers, first, and then consumers thanks to its first mover advantage. However, as Richard Levick said in Fast Company, that was not enough to ensure the company's leadership, in the long term:
What RIM didn't recognize at the time was that its tribe was born of necessity, not affinity. Once competition entered the marketplace, it would have to work twice as hard to keep it intact.

Today, RIM's tribe is dwindling to an ever-smaller band of users that have to buy its product and an endangered number of true believers.
According to a Reuter's article, former CEO Jim Balsillie recently tried to reinvent the company through a radical shift in strategy, just before he stepped down:
Balsillie hoped to allow major wireless companies in North America and Europe to provide service for non-BlackBerry devices routed through RIM's proprietary network, a major break with the BlackBerry-only strategy pursued by RIM since its inception.

The plan would have let the carriers use the RIM network to offer inexpensive data plans, limited to social media and instant messaging, to entice low-tier customers to upgrade from no-frills phones to smartphones.

But the talks with carriers led to discord at the highest levels of the troubled Canadian company, and Balsillie resigned as a director soon after he stepped down as co-CEO.
As Colin Gibbs noted on GigaOM, the move may also be seen as a proof that RIM wasn't capable to face reality:
But while the move may have been a success, it misses the larger point: RIM has suffered in recent years because its operating system is antiquated and less appealing than new platforms like iOS and Android. The Reuters piece is a reminder that Jim Balsillie and the rest of RIM's front office never understood that was the biggest problem.
The smartphone market, reinvented by Apple
Apple's (AAPL) introduction of the iPhone offered consumers the perfect product, at the right time. Today, it appears pretty obvious that Apple entered the market with a first ever "computer on the go" offering, mixing phone, PDA, messaging, camera, gaming and MP3 player capabilities into one great, single device. It now also comes as no surprise that the iPhone's natural evolution was the iPad, which also invented a new computer market: tablets.
Apple's offering was so strong that it also turned consumers to touchscreens, in spite of their limitations, for example in tactile feedback - however the flexibility that touchscreens could offer was so much part of the new, improved user experience, that still today Apple can stay away from Immersion's (IMMR) haptic technology without customers complaining for the lack of physical response, while using these devices.
Asymco has some great charts, updated at Q4 2011, that resume the effect Apple had on the industry: a player that did not even exist 5 years ago is now getting the largest share of the sector's profits, and putting competitors in a corner as far as revenues:
Click to enlarge.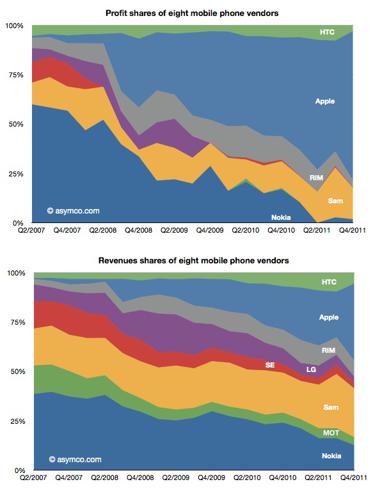 Charts from Asymco.
Google's (GOOG) Android OS simply tried to follow Apple's footsteps, and offered consumers a similar experience, as well as a quick alternative, for OEMs, to compete with Apple. Its aggressive commercial approach won the support of some of the largest handsets producers, excluding Nokia and RIM.
Android's timing, entering the mobile phone arena, was still decent, and today Apple and Google enjoy the largest share of smartphone/tablet operating systems.
While it is pretty obvious that, in the last few years, smartphone consumers (Nokia's main market) have turned to either Apple or Android operated handsets, the situation is slightly different for RIM, which still keeps an edge with corporate IT departments.
Unfortunately for the company, the new trend is BYOD (bring your own device), i.e. the demand, by employees, for anywhere anytime access to corporate networks from their personal devices, or, as we should probably say, from devices of THEIR choice.
A great future behind them?
Both Nokia and RIM have recently announced new corporate strategies to fight back and regain market share, with Nokia embracing Microsoft's (MSFT) new Windows Phone operating system, in a partnership aiming to establish a third player in the smartphone OS arena.
While it is certainly too soon to judge if these turnaround strategies can be successful, investors keep wondering if the real value for these companies could be hidden, instead, in their patent portfolio, built throughout the years and somehow essential to operate in the consumer and enterprise handset markets (as proven by the 2011 Nokia/Apple settlement), or in its "network operations center," or NOC, in RIM's case.
Investors who believe there is value in these companies' IP are probably also betting on a buyout, although most rumors have proved to be rootless, so far (including the funny ones).
While many bad news seem already priced in with both companies, sitting on the side line doesn't seem such a bad strategy, as several execution risks (think about the recent Nokia software glitch) remain and even existing established players suffer from margin pressure, in some cases caused by the fact that sharing the same Android OS makes it harder to differentiate products.
Turnarounds don't happen overnight, and it's hard to see, in both cases, that the inflection point has already been reached: the main risk of watching-without-a-position seems to be the possibility of missing a buyout offer, which would translate in an indirect admission that the new management has already failed. Unlikely, in our opinion, at least so soon.
Disclosure: I am long IMMR.