In a press release Tuesday afternoon, NovaStar (NFI) revealed that it was selling its existing portfolio of servicing rights and servicing-related advances to Saxon Mortgage for $175 million, about a $70 million premium to their recorded value at June 30, 2007. NovaStar expects to subsequently exit the servicing business. The sale will enable NovaStar to repay its existing $100 million Servicing Rights Facility with Wachovia (NASDAQ:WB) and its existing $80 million Servicing Advances Facility with Deutsche Bank (NYSE:DB).
The big winner on the deal was Deutsche Bank, which will fully recover its credit line extension to NovaStar in the form of the Servicing Advances Facility and DB will also earn deal fees for advising NovaStar in the transaction.
NovaStar, for its part, will "focus on managing [its] portfolio of mortgage securities, along with brokering loans with a retail team that continues to serve homeowners." Perhaps NovaStar should also focus on maintaining a strong relationship with its remaining creditor, Wachovia Bank. Astute readers may have guessed this was coming, as late Friday, NovaStar disclosed that it had entered into a forbearance agreement with DB over the Servicing Advances Facility and it was paying a hefty fee for two weeks of grace.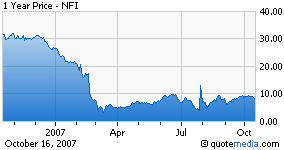 Disclosure: none