There has been much talk of Gasfrac Energy (OTC:GSFVF) lately in light of the company's Q1/2012 revenue warning issued on April 9th 2012. Even though the term "revenue warning" is a relative term, since the company is still growing at 50% year over year. While this is a solid growth number, when we take into consideration that the company has double the capacity in the field compared Q1/2011, 50% growth is disappointing to many.
In light of the above, it bears asking whether this revenue warning is a serious red flag or a simple hiccup for a technology company at the early stages of its adoption?
Tracking the progress of a new industrial technology is never a linear matter; revenues and profits of companies at this stage of adoption often jump and ebb with the signature of major clients, timing of revenue recognition, service prevision constraints, etc. Yet, at times true fundamental problems do exist with a new technology and those issues are often obstructed by more benign factors.
In this article I will attempt to decipher the issues facing Gasfrac Energy and eventually transition to focus on the company's prospects in the United States.
So what's going on at Gasfrac Energy?
To understand what happened, we need to go to back to the first quarter of 2011 when newsletter writers such as Keith Schaefer had this to say about the company:
It is a fortune in the making. Keep reading to learn how you can collect yours, starting now.

… it has become its own sector in the oil patch… A global Mega Trend. One that's going to continue growing - quarter after quarter - for the next 20 to 30 years.

In fact, the entire global resource sector stands to make absolute fortunes using this company's patented, 'perfect solution.'
Mr. Shaefer was not alone; subsequently, investment banks from TD Waterhouse to UBS to BMO Capital Markets were all outrunning each other issuing bullish research reports and putting 12 months targets between $12 and $17 a share - for a company that came public at an IPO price of $5 in August - 2010.
The situation above created a surge in investors' expectations. Investors and short term traders piled on thinking that LPG fracturing will sell like hot cake and the company won't be able to keep up with demand.
Unfortunately, Gasfrac Energy was unable to live up to the hype; the stock quickly started to crater after hitting a peak in March 2011. The fire incident in January 2011 and the extended break up in Alberta in Q2-2011 had strong negative consequences on the company's results in subsequent earnings reports. Disappointed, those same bullish newsletter writers, blog writers, and analysts started to abandon the stock in mass with TD Waterhouse, BMO Capital Markets and UBS issuing a series of sell recommendations between February and April of this year (often less than 12 months since issuing buy recommendations on the stock).
Gasfrac Energy was left alone on the dance floor after the company's management got a whiff of the ephemeral fame often associated with show business.
Naturally however, Gasfrac Energy's story is not over: akin to the hype that was witnessed during the technology boom of the late 90s, names like Amazon (AMZN) and Qualcom (QCOM) were promoted to no end, leading to excessively high valuations, it took those companies many years to eventually catch up with investors' expectations at the zenith of the bubble and long after most of their early promoters had abandoned them.
Gasfrac, of course, is not blameless. The company's previous management played a key role in mismanaging investor's expectations; the company often overpromised and under delivered, and often blamed the short comings on external factors.
Yet, despite the old management's shortcomings, they did accomplish what few start ups achieve: they established a market for their technology, generated almost a $100 million in revenues in 2010 - only two years after the deployment of the first waterless LPG fracturing set, generated positive cash flow and generated positive EPS.
Execution issues
Encouraged by their tremendous success in 2010, an increasingly higher share price, and a bullish outlook for their innovative and unique technology, the company went on a capital spending frenzy. After having an average of 2 operating sets in 2010, the company proceeded to expand its fleet to 10 sets by the end of 2011; a 500% increase in capacity in an industry suffering from labour and material shortages.
Yet, as the company entered its hyper-growth phase, it experienced an unfortunate incident in January of 2011. The incident caused 3 minor injuries and forced the company to stop operations for 3 weeks, after which significant enhancements to safety were introduced.
Having recovered from that incident, the company faced the longest spring break up in 30 years in its main fracturing market in Alberta. The breakup lasted from early April 2011 to early July 2011 and brought the company operations almost to a full halt.
By the third quarter of 2011, the company achieved a major milestone by signing its first long term contract with a major operator in Sept 2011.
However, by October/November 2011 it was becoming apparent within the company that execution is lagging expectations. A number of clients abandoned the company after experiencing poor customer service; Gasfrac crews, for example, often overstayed their welcome on customer's sites, leading to major operational headaches for their clients. The company also lacked a proper marketing division and was unable to fully deploy or utilize all the fracturing sets it has ordered.
At that moment, the board of directors, to their credit, brought along veteran ex-Halliburton (HAL) industry executive Mr. Zeke Zeringue to lead and right the company. It was shortly after the appointment of Mr. Zeringue as CEO that I developed an interest in the company.
Mr. Zeringue brought along with him a number of ex-Halliburton employees; most notably Mr. Steve Bachelor, who was hired as COO in November 2011. Following his appointment, the company's new CEO undertook a full internal review between December 2011 and January 2012. By February of 2012 a new path was established for the company and a number of corrective measures were taken to put the company back on the right path. Some of which are:
Halting the expansion of additional capacity until the current capacity is fully utilized;
Establishing a supply management division to streamline the fracturing process by having the fracturing sites prepared prior to the initiation of a job and quickly cleaned after the service is rendered;
The start of an aggressive marketing campaign in the United States, which consisted of meeting with numerous E&P executives, launching advertising campaign in industry publications and industry events, and various other promotional efforts;
A full study was undertaken in collaboration with a major consulting house to visit with clients, ex-clients and potential clients to understand their concerns and issues they may have had with the application of the company technology;
Focusing the company's growth on a number of selected basins, where the technology has shown superior production results such as the Cardium, Viking and Montney in Canada, and The Eagle Ford, Permian, Niobrara, Marcellus and the Utica in the United States;
An enhanced focus on service delivery, customer satisfaction and customer education;
Continued focus on safety and safety improvements.
The efforts undertaken by the new management team are extensive, but they do take a lot of time to have an impact and thus it was highly unlikely that they would impact Q1/2012 results in any meaningful way.
The United States market opportunity
It is a known fact that the US oil/gas services market is 5 to 6 times larger than the Canadian market, with 2000 operating rigs in the United States vs 400 in Canada. Gasfrac started its expansion in the US in the summer of 2011. However, the significant growth push has started in February of this year following the completion of the internal strategic review.
Through its deployment in Canada, Gasfrac has demonstrated that there is a need for its waterless LPG fracturing in certain formations especially the following:
- Water sensitive
- Very tight
- Low pressure
In areas such as the Cardium formation in Canada, the company's LPG fracturing technology led to 2/3 times increase in cumulative production and significant increase in EUR. It is those results that encouraged Husky to sign a $150m a year 3 years (+2 years renewal option) fracturing contract with Gasfrac.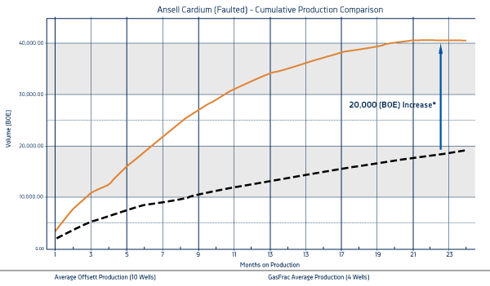 US Formations:
Niobrara
Those same superior results were experienced in a number of formations in the United States. Most recently, Quicksilver (KWK) indicated that due to LPG fracturing they were able to get much better results with LPG fracturing vs. other technologies in the Niobrara (Sand Wash formation). Quicksilver is expected to proceed with a full development of their acreage in 2013. Gasfrac has indicated that several adjacent operators have also expressed interest in applying LPG fracturing on their acreage. Operators in the area are Gulfport Energy (GPOR), Royal Dutch Shell (RDS.A) and Double Eagle Petroleum (DBLE).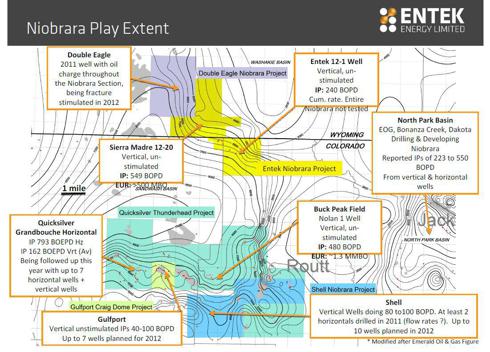 Source: Entek Energy
Eagle Ford
Likewise in the Eagle Ford. In February 2012, Phil Mezey, Co-CEO of the private equity backed O&G operator BlackBrush, had this to say about the application of Gasfrac's LPG fracturing technology in the Eagle Ford:
BlackBrush looked extensively for an alternative to "water fracs" as we recognized a definite problem in formation damage contributed by introducing water in the fracing process to the formations we are actively developing. Results from our first well with GASFRAC has seen oil production at a sustainable rate weeks earlier than with the standard water frac and we are seeing huge savings on disposal of frac fluids.

Gasfrac has also indicated that another Eagle Ford operator with an extensive acreage position will be testing the technology in the third quarter of 2012.
Utica
In April 9th, Gasfrac had this to say in their Q1-update press release:
In the Ohio Utica play, a major independent has requested that we perform a two well trial in an area we are confident will benefit from the GASFRAC technology.
Through my own industry contacts, I was able to identify the large independent in question and I can confirm that it is one of the largest independent operators in the United States.
It is important to note that EV Energy Partners (EVEP), which is Chesapeake Energy's (CHK) partner in the Utica, has indicated that the industry is having problems with well completions in the Utica oil window and to some extent in the NGL window. In exploring this problem with a petrophysicist from a major E&P company, I was able to confirm that LPG fracturing may very well be the solution to the completion issues in the Utica formation.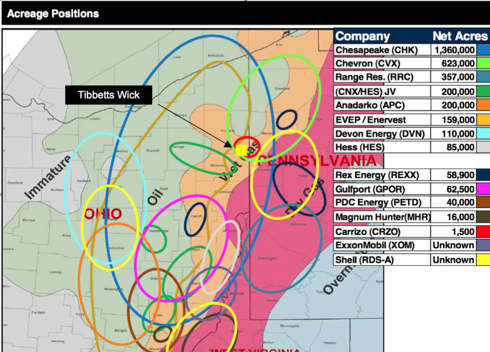 Source: ShaleCo
Others
The company has also been active in the Permian and the Marcellus. Specifically in the Marcellus, operators have denied the company the ability to share production data, which is usually a sign of a competitive edge that operators refuse share.
Unlike Canada, certain areas of the United States suffer from drought conditions, this is especially pronounced in states like Texas and Colorado. This lack of water and increasingly stringent regulations to deal with fracturing wastewater are a wind at the back of Gasfrac in the United States.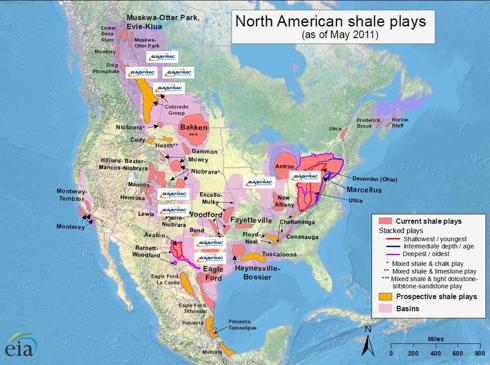 Conclusion
It is vital to keep in mind that Gasfrac's US expansion remains in its very early stages; information about the technology superiority in a number of basins is just emerging and naturally there is a lag between the release of superior production data and the translation of that data into incremental business.
The company's new management is very familiar with the US market: being of American origin and having worked thirty years for the largest US service provider gives the new management team tremendous advantage to excel in the US market.
Gasfrac's commitment to the US market is unmistakable: The company's CEO is based in Houston and the company is currently in the process of establishing a number of operational bases throughout the United States. Gasfrac has already indicated that by 2013 its US revenues are expected to surpass its Canadian business. This is not surprising, considering that Gasfrac was able to achieve close to $100m in revenues in Canada within two years of its commercial deployment - a market that is 20% of the size of the US market.
Yes, the company's growth in 2011 and early 2012 hit a number of obstacles - some were external and some self inflected. However, the steady adoption of LPG fracturing is ongoing. The speed of this process is governed by the needs of the industry and not the excel sheets of the bank analysts. This adoption is also irreversible: once LPG pierces through in a given basin, it will likely get adopted by a number of other operators. This is simple logic: If Gasfrac's LPG provides the best economics in a given area, it will be the technology of choice in that formation.
Gasfrac's management has expressed a goal of signing 6 additional long term service contracts in the US in 2012. The signature of those contracts will have a powerful impact on the perception of the company and most importantly the perception of the technology. Such contracts will provide both a final validation of LPG fracturing and generate substantial financial returns to the company.
Final Thoughts
When I was a teenager (at the start of .com boom), I built a website with a friend called marsmission.net. We were selling novelty ownership deeds for pieces of land on Mars for $19.95 a piece. I remember telling my partner: "If we manage to sell one deed, we will be able to sell another". A week after putting the website online, we sold our first deed and shortly after multiple orders came through. We thought we would be rich, until a virus hit our server and our website was erased (good thing it did, because I don't think what we did was legal anyhow).
The moral of the story is: If one client pays for your product, it is very likely that someone else will. If a large operator like Husky concluded that LPG fracturing is worth $150m a year, it is very likely that several other clients in Canada and the US will feel the same. The next few months will be telling, but writing the company and its technology off just prior to its expected breakthrough in the US is a major mistake.
Disclosure: I am long OTC:GSFVF.