We're going to talk about some outlandish numbers. I followed the very same methods that have served me quite well for predicting Apple's (NASDAQ:AAPL) earnings. And I was surprised by the results.
Over the years, those methods failed miserably exactly twice, both for the same reason: an important product transition. Here we are again, contemplating a quarter when Apple's fastest-growing product line has a new version. I'm writing this article mainly for the insightful discussion that Seeking Alpha members will have around those numbers. Not only I will learn and refine my method as a result of your input, but my present estimates may actually turn out to be an excellent prediction.
AAPL is at an important juncture, and those earnings have the power to sustain the current price level, and further power the rally, but even minor disappointments could send us back in a downward spiral, as it was the case last October.
I will start with some very general remarks about computing estimates to guide our ongoing analysis.
As I observed in a previous article, until some boundary (like market share or geographical penetration) has been reached, Apple's sales on each product line increase exponentially. Generally, this means that y/y growth is almost constant, unless the timing of the introduction of a new version is different. Obviously, there are many other exceptions that have various degrees of impact on the numbers.
Historically, seasonality plays an important role. This means that q/q growth is also relatively stable. The global seasonality picture has evolved lately, especially thanks to sales in China. Not only can we observe unusually high growth, but China's holiday season takes place during the second quarter. As most Apple products are manufactured in China, the January break for Foxconn and Pedragon workers had an impact on global sales, too. Remember that Q1 had 14 weeks while Q2 had 13 weeks, an exceptional situation that we have to take into account.
Apple follows relatively simple rules. Therefore, we can see many patterns in the way they operate. As observed by Horace Dediu, Apple's manufacturing capacity investments approximately double every year. Andy Zaky shows how Apple's guidance, while laughably low, can be used reliably to do estimates if adjusted correctly. Average sales price (ASP) and gross margins (GM) have remained relatively stable for years, even as product lines evolve, at times dramatically.
This may sound obvious, but it is important to use the same spreadsheet as Apple does to assemble their revenue, gross margin, and other items to obtain the earnings per share (EPS) number. I found that for each number I have to estimate, for example iPhone sales or ASP, it's better to think in terms of confidence intervals than to pick a number.
It is important to observe events related to production issues, geographical expansion, surveys, and even check whatever insights professional analysts may have gleaned from Apple's executives (or from some of their partners and suppliers). However, one has to completely ignore the analysts' reasoning and predictions because when it comes to Apple, they just don't get it.
Following those principles, I'll turn to specific product lines and do my best to obtain a confidence interval for each number. The middle of the interval will be used for estimates.
Desktop units and ASP linear charts with trend-lines.

Desktops. This is the oldest product line of Apple and has been the workhorse of the company for almost three decades. While it is approaching the sunset of its tumultuous life, making place for the mobile computing revolution, it seems to profit from the well-known halo effect to some degree lately. Its Q2 y/y growth has averaged only 3.5% over the last three years with an average Q1/Q2 drop of 6%. Its ASP has wiggled in the interval $1300 - $1400 with no clear pattern y/y or q/q, now trending towards the lower boundary of this interval. I think Apple has sold 1.1M to 1.45M desktop computers during Q2, with an ASP in the range $1250 to $1370. The average 1.275M units sold would imply a 21% growth y/y and a 16% drop q/q. The ASP of $1310 would represent a 9% drop y/y and would be flat q/q.
Laptop units and ASP linear charts with trend-lines.

Laptops. MacBooks are on the borderline between computers and mobile devices with two lines of products, the Pro and the Air, each standing on one side of the fence. The cheaper MacBook was retired last July, and since then ASP have stabilized around $1250. Its Q2 y/y unit growth has averaged 18.1%; the q/q drop has averaged 17.5%. The estimated confidence interval for unit sales is 3M to 3.85M; ASP should be higher than $1200, at most $1310. This implies y/y unit growth of 19.7% and q/q drop of 8.5%.
iPod units and ASP linear charts with trend-lines.

iPod. Cannibalized by the iPhone, the iPod is the only Apple product with sales in a clear downtrend. It still maintains a dominating market share in MP3 players, but the entire market is shrinking. With relatively small ASP, it doesn't have a meaningful impact on revenue or earnings anymore. There is still an obvious spike in sales during the holiday quarter. With the help of the iPod touch, which seems to account for at least half of units sold, and which should provide a soft landing, the ASP was steady around $170 for nine consecutive quarters. Units should be in the range 6.5M to 7.6M and ASP from $160 to $170.
iPhone units (logarithmic) and ASP (linear) charts with trend-lines.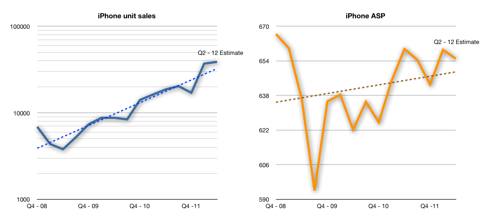 iPhone sales represented 52.7% of revenue last quarter. I will explain why I think this number has gone up this quarter by another 5%. It has been estimated that the gross margin of the iPhone is more than 60%, by far the most profitable Apple product. One cannot understate the importance of getting the unit sales right as it will represent about three quarters of the total gross margin this quarter.
Since the introduction of the iPhone 3G which was sold for the first time with carrier subsidy, just as most consumers were used to buy phones, the sales numbers have increased exponentially. That's the reason for which we can better visualize that evolution in logarithmic scale. ASPs have a slightly upward trend and have stabilized around the $650 level.
The iPhone 4S was introduced on October 14, almost three weeks into the first fiscal quarter, which had 14 weeks. Consumers stopped buying the previous version during Q4 which, together with the bump in Q1, is clearly visible in the graph. The 4S sold 37M units during the quarter, 4M during the first weekend. Assuming modest sales of previous models before its introduction, this leaves us with about 3M per week for the remaining 11 weeks. And the most important fact is that we can approximate the production rate by this number. Production has probably increased nicely during the quarter and continued the trend during the second quarter.
As Apple released the new iPhone in October instead of June or July, using only y/y and q/q trends turns out to be the wrong approach this quarter. Another factor is that some large carriers have been added to the partners list.
Here's a better method I learned from Horace Dediu: just estimate production capacity (he uses this method for understanding longer term evolution). How do we know that Apple has sold all the iPhone 4S units it could build? Just check its online store from time to time to see where it is not in stock. It turns out that in Hong Kong, it was not in stock before mid-March. Hong Kong is a major distribution hub for Southeast Asia because its taxes are low and the gray market has developed for several years.
We have already solved half the problem. Unfortunately, I have no information about the production ramp-up's speed so I'll have to guess that. Remember that the Chinese observe the New Year from 23-28 January, so we should probably count only 12 weeks for production.
With a modest increase from the 3M per week figure and maybe an oversupply during the last two weeks of March, I think the worst-case scenario is 36.3M iPhones sold during Q2. With an average production increase of 15% per week, the best-case scenario adds up to 41.25M iPhones sold. ASP in the range $630 to $680 would imply over $25B of revenue from the iPhone alone this quarter or an annualized $100B of revenue. If the iPhone alone were a company, it would be in a very select club.
iPad units (logarithmic) and ASP (linear) charts with trend-lines.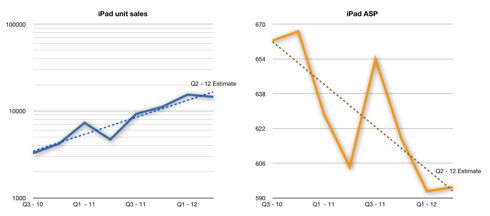 iPad sales are probably the hardest to estimate, and I expect many of us trying to predict that number to be way off. There is no reliable history of this explosive product, which in less than two years brought almost 20% of Apple's revenue last quarter (mind you, it competes against the mighty iPhone at this little game). Percentage-wise, it's probably the second-highest gross-margin-generating product. Except for the launch of the iPad 2, when production was seriously slowed by the Japanese tragedy, it has followed an exponential curve quite closely. ASP followed a downtrend, and I suspect the $16 Apple defers for each iPad sold since Q4 has an influence here.
Given that the only occurrence of Q2 sales was highly distorted by production issues, we have almost no y/y or q/q patterns at hand. What we do know is that Apple sold 3M iPad in the first four days, recalling the iPhone 4S story. However, the new iPad was on sale for only two weeks in 10 countries and for one week in 25 additional countries.
This very aggressive launch suggests high production capacity. If I had to guess from this information alone the sales for the new iPad, I'd say 3-4M in almost two weeks after the launch in the first ten countries. Then maybe 2-3M during one week in the additional 25 smaller countries. This would add up to 8-10M for the new iPad alone.
We still have an open question about the sales of the iPad 2. Have they stumbled just before the launch of the new one? It turns out that in China only the iPad 2 is available and it was in stock in the online store there only during the second half of March. This just spells big numbers.
As this is not a reliable method for estimating demand, I will turn again to production estimates.
During 12 weeks of production compared to the 14 in the previous quarter, if no growth is assumed, 13.2M iPads should have been sold. In the worst case, I decided to allow for a decrease in production of about 10%, if workers and production lines have been allocated to the more challenging iPad. But given the tremendous efforts Apple seems to have done to ensure enough supply-again, without success-I'll allow for a maximum of 30% weekly production increase for the two models combined. This yields a very large confidence interval, from 11.9M to 17.2M iPads sold. For ASP, I again use a large interval as the historical variation has been important, from $570 to $620. Price cuts for the iPad 2 were only offered for about two weeks, so they should not have a measurable influence on the ASP. My prediction amounts to 14.55M iPads units with ASP of $595.
iTunes, Hardware and Software revenues linear charts with trend-lines.

iTunes, Hardware and Software. Not having many details, we are going to use historical trends exclusively to estimate the revenues for each category. Observe that out of the three, only iTunes sales increase in Q2 compared to the holiday quarter. It's quite normal as those iPods and iOS devices just bought or received as presents have to be fueled. We obtain estimates of $2.075B, $735M and 810M respectively for those revenue lines.
Gross Margins are of capital importance, both because they have a lever effect on EPS but also because analysts and investors give it a tremendous importance while assessing the long term health of companies. Here again, we have two ways of doing estimates. One is using Apple's guidance, which for this quarter is at 42%, two points higher than for the last quarter. For the last five quarters, they offered estimates that turned to be lower by 2% to 4.7%. The second method is to compare to the previous quarter and assess the product mix and their respective GMs.
From our previous estimates, the iPad should have a flat share of revenues, but the iPhone should go up by about 5% of total revenue. As it is by far the most profitable product, I expect it to make a measurable difference. So my confidence interval is 44% to 48%, therefore the prediction is 46%. Remember, however, that Apple makes money on hardware. This is about an order of magnitude higher than Dell, for example.
Operating expenses linear charts with trend-lines.

Operating Expenses. Again, we only have historical trends and Apple's guidance of a total of $3.05B. Our estimates are $760M for R & D and $2.35B for S, G & A.
OI & E. An often-ignored line in the statement, but it has an important contribution to EPS-it adds directly to operating profit. For quite a while, this was insignificant due to low interest rates. Percentage-wise, it still jumps unpredictably, so there are no real historical trends here. We can, however, use Apple's guidance as that is quite conservative (no surprise here), but increased from $80M to $125M from Q4 to Q1. The actual number was $137M last quarter, so we arrive at a guess of $175M.
EPS. Adding up all the numbers, we obtain the following table. EPS should be around $14.06 which would bring the 12-month trailing EPS to $42.78, a 21.8% increase from the current $35.11. One should not expect an increase in the share price anywhere near this number, as the P/E has progressed dramatically during the last three months.
I congratulate you readers who made it to this point and encourage everyone to bring their ideas to this brainstorm, no matter how crazy the ideas may seem at first glance. If Apple were a normal company, we wouldn't have occasion to think about it so much.
Acknowledgment. I would like to thank John Markuson for his help with English grammar and style for this article.
Disclosure: I am long AAPL.
Additional disclosure: I leverage my investment using call options.