Valuation & Conclusions
The beauty of the rare earth alloy production industry is that a company can take one tonne of neodymium metal and produce three tonnes of NdFeB alloy, which can be sold for the same price per tonne as the original tonne of neodymium metal was purchased by the alloy producer. It is a wonderful margin expansion opportunity provided that there is not a surplus of alloy production capacity that results in a price war compressing margins. Molycorp (MCP) had a great slide in its presentation in June 2011 at their shareholders meeting that captured this margin expansion beautifully.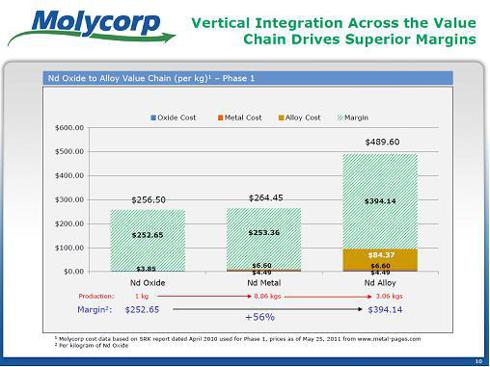 Just how this dynamic makes LCM a phenomenal business model with a secure supply of rare earth oxides, we view the discrepancy between the market valuation of Great Western Minerals (OTCPK:GWMGF) versus the intrinsic value of Less Common Metals to be a phenomenal investment opportunity.
Model Background
First and foremost, we have modeled Less Common Metals as a standalone entity that will acquire all its rare earth oxide inputs on the open market using prices included in our price deck and selling finished NdFeB and SmCo alloy at the prices reflected in our price deck. As a result, our first key assumption is that the margins embedded in our price deck, which we updated to incorporate April 2012 domestic Chinese rare earth oxide prices, will remain at their current levels. We sourced these April 2012 domestic Chinese prices from Lynas (LYSDY.PK).[1]
We feel comfortable that the existing outsized margins for alloy production will continue to prevail in the medium to long term because other than Molycorp, we see no other alloy production capacity of note outside of Japan and China. The reason for this is, as we explained earlier in this report, because it is very IP intensive. We see the lack of human capital as a significant barrier entry for those that would seek to replicate Less Common Metals or join Molycorp and Great Western Minerals in the alloy production segment of the supply chain. Again we reiterate that while the company would not confirm this, we have spoken with individuals in the rare earth industry who believe that David Kennedy and Ian Higgins have non-compete clauses in their contracts.
There will also remain a market for independent alloy producers and upstream rare earth companies integrating through the alloy and magnet segments of the supply chain because there are several consumers of rare earth permanent magnets that do not consume such significant volumes that it is economic to internalize alloy and magnet production.
The second key assumption is that we have done for both simplicity and conservatism is that we have not given Less Common Metals any credit for production of alloys until the beginning of 2015. The reason for this is that, while we can forecast when each furnace will be installed, we cannot forecast the production capabilities at Hooton Park during the multi-year installation and construction process. As a result of this, we view our valuation of LCM as extremely conservative.
The third key assumption is that we have assumed LCM can secure a consistent supply of rare earth oxides to produce its alloys. With the commission of Mountain Pass Phase I at the beginning of 4Q2012, and the potential commissioning of the LAMP facility in Malaysia at some point in 2012 (at this point, it would just be reckless to forecast a more specific timeframe), we see LCM able to source product from several locations. We would note that while Molycorp will be producing alloys of the same variety as LCM, Molycorp has agreed to provide Hitachi with didymium metal and alloy plus lanthanum oxide.[2] Given that Hitachi produces sintered NdFeB magnets similar to those that will be produced in the Mistubishi-Daido-Molycorp joint venture, Molycorp has established that it is willing to sell rare earth oxides to those that may compete with its own downstream rare earth products. On the Lynas side of the ledger, the LAMP facility only produces through the separated rare earth oxide stage of the supply chain. As a result, we feel confident that Great Western Minerals will be able to secure rare earth oxide supply for LCM should our skepticism on Steenkampskraal prove correct.
If we are incorrect on this assumption of secure supply being available in 2015, we would not view it as a "deal breaker" for the simple reason that we see a handful of rare earth deposits entering production in the 2016-2020 time period which will improve the supply dynamics. This would mean in a worst case scenario that the LCM facility would operate at less than full capacity until probably 2017 when rare earth projects such as Norra Karr come into production.
Just as a sidebar, note that the dysprosium production from Tasman Metals' (TAS) Norra Karr could easily supply LCM with its requirements for dysprosium and over one third of its neodymium requirements. Given that 60% of 2011 business came from Europe and the business relationship with Vacuumschmelze, it appears to us that there is a long term opportunity for an EU rare earth supply chain from mine to magnets with LCM being the major player in the metal and alloy segment.
On the production front, we are modeling 4,000 total tonnes of alloy production starting in 2015. Of this total production, we have broken it down to 3,700 tonnes of NdFeB alloy based on the five strip cast furnaces capable of producing 600 tonnes per annum (assuming only two shifts per day) plus the book mold furnace that will be installed in one portion of the Hooton Park facility. If the facility operates at three shifts per day, then those five strip cast furnaces can produce between 3,500 and 4,000 tonnes of NdFeB alloy per year.
We differ significantly from Byron Capital Markets on the matter of long term total alloy production as in their December 28, 2011 report on Great Western Minerals they stated that their model has Great Western Minerals producing 700 tonnes of alloy per month starting in 2017. Having visited the Less Common Metals facility at Birkenhead North, the new facility at Hooton Park, and spoken with management, we can say with great confidence that the 2017 production level for Less Common Metals is going to be significantly closer to 4,000 total tonnes than the 8,400 tonnes suggested by the Byron Capital Markets report.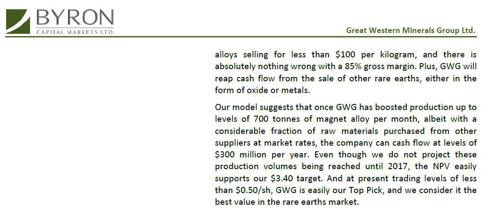 On the matter of capital expenditure for Less Common Metals, the budget for the current LCM capital project is approximately $20-$25 million based on our due diligence. This low budget estimate gave us pause since it includes each new NdFeB furnace costing less than $5 million given our prior research on the cost of NdFeB alloy furnaces, but, as investor relations put it plainly to our editor, if each furnace cost $10-$15 million then Great Western Minerals would not have been able to purchase the first one that just was installed given its corporate cash balance at the time the furnace was ordered. The proof to us is in the fact that the furnace is in fact installed at Hooton Park (our editor saw it). As a result, we are comfortable with the $25 million approximation of the LCM capital budget, but to be conservative we have doubled the CAPEX budget in our discount cash flow model to $50 million with half the expenditure occurring in 2013 and the other half in 2014.
On the operating cost front, we looked to two public documents and had conversations with multiple experts for guidance on the long run operating costs of LCM under the fully expanded capacity. The two public documents were the Molycorp IPO prospectus and the 2010 full year financials for Great Western Minerals which are easily accessible on the respective corporate websites.
We estimate that given the long operating history of LCM and the downstream operations that Molycorp are bringing into their business model for the first time in the sixty years since mining at Mountain Pass first began in 1952 the costs structures should be similar for the two operations. However, our conversations with experts in the rare earth sector indicate that Less Common Metals is currently considered a high cost alloy producer versus their peers in Japan. As a result, one avenue we took to determine a production cost estimate was to back out the Molycorp metal & alloy production cost on a rare earth oxide basis and then use a multiple of that per kilogram REO input cost estimate as our LCM production cost figure.
The problem with this model is that it does not incorporate the fact that Less Common Metals will have to acquire its rare earth oxides on the open market. We would note however that in our price deck, increases in rare earth oxide prices flow through to increases in the price of metals and alloys, so the true question is what is the cost of processing the rare earth oxides. We used a 20% premium to the costs assumed in the Molycorp IPO prospectus for the sake of conservatism and because of our conversations with industry insiders regarding where LCM is on the cost curve and modeled a processing cost of $73/kg rare earth oxide input. This is translates to a production cost $25 per kilogram of alloy product produced.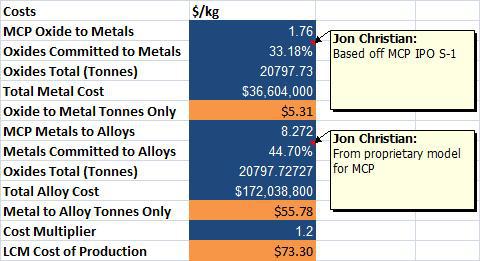 The second approach we used is to look at the cost structure of Less Common Metals as shown by the 2010 financials on page 31 where the manufacturing and exploration segments are broken out.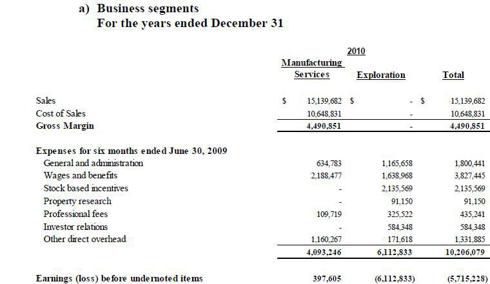 If we exclude the "General and administration" cost line (as it probably is attributable to resources from the Saskatoon headquarters office committed to the LCM entity), we derive that in 2010 it cost Less Common Metals approximately $35/kg alloy to produce 400 tonnes of alloy products which our research suggests was broken down 55% SmCo, 35% book mold NdFeB, and 10% specialty alloys/metals. This means our estimated processing cost of $25/kg alloy product is lower than the 2010 production cost of $35/kg alloy product.
It must be acknowledged however that we cannot use 2010 production costs since rare earth oxide prices are substantially higher than they were for the first half of 2010.
The way we resolved this issue is to separate our processing costs and the cost of acquiring rare earth oxides. We determined the rare earth oxide requirements of LCM based off the following product assumptions. We assumed the NdFeB alloy production on a top down basis consists of 29% Nd content and 4% Dy content. We modeled 25% Sm content in the SmCo alloy production of LCM. On the issue of pure neodymium versus didymium (75% Nd/25% Pr) based NdFeB alloy, our discussions indicate to us that the LCM product mix will be approximately half pure neodymium NdFeB alloy and half didymium based NdFeB alloy. Each variation of the NdFeB alloy has its own unique properties, so this is very much a customer by customer matter. However, we would add that it appears regionally that in Europe pure Nd alloys are preferred, Japan is mixed on preference, and China tends to be dominated by didymium based alloys.
For the other rare earth oxide inputs required for LCM, we used the numbers included on a slide of a late 2011 Great Western Minerals corporate presentation we have on file.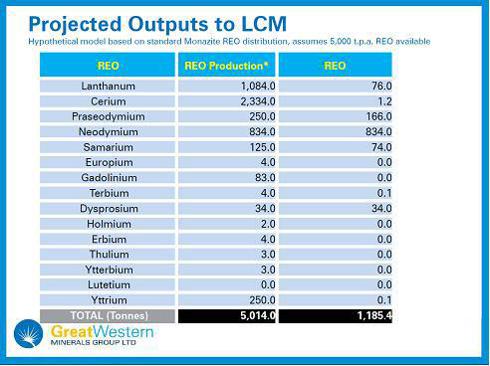 Given these figures, our projected rare earth oxide inputs requirements for Less Common Metals under the 4,000 tonne per annum alloy production scenario were the following: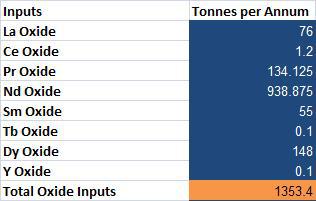 The major deviations from what is in the table are that the neodymium is significantly higher relative to the praseodymium, the elevated dysprosium requirement, and the lower samarium requirement. The first is attributable mostly to our assumption that half of the NdFeB alloy production out of LCM will be pure Nd based alloys instead of didymium based. The second is attributable to our 4% dysprosium content assumption. On a 3,700 NdFeB alloy tonne per annum basis, the dysprosium in the table suggests less than 1% dysprosium content which, while we do believe in the technological breakthrough reducing dysprosium requirements story, is probably wishful thinking. The third is due to our estimate that the samarium content of the SmCo alloy being produced at LCM is only 25%. But given the fact that LCM has several induction furnaces, it is completely possible that in the event of Steenkampskraal coming into production that LCM will expand SmCo alloy production if there is customer demand.
We also need to point out that on the revenue side, we have attributed zero revenue to the specialty metals and alloys that LCM produces. This was only 10% of the 2010 production and information on the breakdown of this segment was difficult to locate and the pricing of the products was not possible to determine.
On the SG&A cost side of the ledger, we have assumed $15 million per annum. This includes all costs out of Saskatoon and exploration expenditures.
On the interest payments line, we have included the 8% coupon on the $90 million mandatory convertible financing Great Western Minerals just closed in early April 2012.
On the income tax line, we have used the UK corporate tax rate of 26%.
The Base Case Model Snapshot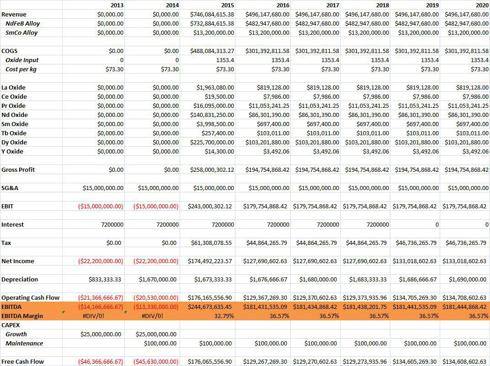 What is immediately noticed is that under the prevailing domestic Chinese prices for rare earth oxides, and our assumptions for rare earth metal and alloy prices (metals priced at approximately 40% higher than oxides on a kilogram basis, alloy price per kilogram equals price of input rare earth metal per kilogram), Less Common Metals biggest input cost is dysprosium oxide. This is something we will be discussing in the future, but it is worth noting that dysprosium keeps coming back into the discussion whenever we want to consider downstream economics.
If our dysprosium content figures are excessive, it materially impacts our price target. If we reduce our dysprosium content estimate from 4% to 3.9%, our price target increased 2%. We got the sense on the April 11th conference call that David Kennedy in a roundabout way was trying to tell us indirectly that 4% was too high an assumption with how he talked about how alloy LCM produces for Aichi Steel did not require dysprosium. If we reduced our dysprosium content for LCM produced NdFeB alloy from 4% to 3% (which we think long term is what has to happen across the industry) then our price target increases 17%.
On an EBITDA margin basis, these are astonishing numbers that naturally begs the question of if they are sustainable. The answer in our opinion is that they are since we see the LCM intellectual property and human capital as significant competitive moats that other rare earth juniors cannot focus on developing while also developing their flagship deposit given the deficit of personnel outside of China and Japan with the necessary expertise.
Our model generated the following net present values given specific discount rates, please note we assumed only twenty years of LCM production. This was roughly equivalent to the net present values we achieved assuming ten years of production followed by a buyout at a 4.0x EV/EBITDA multiple.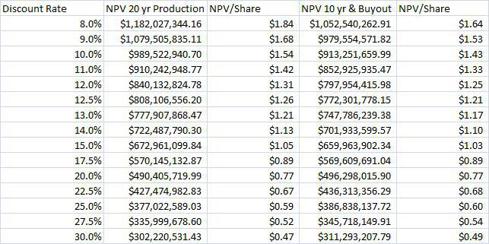 We used a shares outstanding figure of 640,746,120 based upon the following:

We also estimated $86 million cash outstanding (incorporated into our NPV estimates above) after accounting for the approximately $4 million in deal fees on the mandatory convertible offering and assuming all cash balances prior to the mandatory convertible offering is spent on Steenkampskraal and exploration efforts during 2012.
Discount Rate Determination
When it comes to rare earth junior mining companies, we have been using a 20% acquirer after-tax IRR model to discount back project cash flows with a 17.5% discount rate for post-project capital raising analysis (since capital risk would be removed).
In our Molycorp analysis published in January, we used a 12.50% discount rate which we felt adequately reflected the risks involved in the company as a producer of strategic oxides, metals, and alloys which are more comparable to base metals than precious metals.
Given the long history of production at LCM, how impressed we were with the personnel involved with the day to day operation of the facility and the confidence we have in our assumptions being conservative, we believe a 15% discount rate is appropriate when valuing Less Common Metals. This discount rate adequately reflects the fact that the LCM project is fully funded after the $90 million mandatory convertible offering while at the same time acknowledging that some supply risk exists since in our assumptions Steenkampskraal and Hoidas Lake does not ever enter production. Because of this, we cannot justify the same discount rate we used for Molycorp.
Based upon this discount rate, our YE2012 price target for Great Western Minerals is $1.05/share. We could have very well justified using a 13.5% or 14% discount rate and then a sub 1.0x P/NPV multiple, but it was the equivalent effect of setting our discount rate at 15%.
Our discount rate of 15% is significantly higher than the 11% used by Byron Capital Markets. If we used an 11% discount rate, all else being equal, our price target would be $1.40/share.
Conclusions
Our major conclusion from this analysis is that upon understanding the long term plan for Less Common Metals as a significant producer of NdFeB and SmCo alloy on an expanded scale, there is significant value in Great Western Minerals as a midstream/downstream rare earth company. The market simply does not see it because the vision is not being adequately presented to investors in a transparent manner and the focus is being kept far too much on the Steenkampskraal monazite mining project in South Africa.
In many ways, this is an institutional problem with Great Western Minerals. The company talks about Steenkampskraal, but has not yet published an NI 43-101 resource estimate or even more critically a feasibility study that enables investors to understand the potential of this mine and the proposed operation.
When sell side equity research analysts are assuming CAPEX and production costs and there is not even a PEA of a comparable project (which we as an independent investment newsletter had in the Kipawa PEA when we initiated on Tasman Metals to guide us on CAPEX and production cost estimates), the risk that they are off base is significant. As an example we highlighted previously in this report, Byron Capital Markets believes LCM will be producing 700 tonnes of alloy per month in 2017 whereas after our visit to Hooton Park we are very confident the annual production will be 4000 tonnes per annum in 2016 and we heard nothing about doubling capacity during 2016 (and based upon the layout of the Hooton Park land position it is not practical to fit that many furnaces on the site).
The corporate presentation from late March 2012 currently on the Great Western Minerals web site talks about the capital project at LCM in terms of percentage capacity expansions, but what investors and the market desperately need to be able to fairly value the LCM entity is concrete numbers. And while we are sympathetic to the desire to prevent an opportunistic takeover bid, we would highlight that investors very much would prefer if each capital raising happened at a higher per share valuation than the previous one in order to minimize dilution to existing shareholders.
We do so dearly hope management will not be too upset that we have published concrete numbers in terms of LCM current production capacities and planned future capacities. We can just hope it encourages them to provide some guidance on the operating cost and CAPEX parameters for Steenkampskraal, the rare earth chloride concentration plant, and the joint venture separation plant.
Our editor painfully remembers sitting through the Great Western Minerals presentation at the Rare Earth Power Breakfast at the InterContinental Hotel during PDAC and just hoping that against all odds Gary Billingsley, Chairmen of Great Western Minerals, would provide some information that would put the Less Common Metals project into context for those in attendance. But the next 12 month milestones to do list slide was almost entirely focused on Steenkampskraal except for the comment that LCM will have expanded furnace capacity.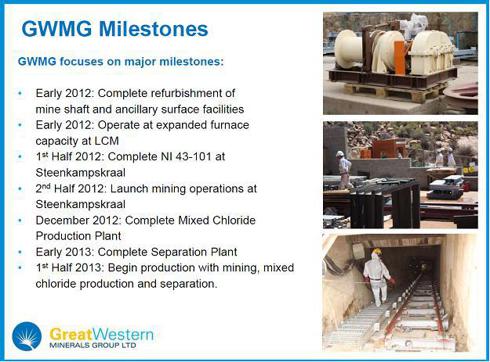 As a result, we don't blame the market for placing such a discount on Great Western Minerals valuation. But in the long term fundamentals trump all, and when we can assume:
· No value for LCM production in 2012, 2013, or 2014
· 2x the CAPEX budget for the LCM expansion ($50 million)
· 2x the historical production cost on a finished alloy product basis ($75/kg alloy v. $35/kg in 2010)
· $15 million per annum in SG&A to cover exploration and administrative costs for GWG
· 15% discount rate
We get an intrinsic value that suggests over 100% price appreciation from current market valuation, we have to put a side our concerns with the economics of Steenkampskraal and as one expert put it to us, "whatever they are doing up in Saskatoon", and say that LCM is worth more than twice what Great Western is currently trading at.
Based on the closing price of $0.47/share on April 9, 2012, our model would require a 30% discount rate to generate an intrinsic value that suggests Great Western Minerals is fully valued purely off of Less Common Metals.
We add that a strategic buyer could pay up to $0.77/share during 2012 in a takeover bid for Great Western Minerals Group and achieve a 20% after-tax IRR based of our valuation model for LCM. We can think of at least one strategic buyer that might be interested in such a deal in 2014 once the LCM expansion is in its final stages in order to expand its European customer base.
Our Final Word
After our initial report on Great Western Minerals on April 15, 2011 that focused on Steenkampskraal,[3] our editor took an absolute beating from the large swath of retail investors long Great Western Minerals. We continue to stand by our views on Steenkampskraal and one year on, we still want to see the NI 43-101 resource estimate and some guidance from management on CAPEX, production costs, and mining rates before we will be changing our view.
But since we published that piece on April 15, 2011 when Great Western Minerals closed at $0.81/share, the stock has traded down over 48% to its closing price on April 12th, 2012 of $0.41/share. We could take a victory lap and share a good laugh at the retail commentators that denigrated our work and gave our editor several sarcastic nicknames. We could highlight that we called the Neo Material Technologies-Molycorp merger in that report before anyone else publicly did so in the rare earth analyst community, "Bottom Line: It appears Molycorp has chosen Neo Materials over Great Western based on the letter of intent."
Instead, we are left to ponder why we ended up being so right even though Less Common Metals has been part of Great Western Minerals for more than two years prior to our initiation of coverage in April 2011. The answer is simply that the potential for Less Common Metals has not been adequately articulated without being attached to the Steenkampskraal project for which management has provided little to no guidance (let alone independent NI 43-101 compliant resource or economic estimates). As a result, the market has had virtually no information from which to value the long term potential of LCM except for a couple slides we found in an old Great Western Minerals presentations showing the potential EBITDA generated by producing 5,000 tonnes per annum of separated rare earth oxides, metals, and alloys at a certain set of REO price points. And on top of that, the financial filings were not very helpful because they did not separate GWTI and LCM.
So we would like to close by thanking Great Western Minerals for making us look brilliant for our call a year ago, and hope that the company's public focus is shifted towards Less Common Metals, so the market and investors can be better educated on the value creation opportunity of the current expansion effort. The real value of Great Western is in the Merseyside region of the British Isles, not in northwest South Africa.
So we hereby upgrade Great Western Minerals from a SELL to a BUY rating with a $1.04/share YE2012 price target that we consider very conservative. Our call is based on Less Common Metals, its management team, competitive advantage, IP barrier to entry, and the fact that the facility should be able to secure a consistent supply of rare earth oxides for its furnaces and electrolysis cells from rare earth mining operations inside and outside of China when the expansion project is finished at the end of 2014 and 4,000 tonne per annum alloy production commences in 2015.
We don't need to take a leap of faith on Steenkampskraal in order to see the value proposition on Great Western Minerals. Regardless of what happens with Steenkampskraal, Great Western is worth more than twice its current market capitalization purely based on the cash flow potential of its Less Common Metals facility operating on an expanded basis from 2015 onward. That is why we are comfortable upgrading Great Western Minerals to a BUY rating and our editor has purchased shares ($0.45 cost basis) despite the fact that management made us look like geniuses the past year for being bearish.
Click below to go to:
Disclosure: I am long MCP, OTCPK:GWMGF, CODI, TAS.
Additional disclosure: The facts in this newsletter are believed by the Strategist to be accurate, but The Strategist cannot guarantee that they are. Nothing in this newsletter should be taken as a solicitation to purchase or sell securities. These are Mr. Evensen's opinions and he may be wrong. Principals, Editors, Writers, and Associates of The Strategist may have positions in securities mentioned in this newsletter. You should take this into account before acting on any advice given in this newsletter. If this concerns you, do not listen to or consider our opinions. Investing includes certain risks including potential loss of principal. The commentary of The Strategist does not take into consideration individual investment objectives, consult your own financial adviser before making investment decisions.