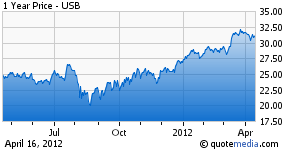 It was a testament to U.S. Bancorp's (USB) operating philosophy and disciplined underwriting strategy that the bank didn't make a lot garbage loans that came back to haunt it, nor did the bank hamstring itself like Wachovia or Bank of America (BAC) by paying premiums to acquire ticking time bombs. While some analysts and investors feared that new regulations governing fees would decimate what had been a real honeypot for U.S. Bancorp in years past, U.S. Bancorp earnings continue to show that while that operating environment changes, U.S. Bancorp remains a reliably well-run bank.
Few Surprises In Q1, And Most Of Them Were Good
U.S. Bancorp did a little bit better than expected in Q1, but perhaps more importantly, also delivered a clean quarter. Adjusted operating revenue rose 11% from last year and 2% from the fourth quarter, exceeding expectations. PPNR was likewise strong.
Net interest income rose 1% sequentially, as U.S. Bancorp managed to maintain its net interest margin at 3.6%. U.S. Bancorp does lag a bit here in comparison to the likes of Wells Fargo (WFC), but not be a truly meaningful degree. While the low rate environment is a drag on NIM, USB did report a 1% sequential increase in loan balances (somewhat higher on an average loan basis).
Fee income was stronger than expected as well, climbing 3% from the fourth quarter. While regulatory changes are indeed smiting the income streams from lines like ATM processing and interchange, the bank is compensating with greater revenue from areas like mortgage banking.
Credit quality is also continuing to improve. The non-performing asset ratio fell a better-than-expected 10 basis points, and the net charge-off ratio fell similarly. While it's still early in the reporting season, it looks like U.S. Bancorp is going to have some of the best credit quality metrics of its broad peer group ]including Wells Fargo, Comerica (CMA), JPMorgan (JPM), PNC (PNC), Bank of America , and Fifth Third (FITB)].
Moving On To The New Normal
Although U.S. Bancorp didn't follow Wells Fargo, JPMorgan, or PNC in making sizable acquisitions of distressed banks, they did make a few well-selected FDIC-assisted deals. Typically for this company, they represented logical tuck-ins that either strengthened the company in large markets (like California), or offered a foothold for organic growth in other markets.
At the same time, U.S. Bancorp is moving on to the new normal in its operating environment. USB is a top-10 mortgage originator (though much smaller in share terms than Wells Fargo), but boasts a very balanced business between commercial and retail operations. While new regulations have hurt the fee income side of the business, the company is already in the process of adapting to this and looking for new avenues for growth (including overseas payment processing).
The Bottom Line
Although I don't currently own it, I think U.S. Bancorp has a legitimate claim to being one of the best-run banks in the country. Oddly enough, while investors have returned to bank stocks, U.S. Bancorp has not been pushed up as much as its quality might have suggested. There are cheaper banks out there, but a lot of them [Citi (C) and Bank of America, for instance] have a great deal left to prove and arguably don't offer such outstanding potential when the risks are factored in.
U.S. Bancorp boasted an outsized return on equity prior to the crisis, and lower fee income will likely make it harder to match those past levels. That said, regaining 90% of its decade-average ROE (which includes the bad years) is enough to make these shares worth more than $40.
Right now, it looks like a "pick 'em" between JPMorgan, Wells Fargo, and U.S. Bancorp in terms of expected returns. I can understand investors who wish to avoid JPMorgan because of its large derivatives book and volatile investment banking business. Likewise, I can understand if investors are a little nervous about Wells Fargo's above-average exposure to retail banking and mortgages. With a conservative rep and a balanced model, then, U.S. Bancorp is certainly a legitimate third option.
Disclosure: I am long JPM.