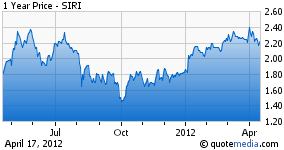 Get ready for some action in Sirius XM (NASDAQ:SIRI) because the news will spread quickly. Sirius XM has emerged victorious against their biggest talent Howard Stern in a suit that had hundreds of millions of dollars at stake. I broke the news on the evening of April 16th with a straightforward piece simply outlining what had transpired. We have not yet had time to see how the Street will judge such a big story. You the investor have precious little time to muster up your own thoughts and react accordingly.
For those that are new to the equity, Sirius XM talent Howard Stern and his agent Don Buchwald filed suit against Sirius XM alleging that the company owed perhaps hundreds of millions in bonuses due to the subscriber counts and the merger between Sirius and XM. Stern spoke of the suit on several occasions on his radio show, and the rants could sometimes make for great listening. At odds was whether Stern was due substantial bonuses because the companies merged. Sirius XM disagreed with the Stern assertions and the suit moved forward only to be taken out of the public view until April 16th when Judge Barbara Kapnick rendered her decision in favor of Sirius XM. Stern can appeal, but that will be a news story for another day.
The victory removes the cloud of the lawsuit from the equation. Also celebrating the victory would be Liberty Media (LMCA) which holds a 40% stake in Sirius XM and is contemplating taking a larger stake. There are many dynamics to consider:
Will the victory bolster the equity?
Does this make Sirius XM more valuable?
Does this make Sirius XM more valuable to Liberty Media?
Will Stern appeal?
Will Stern once again become an ambassador for the company?
Is the current Stern contract the last one?
As you can see there are many moving parts here that interrelate in several ways. The trick for savvy investors is how to play this news. In my mind this equity will see a pop on the news that could carry it upward toward $2.30 once again. In addition to this news we have the press release issued today by Sirius XM that they will be announcing earnings on May 1st, only two weeks away. Given the combination of the Stern suit news and pending earnings, I think this company may be able to hold some decent ground over the next two weeks. Take a look at the judge's decision and consider that with what you already know about Sirius XM.
Disclosure: I am long SIRI.
Additional disclosure: I have no position in LMCA.