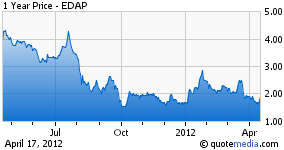 Shares of EDAP TMS S.A. (EDAP), the $23.8 million market cap international medical device maker, hit double digit gains Tuesday on volume soaring over its average. The stock is recovering from its 13% loss at the end of March when the company announced it was raising funds with a 5.6 million share offering at $2 a share. EDAP has a roller coaster history. So, what's behind the move and what is an investor to think?
Growing Support for HIFU
A recent study published in the medical journal The Lancet Oncology adds to the growing body of evidence that High-intensity Focused Ultrasound, or HIFU, holds promise in treating prostate and other cancers effectively with fewer side effects than standard treatments. HIFU treatment has extreme promise and has been recognized both in the U.S. through the American Cancer Society and NIH as well as abroad as offering a less invasive, yet effective treatment option for men with prostate cancer. Studies have shown a near 90% success rate in treating certain types of prostate cancer. EDAP specializes in targeting prostate cancer with its Ablatherm robotic HIFU device.
Second only to skin cancer in U.S. men, treatable prostate cancers have warranted the greater push into alternative treatments. HIFU devices are an approved prostate cancer treatment in Europe. In the U.S., the Ablatherm HIFU is currently in Phase II/III FDA Investigation Device Exemption trials. It seems now that the evidence for expanding HIFU research and treatments may increase its market share in the Oncology community.
EDAP: Improving Finances and Visibility
The promise of HIFU treatment for prostate and other cancers has held promise for quite some time. While not currently available in the U.S., patients have sought out HIFU treatment options where available abroad. Now may be the right time to choose an investment in EDAP, a leader in HIFU technology.
After raising cash in March, the company is in far better position to expand its operations. Investors considering a position in EDAP at this time would be receiving the benefit of a growing HIFU company with ties to Europe and plans to break into U.S. markets. Earlier this month, EDAP introduced its technologies into an HIFU clinic in Poland as part of its efforts to increase visibility. In addition to its Ablatherm HIFU, the company offers its Sonolith device, used for the treatment of kidney stones. This device is used primarily in Europe but has broken into the U.S. market with investigational use in hospitals.
There is still room for growth in this sector as well as with this stock. Investing in EDAP now may bring investors and the medical community alike success in the near future.
Disclosure: I have no positions in any stocks mentioned, and no plans to initiate any positions within the next 72 hours.