Interestingly, the name WD-40 stands for "Water Displacement 40th attempt," which came from the lab book of the chemist who developed it in 1953. WD-40 Company (WDFC) is more than just the multi-purpose product with the same name. The company also has products under the 3-IN-ONE brand name that are used in HVAC, locksmithing, marine, farming, construction, and jewelry manufacturing. It also has a line of industrial special maintenance products under the Blue Works brand name. Some of its other brands include: X-14, 2000 flushes, Carpet Fresh, Lava, and Spot Shot. WD-40 is a $706.34 million San Diego-based small-cap company.
The company recently increased its earnings per share estimates for FY2012 which ends in August. The previous estimate of 2.28 - 2.40 was increased to 2.33 - 2.45. This shows that management is confident in meeting or exceeding its earnings estimates.
Click to enlarge.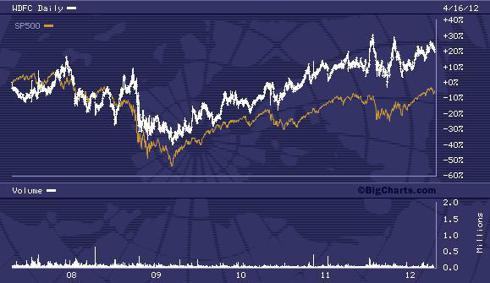 WD-40 is fairly valued with a forward PE ratio of 17.19, a PEG of 1.58, and a price to book ratio of 3.72. The stock price tends to grow in line with earnings over the long-term. This enables it to be a stable dividend paying company.
WD-40 shows solid profitability with a double digit profit margin of 10.26% and an operating margin of 14.97%. It has operating cash flow of $37.22 million and free cash flow of $28.88 million.
The company reported an 8.5% increase in revenue and a 16.2% increase in earnings for the second quarter over the same quarter a year ago. The multipurpose maintenance products sales increased 9% for the quarter. Homecare and cleaning sales increased 6%.
WD-40 has 8 upward earnings revisions for FY12 and 6 upward earnings revisions for FY13. It is expected to grow earnings annually at 12% for the next five years. This should take the current stock price of $44 up to approximately $77 in five years. The company's 2.7% dividend yield should also be taken into account for a potential total annual yield of 14.7% (dividends + stock appreciation potential).
The company has launched five new products in the U.S. under its WD-40 Specialist product line. This is part of the company's initiative to offer a greater diversity of WD-40 branded products where the focus is on end user's needs. This roll out is going well in the U.S. and it is just starting the roll out in Europe.
The focus on China is to build long-term sustainable growth by better understanding how to optimally reach the target end users in that region. The company is also looking at strengthening operations and infrastructure and to maintain momentum to capitalize on this promising market.
WD-40 looks like a dependable dividend paying stock for the long-term investor. It should provide market-beating stock appreciation to complement its dividend payments. The addition of this stock to your portfolio should help protect your money from eroding.
Disclosure: I have no positions in any stocks mentioned, and no plans to initiate any positions within the next 72 hours.