The Italian Economy
Italy is a highly developed country that is part of the European Union. Rome was the capital of the Roman Empire as well as the religious center of the civilized world. It has the fourth-largest economy in Europe after England, Germany and France. It is a member of the Group of Eight (G8) as well as the eurozone. The Italian economy grew rapidly after World War II but over the last couple of decades it has been in trouble. Specifically, Italy has been hit quite hard over the last four years due to the debt crisis. The country's debt is now more than its GDP and Italy is considered one of the weaker nations of the European Union (PIIGS - Portugal, Italy, Ireland, Greece and Spain).
Italy is highly industrialized and there are a few companies of global scale. Even though Italy is not as stable and investment worthy as Sweden, Norway or Switzerland, I wanted to look for any candidates that may have been unduly punished due to the sovereign debt crisis. In this article, I introduce a few Italian stocks that have attractive dividend yields and are worthy of closer inspection for investment opportunities. My personal goal is to diversify my portfolio globally - have a large percentage in foreign stocks that do business in their country. I believe this would help me diversify my portfolio more than buying U.S. companies that get significant portion of sales and profits from abroad.
Dividends as Stock Screen
I firmly believe that dividends are real cash and hard to fake. They are paid out of positive cash flow and while accounting gimmicks (and even fraud) can be used to window dress earnings per share, dividends are typically honest. I use inconsistent dividend history and/or big cuts to exclude stocks. I prefer stocks with increasing dividend amounts in native currency. I do understand that the U.S. dollar amount may vary due to conversion rates but since I don't use dividends as income that does not bother me at all.
I have included a simple chart for each company that shows the dividend distributed in the last few years (in euros). Some companies make it straightforward to collate dividend history while for others I had to sift through previous annual reports in PDF format. Luckily, every company in my short-list listed the dividend history. I plan to include a measure of "dividend pride" as introduced by fellow Seeking Alpha blogger - SDS. The number of clicks is the count of mouse clicks it takes to find dividend history for at least the last 5 years. I try to find dividend history for last 10 years but beyond 5 years I find it acceptable to look into past annual reports. The latest dividend distribution and yield is quoted in U.S. dollars.
Stock

Ticker

ADR
Ratio

Price
(Euro)

EPS
(Euro)

P/E
(Euro)

Price
(USD)

Div Amt

Yield

Div Growth
1-Yr

Div Growth
3-Yr

Div Growth
5-Yr

Num Clicks
to Div Info

Enel

1

2.58

0.444

5.81

3.33

0.36652

11.01%

12.00%

-17.02%

-15.24%

3

Eni

2

17.2

1.9

9.05

44.71

2.72272

6.09%

4.00%

-7.17%

-3.61%

2

Luxottica

1

26.6

0.98

27.14

35.13

0.64141

1.83%

11.36%

30.59%

3.13%

3

Saipem

0.5

38.7

2.1

18.43

25.46

0.45815

1.80%

11.11%

8.37%

19.27%

2

Snam

2

3.53

0.23

15.35

9.19

0.62832

6.84%

4.35%

1.43%

4.78%

3

Telecom Italia

10

0.85

0.127

6.69

11.09

0.56287

5.08%

-25.86%

-4.90%

-21.03%

4
Withholding Tax on Dividends
Italy withholds tax on dividends at the rate of 20% for non-resident investors. Some companies like Luxottica allow investors to file paperwork with the Depository Bank and get a refund of 5% (so that dividends get taxed at 15% - the same as U.S. taxes on dividends). An individual investor can file for tax credit on Form 1040 if the shares are held in a regular brokerage account subject to certain limitations. Amounts up to $300 ($600 for joint returns) can be claimed directly on the 1040 but greater amounts or carry-forward/backward requires Form 1116. If the shares are held in a tax deferred account like IRA or 401(k) then there is no mechanism to recover the withholding foreign tax and is lost thereby reducing the effective dividend yield. As always, consult your tax advisor on all tax-related matters since each individual case is different and I am definitely not qualified to advise.
Enel SpA (OTCPK:ENLAY)
Enel is an Italian utility that supplies electricity and gas over Europe as well as Americas. Recently it acquired the Spanish utility, Endesa, to become Europe's third-largest electic utility after E.On (OTCPK:EONGY) and RWE (OTCPK:RWEOY). Enel has a minor presence in the U.S. - it operates wind farms in Kansas, along with a few smaller geo-thermal plants. Enel sells power and gas to around 61 million customers in 40 countries.
Unfortunately, the group hasn't done very well in financial terms. Specifically, the dividend history over the last decade is unimpressive. The latest dividend amount did increase over 2010 and the yield is very high at approximately 11% based on an indicated U.S. $3.33 payout. The stock could probably be bought by investors looking for yield (and maybe even total returns) but I am a little concerned about the inconsistent dividend history. I expect more dependability from utility stocks than Enel has demonstrated. The debt too has grown due to takeover of Spanish Endesa though in the long term this may really help reduce geo-political risk profile of the company.
(Click charts to enlarge)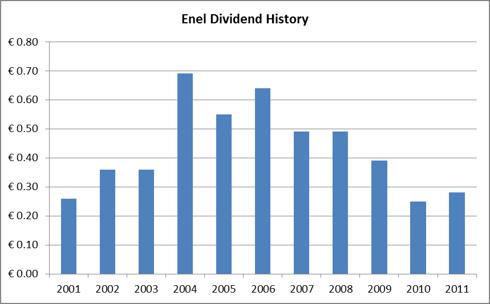 Eni (E)
Eni is an oil and gas multinational giant that is minority owned by the Government of Italy. It is involved in oil and gas exploration and production, gas marketing, power generation, petrochemicals and engineering industries. Its crude oil comes from Libya, Egypt, Nigeria, North Sea and Angola. It is Europe's third-largest refiner after Royal Dutch Shell (RDS.A) and Total SA (TOT). The positive in Eni's favor is that it has made several new discoveries in Angola, Congo, Brazil, Norway, Pakistan, Gulf of Mexico, Alaska and even in China. It is participating with Statoil (STO) for developing the North Sea discovery. Eni generates electricity using natural gas and most of its plants are in Italy. Its petroleum marketing activities are largely limited to Italy where it is the leading operator.
Eni is getting rid of its stake in Snam that would help it receive cash for reinvestment in its main businesses and reduce debt. It is also trying to get out of GALP, the Portugese oil company. Eni is making other improvements as well related to efficiency. Eni is quite well discussed in other articles available on Seeking Alpha that outline the investment thesis behind Eni. The dividend declined in 2009 and grew by 4% in the latest year. The current yield is quite attractive at 6% based on indicated U.S. $2.75 per ADR. Eni may not provide significant dividend growth but may be ideal for total returns as the current stock price may not remain depressed for too long.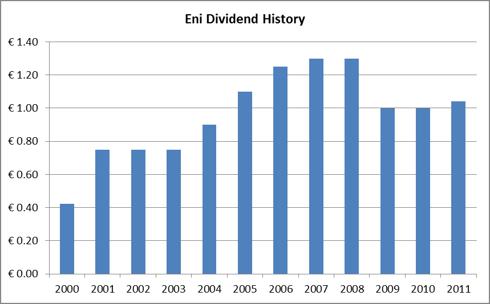 Luxottica SpA (LUX)
Luxottica is the world's largest eyewear company that owns the following brands - Ray-Ban, K&L, Luxottica, Persol and Oakley. It also makes eyewear for various designer brands like Chanel and Prada as well as Burberry, Bvlgari, Dolce & Gabbana, Polo Ralph Lauren, Stella McCartney, Tiffany, Versace, Vogue, Miu Miu and Donna Karan. The company has more than 7000 optical and sun retail stores in North America, Asia-Pacific, China, South Africa, Latin America and Europe. The retail chain includes LensCrafters, Pearle Vision, ILORI and Sunglass Hut. It has manufacturing plants in Italy, China, Brazil and the US.
The company's net sales have grown at a slow pace over the last 6 years. The profits peaked in 2007 and fell in 2008, 2009 but have since increased. The dividends have followed the annual profits with a big dip in 2008. I am hesitant to buy Luxottica given the current low yield and the large cut in 2008 but given the substantial growth in last 4 years, I am adding it to my watch list. Given the large portfolio of brands in a niche market and the world's insatiable appetite for luxury goods, I expect the company to do well in the medium term.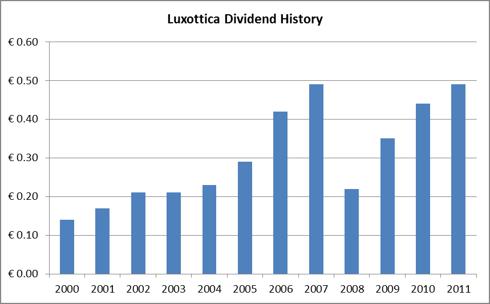 Saipem SpA (OTCPK:SAPMY)
Saipem is a oil and gas industry contractor. Eni owns 43% of the company. It was founded in 1957 to provide services to the Eni group. It has been operating autonomously since 1969. It provides offshore operations as well as onshore pipe laying, plant construction and drilling. It owns three major drilling vessels, 10 offshore rigs and a large construction fleet. It also builds oil and gas refineries, chemical and petrochemical plants. Its main competitors are Halliburton (HAL), Baker Hughes (BHI) and Schlumberger (SLB).
Saipem has done well over the last decade financially and there has been no dividend cuts either. 2012 guidance also looks promising.The current dividend yield is approximately 1.8% based on a projected payment of $.0.46 per ADR. The low yield doesn't fully compensate for the consistent dividend growth entirely and I would be interested in purchasing whenever there is a bad market week and Saipem is available at a yield north of 2.5%. For those interested, the company has an informative presentation to the financial community that discusses 2011 results and the ongoing projects.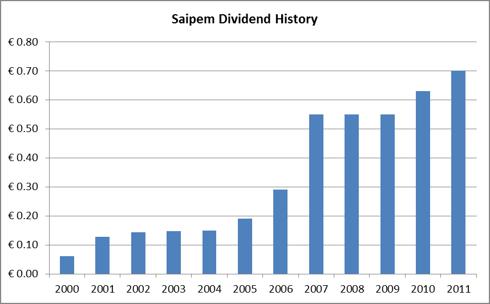 Snam SpA (OTCPK:SNMRY)
Snam is a natural gas infrastructure company. It is active in transport, regasification, storage and distribution of natural gas through four of its subsidiaries. It is majority owned by Eni who has a 52% stake in the company. The company's transportation network is more than 32,000 Km and the distribution network is more than 50,000 Km. Most of its activities are regulated. It used to be known as Snam Rete Gas and changed its name to Snam in Dec 2011.
The dividend has been fairly consistent as should be for a regulated utility or service provider. The current yield is attractive at 6.9% based on projected distribution amount of $0.63. I am willing to look beyond the small dip in the dividend amount for 2008 and add it to my watch list. I want to invest in foreign companies that get a major portion of their profits locally and not necessarily from around the world since I feel that would truly diversify my portfolio. In that respect, Snam fits the bill quite well especially since the current price is rather depressed enhancing the yield on cost.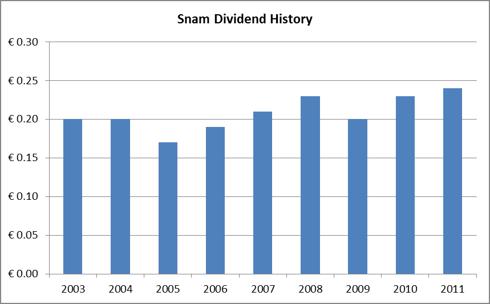 Telecom Italia (TI)
Telecom Italia is telecom giant that provides fixed line and GSM mobile services in Italy. It also has interests in media via Telecom Italia Media, which is one of Italy's main TV companies. Telecom Italia also owns Olivetti, which manufactures computer peripherals. The company was created in 1994 by the merger of several telecom companies. Like most telecom operators around the world, Telecom Italia has huge outstanding debt. Unlike its other European peers - Vodafone (VOD), Telefonica (TEF), France Telecom (FTE), Telecom Italia doesn't have global scale of operations. It does have operations in South America via its stakes in TIM Brasil and Telecom Argentina. However, it still gets roughly 64% of its revenue from Italy, 25% from Brazil, 10% from Argentina and remaining 1% from miscellaneous activities.
The company does not have a good dividend history. The dividend was cut substantially In 2003 after which it increased slowly only to be cut again in 2007. Since it has been maintained or cut again by a small amount in 2011. These are not good indicators especially when viewed in the light of Italian sovereign debt problems and the company's mounting debt burden. The company is still dependent on Italy for most of its revenue and profits so the current yield of 5% (based on projected distribution of U.S. $0.56) is not attractive enough for me to bite. I would much rather buy its other European peers that yield much better and offer growth opportunities in emerging markets.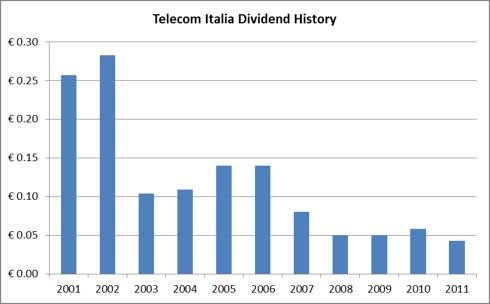 Other Italian Stocks
The following stocks did not make it to my short-list of stocks for further due diligence. Do you know anything more about them? Are you invested in any? Why?
Concluding Remarks
The U.S. market is at a 4-year high and there are few bargains in the dividend bucket. I am not sure whether U.S. will continue to be an economic superpower in the coming five decades in the face of mounting federal debt and increasing trade imbalance. I also want to reduce geo-political risks and am slowly selling some of my U.S. stocks and investing sale proceeds along with any new savings into foreign dividend-paying companies. What are you doing? Are you looking abroad? Why? I look forward to a lively discussion in the comments section of the article. Having spent days investigating Italian stocks, I was personally disappointed to not find any singularly attractive stock worthy of immediate investment.
Disclosure: I have no positions in any stocks mentioned, and no plans to initiate any positions within the next 72 hours.