Market Recap: The market had another solid day as more "risk-off" trading continued and some of yesterday's laggards played catch-up today. The market rallied on the back of a strong start to earnings season along with some decent economic data around the world. Coca-Cola (KO) and Johnson & Johnson (JNJ) led the way with positive earnings reports while Goldman Sachs (GS) was mixed with good earnings but weaker revenue. We got a solid building permits number that exceeded expectations as well as a solid German ZEW Survey that was surprisingly strong. When Europe is strong, we have a chance to see the bulls really take this market higher. If earnings continue to come in as solid as they are, we may see a lot more days like this as well.
We did have some weaker reports from industrial production that was flat at 0.00% as well as housing starts were weaker. Yet, we have to continue to be aware that earnings and Europe are the top topics right now and can outweigh small slips or neutral data points. Here are two stocks that we think can run into their earnings reports:

Two Trades
Two stocks we like right now are Ashland (ASH) and Caterpillar (CAT). ASH was our top pick for this earnings season. The company has a great combination of earnings growth and value that we think should translate into a continuous trend up for them into next week's report. CAT is in the same boat. ASH is looking at EPS growth from 0.86 to 1.39. That growth of 0.53 on EPS means a lot of upside for the stock as that improvement will drop PE from 13.5 to 12. CAT is looking at EPS growth of 1.84 to 2.12. The stock is also a nice value at sub-15 PE. The addition of 0.28 to 7.4 TTM EPS should help raise the price to about $112. We like both stocks to perform well into earnings. ASH broke out today, and CAT looks to be ready to break out. Here is how we would trade them:
Trade #1: ASH, Long and ASH, May18, Sell $60 Puts
Trade #2: CAT, Long
(Click to enlarge)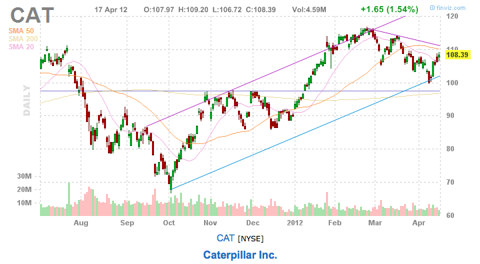 Tomorrow's Outlook
The market was solid again, and it's hard to bet against it right now. We have some more major earnings that can definitely predict the movement of the market moving forward tomorrow. In after hours, we have key reports from IBM (IBM), Intel (INTC) and Yahoo (YHOO). Tomorrow morning, big reports are expected from Abbott Labs (ABT) and Halliburton (HAL). A lot of sectors are covered between today and tomorrow, so we will have to wait and see. If the early earnings are any indicator, we should expect a fairly strong showing again. Data is limited with crude inventories. We will get the key Bank of England minutes as well as jobless claims in Great Britain that are important for the European markets.
Analyst Moves
The interesting moves for analysts was an upgrade of Trina Solar (TSL) to Buy from Hold from Auriga. We have a Buy rating on Trina Solar with a $10+ PT. We believe it is the best company in the industry, and it was good to see other analysts agreeing. On the flip side, First Solar (FSLR) was downgraded to Neutral by Goldman Sachs with PT slashed by about 50%. We believe that the recent news from FSLR will mean short-term weakness. We are not sure when this stock will be able to be a stock darling again.
Commodity Talk
We went short crude yesterday and added to that position today with a May18 United States Oil (USO) 42/43 bear call spread. We do not see much upside left for crude. With Obama's plan to kill speculation, Iran coming off the ledge, and supplies still very high, the $100-plus oil is short-term fueled by strength in equities. We believe this strength is a great sell point.
Our Moves
We had a pretty good day. We locked in gains on Sempra Energy (SRE) for 2.5% in our Equity Portfolio as well as our position in BMC (BMC). We also took a nice 12% gain in IBM (NYSE:IBM) bull put spread before earnings at 200/195 level for Apr20. We were also able to get a solid 14% gain in our long-term equity portfolio on Dupont (DD). We did, however, take a loss on Johnson Controls (JCI) after it broke the 33 line as we had a bear call spread.
We have the following positions. In our Short-Term Equity Portfolio we are long CF Industries (CF), Melco Crown (MPEL), Ultrashort ProShares Oil (SCO) and Kohl's (KSS). In our Options Portfolio, we are long Dollar General (DG), Monster Beverage (MNST), SPDR Gold (GLD), Visa (V), Starbucks (SBUX), Ralph Lauren (RL), Google (GOOG) and IBM . We are short Apollo Group (APOL) and USO. We have a reverse iron condor in Direxion Financial 3x (FAS). In our Earnings Portfolio, we are long Chipotle Mexican Grill (CMG), Ace Limited (ACE), Ulta (ULTA), Canadian Pacific (CP), Ashland, Coinstar (CSTR) and Goldman Sachs . We are short Amazon.com (AMZN).
Chart courtesy of finviz.com.
Disclosure: I am long ASH.