The mild winter and favorable prices have farmers rushing to get their spring crops into the ground. The weekly USDA crop progress report shows corn (CORN) planting well ahead of schedule with 17% of the estimated total crop planted versus 7% last week and only 5% a year ago.
(Click to enlarge)
Source: The Mays Report.
The average percentage of the total estimated corn crop usually planted by this time of year during the 2007-2011 planting seasons was 5%.
This year's winter wheat (WEAT) crop condition is much improved over a year ago with 64% of the crop rated good to excellent vs. only 36% a year ago. The poor condition of the winter wheat crop last year drove prices well over $7 per bushel at this time a year ago. With near record ending stocks expected this year wheat's May 2012 futures contract closed at a recent price of $6.15 per bushel.
At 29% headed, this year's winter wheat crop has headed out faster than last year as well as faster than the 2007-2011 average. This is most likely due to the mild winter and warm temperatures. "Heading out" occurs when the wheat heads start developing on top of the plants. The plants turn yellow as they near harvest. Spring wheat planted is also well ahead of schedule with 37% of the estimated total crop planted vs. 5% last year and nearly 10% of the crop has emerged.
(Click to enlarge)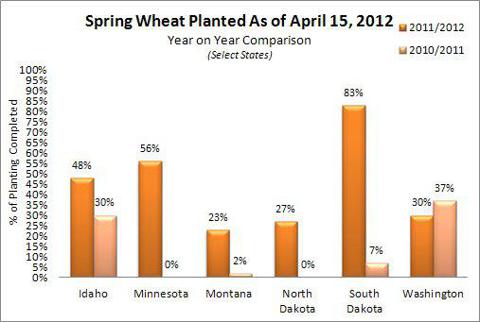 Source: The Mays Report.
All of this early planting may not help fertilizer companies like Mosaic (MOS), Potash Corp (POT), Agrium (AGU) or CF Industries (CF) move more fertilizer to dealer stocks. Despite seeing a slight increase since the beginning of April in phosphate, UREA, and UAN prices for delivery in April and May, there has been no sign that dealers are refilling their bins in any significant way. Mosaic confirmed this during its third quarter earnings and conference call. We will find out soon if just how much CF Industries and other companies that sell nitrogen based fertilizers benefited from the record corn acres planted.
Disclosure: I have no positions in any stocks mentioned, and no plans to initiate any positions within the next 72 hours.