By Paul Carton
"The last resort of kings, the cannonball." -- Victor Hugo
Nothing succeeds better than a good munitions metaphor to describe how badly Canon (NYSE:CAJ) is blasting its competitors in the digital camera marketplace. Canon also has considerable momentum within its largest product line – business peripherals.
With the holidays fast approaching, two recent ChangeWave Research surveys uncovered the biggest momentum plays in both digital cameras and computer peripherals – and our results clearly reveal Canon blowing away the competition.
Smile, You're On My Microchip
The first ChangeWave survey, completed in September, looked at consumer demand for digital cameras among 3,856 Alliance members. It found demand for Canon cameras surging to its highest level of the year, with 39% of respondents saying they own a Canon – up 3-pts since a previous survey taken in June.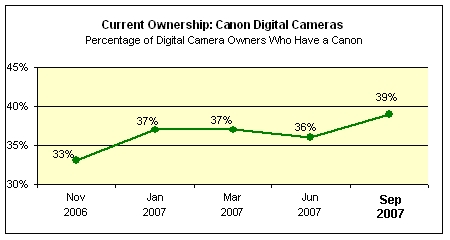 Note that while Canon's market share has clearly increased, there was virtually no movement among the other major manufacturers during this same time period.
Who is the manufacturer of the digital camera(s) you currently own? (Check All That Apply)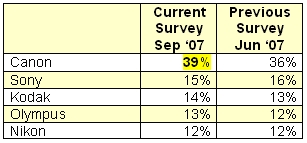 But it's when we asked respondents about their planned camera purchases over the next 90 days that Canon's marketplace transformation becomes fully apparent.
Going forward, an astonishing 55% of respondents planning to buy a digital camera in the next 90 days say it will be a Canon. This is an unprecedented 15-point move.
The chart below shows just how explosive a transformation in market share this represents for Canon.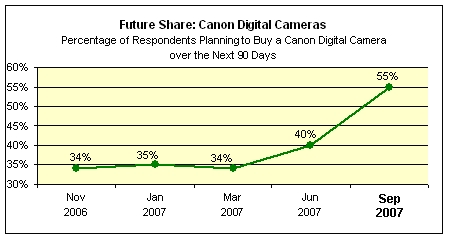 There are a couple of likely explanations for such large-scale projected gains going forward.
First and foremost, Canon has established itself as the brand to beat in the digital camera marketplace – and this brand dominance is separating it from the rest of its competitors. Notably, of the other major digital camera manufacturers, only Nikon (21%; up 2-pts) and Olympus (10%; up 2-pts) appear to have any momentum going forward.
Secondly, in August, Canon announced 8 new camera models, including their highly anticipated EOS 40D Digital SLR, which offers a 10 megapixel sensor and Live View mode – enabling you to use it like a traditional point-and-shoot camera.
Despite Canon's substantial momentum in digital cameras, this still only represents about 25% of the company's total business. To get at Canon's biggest core market, we must turn to our August survey of 1,907 companies and their demand for business peripherals – including all-in-one devices, printers and fax machines.
Getting Down To Business
To begin with, Canon is not the dominant player in the peripherals space. Top honors here are reserved for Hewlett-Packard (NYSE:HPQ).
That said, Canon does rank a very strong second in business peripherals. And when it comes to momentum going forward, it looks very capable of turning these markets into a two-horse race.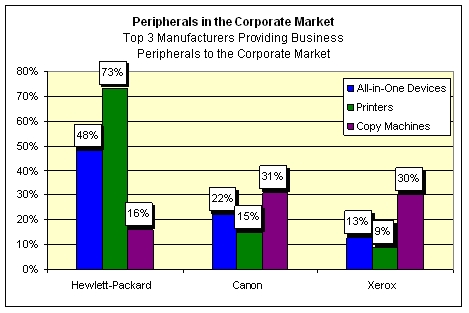 As the above chart shows, H-P dominates overall but Canon maintains a strong second in all-in-one devices (22%) and in printers (15%). Moreover, in a surprise finding Canon has edged out Xerox in our survey to become the new leader in business copy machines (31%).
Looking at corporate purchasing plans going forward, once again Hewlett-Packard and Canon show the most momentum.
When we asked respondents for the manufacturer of the all-in-one devices their company planned on purchasing in the next 90 days, nearly one-in-four (23%) said they'd buy Canon – up 3-pts from our May survey.
In printers, 13% named Canon as their next purchase, up 5-pts from previously. And in copy machines the company jumped 3-pts to 28% of respondents.
While the final quarter of 2007 has barely begun – and marketplace battles in digital cameras and computer peripherals continue to rage on – judging by our Alliance members' weapons of choice we are highly confident in the year end outcome:
Canon will blow away the competition.
Jim Woods co-wrote this article.
------------------------------------------------------------------------------
This article summarizes the results of a recent ChangeWave Alliance survey. The Alliance is a research network of 11,000 business, technology and medical professionals who spend their everyday lives working on the front line of technological change. For more info on the ChangeWave Alliance, or if you are interested in joining, please click here.