Stocks that have paid dividends (and increased them) for a long consistent time frame are attractive in this era of very low money market yields and market volatility. One site (dynamicdividend.com) compiled a list of 10 stocks they call "Dividend Dynamos", which have increased their annual dividend total each of the last 50 years +. This list of astoundingly consistent dividend raisers includes:
Diebold (DBD)
American Water (AWR)
Dover (DOV)
Northwest Natural Gas (NWN)
Emerson Electric (EMR)
Genuine Parts (GPC)
Proctor & Gamble (PG)
3M Corp (MMM)
Vectren (VVC)
Cincinnati Financial (CINF)
Let's take a look at these stock names in table form with data such as P/E ratios, 5 Year Sales Growth, Return on Assets/Equity (ROA) (ROE), Profit Margin, and Stock Performance:

You can note that they all have "reasonable" P/E and Forward P/E ratios in the 11 to 19 range, except for CINF. Also the dividend yield is in the healthy area from 2.7% to 4.9%. Overall as a group, these would look be to fairly safe, lower growth type value stocks - with the big value being that they have increased their actual cash dividend on an annual basis for at least 50 years!
The name that stands out as the best when you look at ROA, ROE and Profit Margin (data from finviz.com ) is 3M Corp. (NYSE:MMM). Once known as Minnesota Mining & Manufacturing, this diversified behemoth was founded in 1902. The company makes everything from consumer/office products like Scotch Tape, Post It Notes & Ace Bandages, to products/services in vast categories such as Displays, Electronics, Health Care, Security, Transportation, and Manufacturing. While headquartered in St Paul, Minnesota, they have over 84k employees worldwide.
MMM stands out on the list of Dividend Dynamos because its ROA, ROE and Profit Margin are all among the strongest on the list. Combine this with a forward P/E ratio of 12.6, a dividend yield of 2.7%, and 5 year Sales Growth of 5%/year, and this looks immediately attractive for value/dividend players.
3M has an earnings announcement due next week on April 24th. A quick perusal of its most recent earnings report showed 3% profit growth and 6% revenue growth amid slow global economic conditions - the company maintained its profit forecast for 2012 and was more confident in its estimates than in the previous quarter. The earnings of $1.35 per share exceeded analysts' estimates of $1.30, and revenues were in line. The company is trying to keep costs down to curtail the effects of slow global demand, including some hiring freezes.
Now let's examine how MMM has done versus the overall stock market over various time frames, we'll use the S&P 500 Index ETF (SPY) as a proxy for blue chips.
MMM is purple, SPY is green
10 Year Performance Chart MMM vs SPY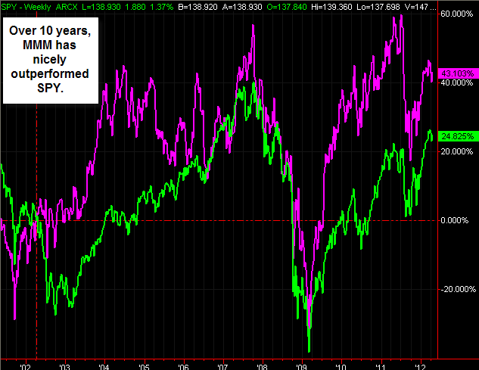 Performance Chart Since March 2009, MMM vs SPY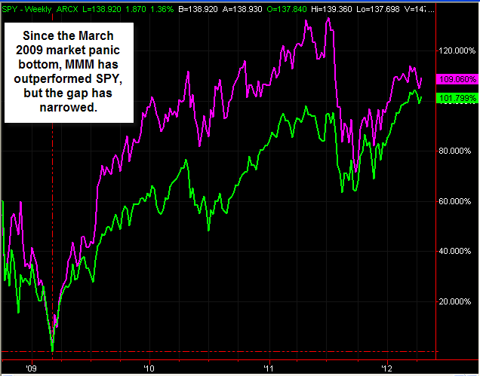 2012 YTD Performance Chart, MMM vs SPY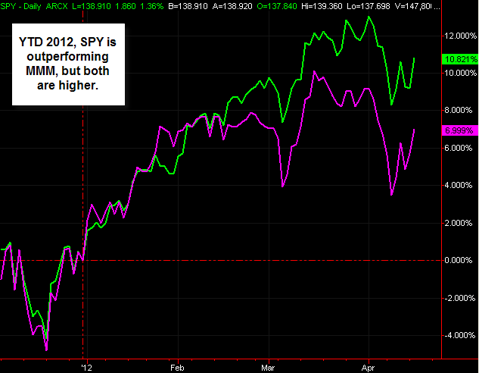 So you can see that going back to 2002, MMM has nicely outperformed the SPYders. It also has reaped more gains when one starts from the March 2009 market panic bottom - although that outperformance has narrowed drastically since mid-2011.
For 2012 thus far, MMM is underperforming - one who has a bullish long-term view on the stock may view this as a relative value buying opportunity. This is assuming that MMM doesn't face long-term global slowdown woes or a general disintegration of its previously successful diversified business model. However, 50+ years of raising the cash amount of its dividend EVERY SINGLE YEAR is something that should give most investors a reason to trust the company's future performance in my view.
On a shorter-term technical basis, the 85 area looks like a good support level and should mark an attractive low-risk entry point. The stock bottomed around there in March and April of this year, and it is also the location of the Bottom Bollinger and Acceleration Bands.
If one is looking for a blue chip, dividend-paying stock, I would rate MMM as one of the best. It's not likely to set the world on fire, but in times of uncertainty one can expect this company to deliver dividend growth.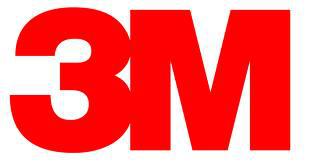 Disclosure: I have no positions in any stocks mentioned, and no plans to initiate any positions within the next 72 hours.