Microsoft (MSFT) is an American-based multinational corporation that develops, licenses and supports an array of different products and services. Over the years, the company has widened its competitive moat by investing in low-risk projects and increased global market share through diversification. This has allowed the company to increase its annual revenue margins and enjoy greater cash flows.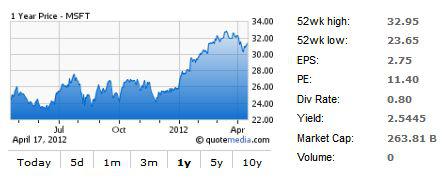 Microsoft's recent performance in the market has been met with a lot of optimism as the stock has followed what is seen as a predominantly upward trend. The trading price has gradually crawled up to around $31 per share after a brief stint of sluggish trading and uncertain market conditions caused it to plummet down to as low as $23. Currently, the stock continues to show promising signs of gains and is just a dollar short of its highest trading price in the last 52 weeks.
A string of developments lately are expected to help the stock in its upward drive and aid in its growth. The recent announcement by the company to introduce a change in leadership at Microsoft's operations in China is inarguably a positive indicator of the company's strong unfaltering commitment to boost dividends by increasing operational efficiency.
Microsoft started the current year on the right footing, capitalizing on the impetus that it gained as a result of an impressive performance in the previous year. The stock is still ranked among the market leaders in terms of total market share, with a capitalization of more than $258 billion and an average trading volume of nearly $45 million. Price to earnings ratio is impressive at 11.11 and Microsoft has maintained an impressive dividend history. The stock last paid $0.20 per share in dividends to investors on earnings per share of $2.77. This has allowed the business to post a dividend yield of 2.60% which is very good when judged by industry standards.
In the previous financial year, investors were increasingly skeptic about the course that the stock would take. Rumors flew that the company would face a legal problem after a German court ruled against the company, preventing it from selling its latest Windows software, the Xbox 360 and other market-leading products in the Germany. However, the company has finally won a restraining order in the year-and-half old transatlantic dispute, which means that Microsoft can continue to sell its latest range of products without any legal repercussions.
Ever since the start of the current financial year, investors have witnessed with utter bewilderment as the stock has picked up more than 20% in gains. Such massive gains have overwhelmed even leading financial analysts and speculators who expected a decent 11% gain. Last month, the stock crossed the $32 mark, setting its highest trading range in more than four years. As a result, the stock is currently among the best performers of this financial year.
A lineup of new products is expected to further boost the stock's prospects for upward growth and this is certainly going to reflect on higher dividends. The launch of the new Windows 7-powered Nokia Lumia 900 smartphone last week has also helped the stock score sizable gains through favorable investor sentiment. All amidst predominantly uncertain market conditions. Another very recent positive development that has reflected well on the stock's performance over the past few days is Microsoft's newly formed cloud-based strategic alliance with Movideo Forge Global. The fact that Movideo has chosen the new Windows Azure platform to spearhead business growth across Asia is a welcome new development for the business. This is expected to enhance the stock's performance in the coming days.
Apple (AAPL) is the traditional rival and the biggest competitor of Microsoft. This stock has recently crossed the important benchmark of $600 billion in market capitalization, a feat that only Microsoft had accomplished back in 1999. This has given Apple a psychological advantage over its arch rival and the stock is sure to capitalize on it. Apple easily overshadows Microsoft in terms of market capitalization and average trading volume. Moreover, the stock has maintained an edge in the market with a diverse product portfolio and investment in innovative new technologies. However, Microsoft's performance in the current financial year has been more impressive than Apple and investors have been quick to notice this. Looking at leading financial indicators and judging from the manner in which the stock has performed recently, I believe that Microsoft will outperform its arch nemesis in the current fiscal quarter.
Google (GOOG) primarily earns revenues through its online search-engine. The company has recently diversified its products and services portfolio with the introduction of new innovative technologies. Many investors saw the announcement of Google's Android platform as a direct challenge to Microsoft Windows. Since the introduction of Android OS into the market, Windows' market share has dropped significantly and this has caused Microsoft to rethink its strategies. Google has however, followed a negative trend lately and the stock has literally led the recent tech stock losses with a $26 decline in share price. This drastic decline has overshadowed even the stock's scare in January when it lost nearly $53 a share. Looking at the stock's somewhat erratic and dismal performance so far this year, I believe that Google will take some time to stage a recovery. Hence, I prefer Microsoft as a safer and more viable investment option.
Although Oracle (ORCL) is a massive business with a global outreach, it is still considered to be the underdog when compared to the likes of Microsoft, Apple and Google. Oracle has a market capitalization of almost $142 billion and an average trading volume of almost 433 million. The business has posted decent gains in the current financial year and the current positive economic outlook strongly suggests that it will exceed economists' expectations and report sizable gains. The company has recently announced the completion of its acquisition of Taleo and this has allowed the stock to enjoy favorable investor sentiment in a predominantly sluggish market. The introduction of the new Sun x86 Servers is also being eyed as a positive sign that is sure to lead the stocks higher and help it increase its competitive moat. Therefore, this stock is for those investors who prefer to enjoy smaller but 'slow but sure gains' gains compared to the other market leading stocks that have the capacity to offer more. This is mainly the reason I have rated Microsoft as a better investment option compared to Oracle.
Disclosure: I have no positions in any stocks mentioned, and no plans to initiate any positions within the next 72 hours.