When I evaluate a technology company's potential I look for a series of positive attributes and catalysts that give me the confidence that the shares can increase significantly over the following 24 months. If I can't put together a compelling list of these elements I move on to the next idea. Capital is finite and the opportunities endless - I want to try to make the best use of my investment capital and deploy it in only the strongest situations. Halozyme (HALO) has one of the more compelling profiles I have researched and the recent sell-off in its shares makes it an instant and necessary addition to my portfolio.
Effective and life-improving technology
Halozyme Therapeutics is a biopharmaceutical company focused primarily on human enzymes that alter tissue under the skin or the extracellular matrix. The company's lead enzyme, the recombinant human hyaluronidase (rHuPH20), temporarily degrades hyaluronan, a structural component of the subcutaneous space that is just beneath the outside surface of the human skin. This temporary degradation creates and allows for subcutaneous delivery of injectable biologics, such as monoclonal antibodies and other large therapeutic molecules, as well as small molecules and fluids. This means that drugs that previously required hospital settings or intravenous (IV) administration can now potentially be administered more easily in less time by the patient themselves or in a GP's office, boosting efficacy, extending product lifecycle and reducing cost. The change in the tissue affected by the enzyme is temporary, lasting 24-48 hours, before returning to normal.
Approved Technology
The company's technology for degrading human tissue for better absorption is approved for certain uses as Hylenex. It is initially targeted at hospital and emergency departments for regional anesthesia and fluid administration in patients with difficult venous access. From the 10-K:
Hylenex recombinant is a formulation of rHuPH20 that has received FDA approval to facilitate subcutaneous fluid administration for achieving hydration; to increase the dispersion and absorption of other injected drugs; and in subcutaneous urography for improving resorption of radiopaque agents. primary technology, marketed as Hylenex, is approved by the FDA.
While it appears Hylenex on its own will generate limited use and revenues, its approval validates the effectiveness of the technology and opens the door for its use enhancing the performance and convenience of other approved drugs - through internal development programs and in partnership - including insulin and blockbusters like Roche's Herceptin.
Internal Proprietary Development Programs
Hamozyme has identified a series of potentially blockbuster proprietary internal targets for rHuPH20 as well as a robust partner development pipeline. The company's lead proprietary program focuses on the formulation of rHuPH20 with prandial (mealtime) insulins for the treatment of diabetes mellitus. From the 10-K:
Ultrafast Insulin Program

Diabetes mellitus is an increasingly prevalent, costly condition associated with substantial morbidity and mortality. Attaining and maintaining normal blood sugar levels to minimize the long-term clinical risks is a key treatment goal for diabetic patients. We have combined rHuPH20 with a rapid acting analog insulin, e.g., insulin lispro (Humalog ® ), or Lispro-PH20, insulin aspart (Novolog ® ), or Aspart-PH20, and insulin glulisine (Apidra ® ), or each such combination, Analog-PH20, to accelerate their action. These Analog-PH20 combinations facilitate faster insulin dispersion in, and absorption from, the subcutaneous space into the vascular compartment, leading to faster insulin response. By making mealtime insulin onset faster, i.e., providing earlier insulin to the blood and thus earlier glucose lowering activity, Analog-PH20 may yield a better profile of insulin effect, more like that found in healthy, non-diabetic people.
Cancer Targets
The company is also pursuing a cancer treatment with an investigational PEGylated form of rHuPH20, or PEGPH20, for the systemic treatment of tumors that accumulate hyaluronan (HA).
PEGylation refers to the attachment of polyethylene glycol to rHuPH20, now known as PEGPH20, which converts rHuPH20 from a transient and short-lived enzyme to a more stable entity in blood that can be used to treat systemic disease. Certain cancers, including pancreatic, lung, breast, colon and prostate cancers, have been shown to accumulate high levels of HA. Aberrant accumulation of this component of the tumor's infrastructure supports a protective network that surrounds certain tumors.
Cosmetic Application
Perhaps the most lucrative future application for HALO's technology is cosmetic cellulite removal. The enzyme can potentially be used to degrade collagen in the same manner it allows for rapid tissue absorption and then be repaired to eliminate the unwanted appearance of cellulite.
HTI-501 is active under mildly acidic conditions and inactive at the pH normally found in the tissue. The enzyme is combined with a low pH buffer and injected in its active state. The enzyme is only active locally and for a short period of time. Once the mildly acidic conditions of the HTI-501 administration have been neutralized by the body, the enzyme becomes inactive. We intend to harness this conditional activity to exert control over the duration and location of the enzyme's therapeutic activity, potentially improving the efficacy or safety of this product candidate for both medical and aesthetic conditions.

We are exploring HTI-501 as an approach to the treatment of edematous fibrosclerotic panniculopathy, also known as cellulite. The condition affects 80 to 90 percent of post-adolescent women and is prevalent in all races. The collagen fibers, or fibrous septa, anchor the epidermis against the swelling of subcutaneous fat, which creates the dimpled appearance associated with the condition. We believe that HTI-501 acts by releasing the tension in the collagenous fibrous septa and smooth the dimpled appearance of the skin. HTI-501 has the potential to be studied as a treatment for other conditions involving collagen, such as frozen shoulder, Dupuytren's contracture, Peyronie's disease, keloids and hypertrophic scarring.
The market for cosmetic/aesthetic products is huge. Allergan (AGN), the leader in the space is a $27 billion company with annual sales of approximately $6 billion. Botox, Allergan's best-selling product, is used for cosmetic and therapeutic purposes, including fighting wrinkles and treating migraines. Allergan projects between $1.75 billion and $1.8 billion in Botox sales for 2012. Considering that 80-90 percent of post-adolescent women have cellulite, and as a culture we are incredibly vain and consider this unsightly, we can extrapolate that HTI-501 could be a blockbuster product.
Impressive Partners
With smaller biotechnology companies the most critical factor in evaluating the potential is most often their list of partners. The stronger the partners and the deeper their pockets, the more likely it will be seen through to a positive outcome with the FDA. In the case of Halozyme, the partner list is very impressive, most notably including Roche (OTCQX:RHHBY), which includes the biggest biotech of them all Genentech. From the company's website:
In December 2006, Halozyme granted Hoffman-La Roche an exclusive license to develop and commercialize product combinations of rHuPH20 with Roche target compounds. Currently, Hoffman-La Roche may apply rHuPH20 to up to eight biologic targets. The principal focus of the Hoffman-La Roche partnership is to commercialize biologics, which can be administered subcutaneously through the use of the rHuPH20 enzyme, instead of intravenously (IV).

Biologics directed at three exclusive Hoffman-La Roche exclusive targets have commenced clinical trials. Subcutaneous Herceptin® and subcutaneous MABTHERA® are currently in Phase 3 clinical trials, while subcutaneous Actemra® has completed a Phase 1 clinical trial.
Roche sees enough potential in this approach to drug delivery to invest in a new delivery device that is the subject of ongoing clinical studies.
A clinical study is also underway for a single-use administration device that contains rHuPH20 and Herceptin formulated in the same cartridge. The pre-loaded, autoinjector device that Hoffman-La Roche has developed is about the size of a cellular phone, and will be able to administer the subcutaneous Herceptin therapy in less than five minutes. This may allow patients to receive their Herceptin treatment outside of an infusion center from their family doctor or via self-administration.
Roche's commitment to the technology to improve delivery of multibillion dollar drug franchises like Herceptin is significant enough to merit an investment in HALO, but the company's partner development pipeline includes other high profile partners as well. From the 10-K:
Click to enlarge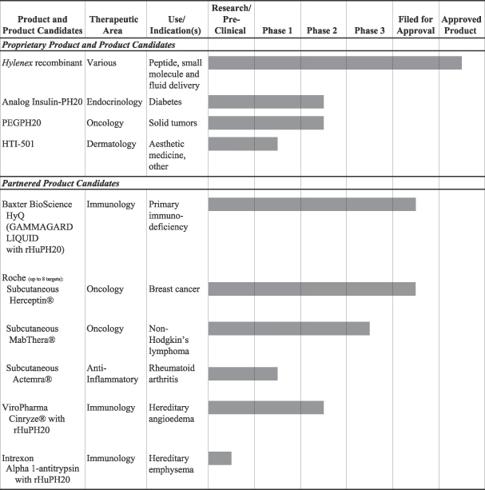 From the company's recent Barclay s Global Healthcare investor presentation: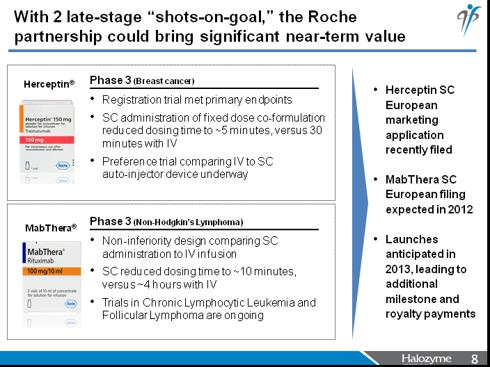 Insider Buying
I always like to see insider buying as an indication of management confidence and one particular insider has been a buyer all along. Randal J. Kirk, who Forbes considers one of the best biotech investors in the world just added to his already sizable position with over a $14 million dollar participation in a recent stock offering.
Conclusions - Recent Decline Offers Opportunity
After hitting an all-time high of $13.50 near the end of March 2012, shares have pulled back significantly to the current levels near $8.50. The decline was exacerbated be the FDA s recent request for more information on HyQ, Halozyme and Baxter's Phase 3 candidate for bolstering weak immune systems. While this is certainly a setback for one of the company's most advanced partnered pipeline products, it is also an opportunity to buy shares in a unique and game-changing drug delivery technology, with a broad pipeline of potential blockbuster applications, for 40% less than they were a month ago.
For added confidence you get persistent insider buying from a storied biotech investor, a partnership with the world's largest biotechnology company, and a cosmetic application that on its own could dwarf the company's current market valuation of less than $1 billion. The upside for Halozyme is too strong to ignore at the current levels.
Disclosure: I am long HALO.