Last week we saw a slight upside bias led by energy and commodities. This week we find a distinct downside bias (click to enlarge):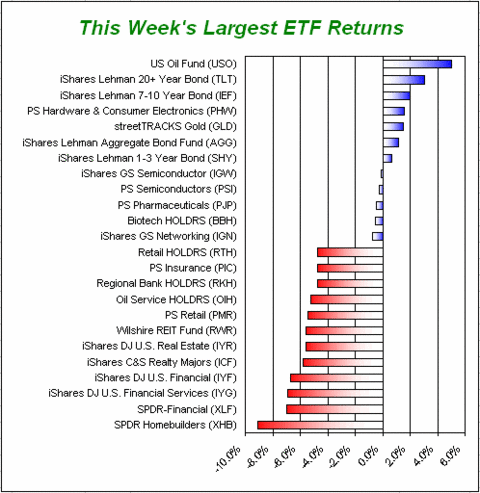 More than 90% of the ETFs on my list are lower, with a number of groups losing 5% or more. The SPDR Homebuilders (NYSEARCA:XHB) was the weakest area, along with funds related to real estate. Following the Fed rate cut, we saw an attempted rally in homebuilding stocks. That rally failed to last more than a couple of days and now the XHB is back to making new all-time lows this week.
Financials also struggled this week, with little help from the earnings front after neither Citigroup (NYSE:C) nor Bank of America (NYSE:BAC) had good things to say. Meanwhile, an SEC probe into sales of Countrywide Financial (CFC) shares made by Angelo Mozilo didn't help the sector either.
Aside from some disappointing earnings reports, a look to the top of the list shows another point of anxiety - a rally in oil. The US Oil Fund (NYSEARCA:USO) tops the list with a gain of 5% on the week. Given that the S&P 500 (SPX) recently hit a new high, I think it is fair to say that the concerns about oil haven't yet really come to fruition. Though, it certainly doesn't make for a feel-good story.
All in all, it is clear that this week wasn't exactly a "strong one" but as regular readers of this column can attest, one week is not enough to judge the big picture. The market staged a strong run-up off the August lows, so a pullback off the highs isn't necessarily a worrisome sign. However, it would be good to see some more positive reactions as earnings season progresses.
Index performance year to date (click to enlarge):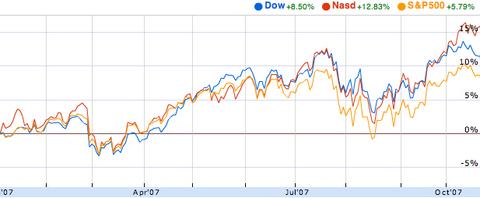 Chart: Google Finance