Despite fantabulous growth data from Google (NASDAQ:GOOG), several Dow stocks cast a pall on the markets Friday, with the Dow off about 200 points as I typed this. 3M (NYSE:MMM), Honeywell (NYSE:HON) and Caterpillar (NYSE:CAT) were leading the charge lower.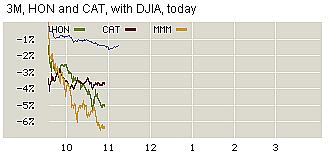 I have to find the source, but S&P has also reported that this will be the 1st quarter in 5 years that will see negative year-over-year earnings growth.
As we noted Tuesday morning, the option expiry gamma is also adding downwards pressure to indices, as options traders hedge their exposure (these moves typically reverse the next day).
Marketbeat observed:
It's an earnings-driven breakdown on the Dow Jones Industrial Average today, as three of the four components that reported prior to today's opening were responsible for a good chunk of the losses on the 30-stock average in the morning . . .

Among those issuing clouded guidance was industrial equipment giant Caterpillar, which was down 3.5% % after the company missed expectations and lowered forthcoming guidance. Fellow components Honeywell and 3M are worse, falling 4.6% and 6.5%, respectively, as the latter said it would be slowing its pace of stock buybacks.

Combined, the three stocks account for 96 points of negative drag on the Dow, with 3M's massive drop making up 50 points of that fall-off. The lone earnings reporter to buck the trend was McDonald's, which was off fractionally, contributing little to the Dow's move.
Ouch.
The Dow's Three Stooges
David Gaffen
Marketbeat, October 19, 2007, 10:55 am
http://blogs.wsj.com/marketbeat/2007/10/19/the-dows-three-stooges/