Longtime readers know that I am a lifelong Red Sox fan. J.D. Drew's first inning grand slam in game six reminded me of something related to portfolio construction. Drew had a disappointing first year in a big five year contract. Every time he has come up in the post season, I have said the same thing to Joellyn: he will do one big thing and that will be it. The grand slam was it.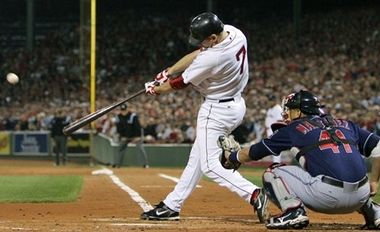 The Sox have held him for months now, and he had added less than expected to the overall result. He then came through big, very big, in one instance. It may be months before he does anything big again.
Anyone owning individual stocks could probably apply the above description to a couple of stocks owned. I have several that fit this bill, including a couple of big cap healthcare stocks. Each of the health stocks have had their post-season grand slam moments - one in the fourth quarter of 2005 when it went up 20% and the other this past summer when it went up a little as the market was puking down.
As the months go on and they do nothing price-wise, they do each kick off a small dividend.
I don't believe either of these stocks are bad companies, but rather I think the issue is top-down. Most of big pharma has struggled more often than not in the last few years. As I believe in maintaining a diversified portfolio, I hold on to the names.
While there is no way to know if J.D. Drew will ever do anything important again on the field, big cap pharma will do something important in the portfolio again, even if I am totally wrong as to when that happens.
This sets up a point I have made before. You don't have to be so narrowly correct when you maintain a diversified portfolio. If you only own six of the big ten S&P 500 sectors you really have to be right about those six. If you are correct, you will probably get great returns - but you have more riding on your opinions, which makes the job more difficult.