As most investors understand, a smaller capitalization company with limited history can often be a risky proposition. It is rare that there is a smaller cap company with a strong business profile, strong cash flow, and a solid business plan that pays investors a dividend to help offset that risk. Enter STAG Industrial Inc.
STAG Industrial, Inc. (NYSE:STAG) is a self-administered and self-managed, full-service real estate company. The Company is focused on acquisition, ownership and management of single-tenant industrial properties in the United States. Its 101 properties include 45 warehouse/distribution properties, 29 manufacturing properties and 27 flex/office properties. On April 20, 2011, the company completed their IPO of 13,750,000 shares. On May 13, 2011, the underwriters exercised their option to purchase an additional 2,062,500 shares stock at a price of $13.00 per share. (All charts from company presentations, stock charts from Yahoo!, data is from Bloomberg and BMO with other information provided from the company's 10k - links to documents at the end of the article)
STAG - Quick portfolio statistics:
| | |
| --- | --- |
| Number of Properties | 107 |
| Total Square Feet | 17.6 million |
| Number of States | 28 |
| Weighted Average Lease Term | 5.6 years |
| Occupancy | 93.2% |
| Average Building Size | 164.7k square feet |
STAG's primary investment strategy is to acquire individual Class B, single tenant industrial properties predominantly in secondary markets throughout the United States through third party purchases and structured sale-leasebacks. Why pursue this strategy instead of a Class A, primary market strategy? The company believes:
Single-tenant properties generally require less expenditure for leasing, operating and capital costs per property than multi-tenant properties.
Class B industrial properties tend to have higher current returns and lower volatility than Class A industrial properties.
Secondary markets generally have less occupancy and rental rate volatility than primary markets.
Tenants in STAG's target properties tend to manage their properties directly, which allows them to grow their portfolio without substantially increasing the size of their asset management infrastructure.
Putting their strategy in action, STAG has been growing its portfolio as it sees opportunities within the industrial space:
In December 2011, it acquired 307,000 square foot, warehouse and distribution facility located in North Jackson, Ohio.
In March 2012, it acquired 145,000 square foot, warehouse and distribution facility located in East Windsor, CT.
In March 2012, it acquired approximately 225,000 square foot, warehouse and distribution facility located in South Bend, IN.
In March 2012, it acquired 129,325 square foot, warehouse and distribution facility located in Lansing, Michigan.
In April 2012, it acquired approximately 409,600 square foot warehouse and distribution facility consisting of four adjoining buildings located in Spartanburg, South Carolina.
Diversity is important with any company or REIT, but it is essential in a smaller capitalization company. STAG has a well diversified portfolio by geography and tenant industry.
STAG is located in 28 states and is, therefore, geographically diverse: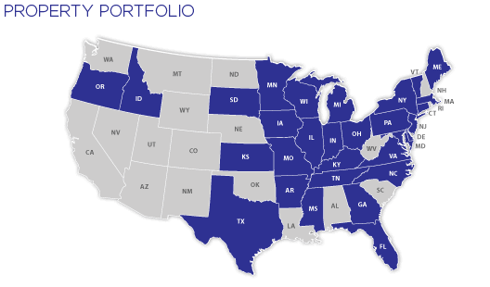 The company is also diversified by tenant industry (as well as by tenant as their top ten tenants comprise only 28% of their portfolio):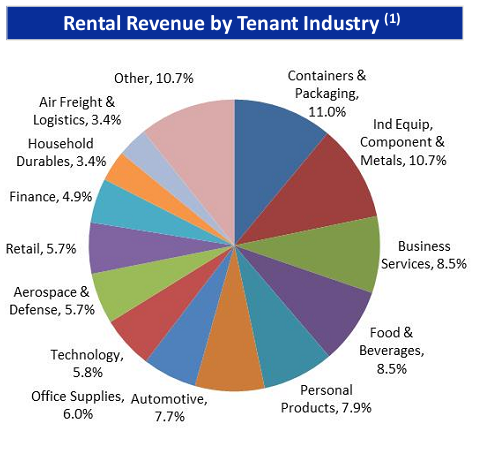 STAG's lease profile is decent, with chunkier years occurring in 2016 and 2017, but even these years do not cause significant concern:

With an overview of the company in place, let's look at their capital structure: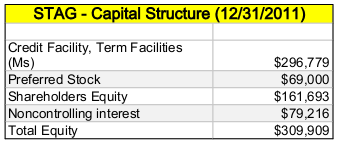 The company has a very straightforward capital structure, which makes STAG easy to understand - which is key with a newer, smaller company.
Debt:
While the debt portion of their capital structure is not freely tradeable, it is important to understand the financial covenants associated with their borrowings (emphasis mine).
Credit Facility:
Financial Covenants: Our ability to borrow under the credit facility is subject to ongoing compliance with a number of financial covenants, including:: (i) maximum leverage ratio of total liabilities to total asset value not exceeding 55% (provided that such percentage may be increased above 55% but not greater than 60% for two consecutive quarters not more than once during the term of the credit facility), (ii) the ratio of consolidated EBITDA (as defined in the agreement) to consolidated fixed charges shall not be less than 1.5 to 1.0 through the quarters ending December 31, 2011 and March 31, 2012, increasing to 1.75 to 1.0 as of each quarter thereafter, provided that following satisfaction of the appraisal condition for the collateral pool such ratio shall be reduced to 1.75 to 1.0, (III) maximum recourse indebtedness of no more than 15% of total assets, and (iv) tangible net worth of not less than 85% of tangible net worth at the closing of our initial public offering plus 75% of future net equity proceeds along with other covenants which generally limit or restrict investments in unconsolidated joint ventures, mezzanine loans and mortgage receivables, unimproved land, and other investments which are not core to our investment focus. In addition, the credit facility prohibits the direct and indirect subsidiaries of our operating partnership which own properties that are mortgaged to secure the credit facility from incurring indebtedness or guaranteeing debt, other than the credit facility itself.
Term borrowings:
The Wells Fargo Master Loan, CIGNA-1, CIGNA-2 and CIGNA-3 facilities contain provisions that cross-default the loans and cross-collateralize the properties secured by each of the loans. In addition, each of the CIGNA-1, CIGNA-2 and CIGNA-3 facilities requires a 62.5% loan to value (including all acquisition costs) and a debt service coverage ratio of 1.5x, each measured at acquisition, but not as continuing covenants.
Bottom Line: As you can see, their lenders have financial covenants in place that are flexible enough for the company to operate and grow, but rigid enough to keep the company from over-extending themselves. Unfortunately, the majority of this debt is not tradable, even to institutions.
Preferred Stock:
STAG has one series of preferred stock outstanding, the Stag Industrial, 9.00% Series A Cumulative Redeemable Preferred Stock. Liquidation preference is $25 per share, redeemable at the issuer's option on or after 11/2/2016 at $25 per share plus accrued and unpaid dividends, and with no stated maturity.
Preferred data is as follows:
Price: $25.79 (of which approximately $0.18 is dividend)
Redemption date: 11/02/2016
Current Yield: 8.72%
Clean Yield: 8.79%
Yield to Call: 8.29%
Bottom Line: I like this preferred. I think the yield compensates an investor for the risk of a newer, smaller REIT. This is a preferred I will look to place in my own portfolio. This preferred should be considered by income investors or for part of the income component of a portfolio.
Equity:
One has to keep in mind that the company has been public for approximately one year, which does not give them a significant operating history in their current form. Here are the equity statistics and peer comparison using Prologis Inc. (PLD) and First Industrial Realty Trust (FR) as peers.: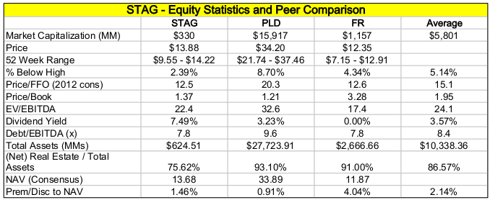 As you can see, they are significantly smaller than some of their peers. STAG is not a "Graham" value play as it trades above book value and at a slight premium to the consensus net asset value. I do, however, believe that the company has the right approach to their business and has the potential to appreciate going forward. Along with the growth in value of the company. STAG pays a healthy 7.49% dividend yield - one of the highest among the equity REITs (which is understandable due to their short history and smaller market capitalization).
Bottom Line: I think the equity makes sense for many investors that are looking for both growth and income. The company is not overvalued at the present time and presents a buying opportunity even near their 52 week high.
Bottom Bottom Line: I like the sector (see my piece on swaps into industrial here) and I think STAG represents a solid holding in a REIT portfolio or an income portfolio.
Links:
Investor Presentation March 2012
Disclosure: I have no positions in any stocks mentioned, and no plans to initiate any positions within the next 72 hours.