My articles The Darkest Star in the Commodities Boom and The Rebalancing of the US Coal and Natural gas Industry sparked off a heated debate. Fellow SA contributor Paulo Santos held a bearish view and wrote The Problem With Coal and Little Reason For Optimism On Coal. The debate prompted Paulo to write On Coal Not All That Can Be Counted Counts.
I'd like to further clarify things and supplement missing information. Kudos to Paulo for a link to this Market Chatter by FBR and Nomura, which I think is significant:
1. Most of the utilities that can switch to gas (from coal) have already done so.

2. US coal exports came close to tripling in March compared to the year-ago.
But first, the chart in my last article did not show good correlation between the gas storage lows and peak injections as I claimed. I failed to take into account the storage capacity growth over the years. Once that is taken care of, the inverse correlation is quite obvious. See the data table and revised chart below.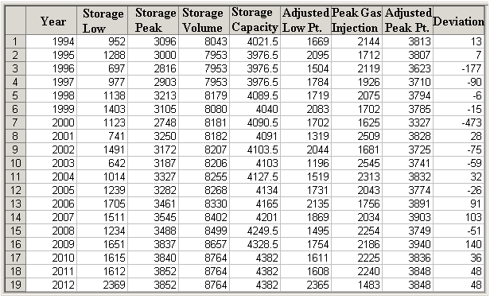 The gas storage data from EIA is summarized in the table above. The unit is BCF (Billion Cubic Feet). Storage Low is the lowest storage level during the year; Storage Peak is peak position in the following fall. Storage Volume is what EIA calls total storage capacity. The different name is used because when people talk about storage capacity they refer to work gas only. The storage volume includes both base gas and work gas and reflects the overall physical capacity to store gas. Read EIA for details.
I defined a new quantity called Adjusted Low Point, which is the storage low, adjusted based on storage volume available:
(Adjusted Low Point) = (Storage Low) + 8760 BCF - (Storage Volume)
The rationale for the adjustment is when storage volume is higher; there is more room to push gas into the caverns so we should adjust the low point to lower than the reading. Peak Gas Injection, the net amount of gas injected during the injection season, equals to the Peak Storage minus Storage Low.
The data pairs of Adjusted Low Points and Peak Gas Injection are plotted below, showing a nice inverse linear correlation: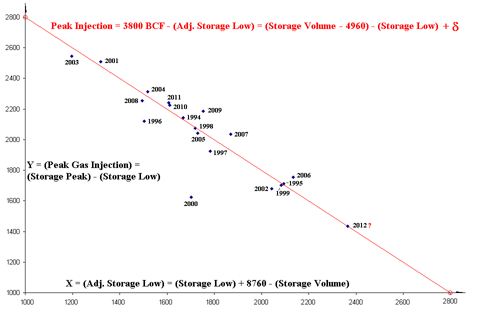 Most other data points deviate less than 100 BCF from the prediction, except for year 2000 with a -473 BCF deviation. I believe some caverns might have gone through construction in 2000 so the injection had to be adjusted significantly lower than normal.
The inverse correlation shows that wherever the storage low point is, depending on random factors like winter weather, the natural gas industry will adjust production accordingly, with a target of hitting storage peak at roughly (Storage Volume - 4960) = 3800 BCF. Why 4960 BCF? The storage volume today is 8764 BCF. Roughly half of it, 4410 BCF, is the work gas storage capacity. Thus 3800 BCF is the targeted peak storage level with a safety margin of 600 BCF.
Using this correlation I predict by the fall of 2012 we will have a net injection of 1435 BCF and reach peak storage at 3804 BCF, with a possible deviation of no more than 100 BCF, and safely below the maximum storage capacity of 4410 BCF.
Back to FBR's claim that utility companies have already switched as much coal generated electricity to natural gas (NG) as they can. Can we prove it from the EIA data?
The US coal-base electricity capacity is 319 GW and that NG-based is 439 GW. In January of 2012, 129 TWH were generated from coal and 91 TWH from NG. The month has 31 days and 744 hours. So the coal generator utilization rate was 54.4% and the NG turbines were running only 28% of the time.
Why the coal generators were run almost twice as often as the NG turbines in January? The NG turbines are designed to sit idle during non-peak time, and be turned quickly on and off during peak hours to provide extra boost. Coal generators respond much slower so they much be kept running 24 hours a day. That is the way that the utility industry works.
The myth that utilities are switching from coal to cheaper gas is debunked! They do not pay the $2.0 spot price. They pay double that. One ton of coal equals to 14.85 mmBtu of NG in generating electricity. The utilities paid $3.81 per mmBtu for NG, which equals to $56.58 per ton of coal. The Appalachian coal is $57 per ton now. Thermal coal from other areas might be much heaper.
So the truth is even at record low NG price, there is still no price incentive to switch from coal to gas. Why people thought utilities are switching? Because they saw record low NG spot price and that gas usage was up while coal usage was down. The NG usage has nothing to do with price. It is just seasonality. During hot summer months NG turbine utilization can go up to 37%, and during the winter it can go low to 14%. The January 28% utilization is just a moderate peak hour usage level.
The weak coal demand and stronger NG demand in the past few months may actually be entirely attributable to exceptional winter weather conditions, not due to price difference. This is good news to coal investors. Seasonal conditions are one-time events only.
With existing equipment, the utilities have little incentive to switch more coal usage to gas. They might burn more gas is if they install more natural gas turbines. But current electricity spot price is only 1.5 cents per KWH, a record low. Despite of recent political rhetoric to effectively outlaw new coal plants and force new plants to use NG, no utility will spend big money to replace equipments amid low electricity price. It is not time for banks to the lend money, either. The free market principles will ultimately prevail over politics.
Some people jump to sell coal mining stocks in fear of what Obama will do to coal. President Bush once pitched ethanol in his State of the Union Address. So people rushed to buy Pacific Ethanol Inc. (PEIX) at $40 a share. Soon after that, PEIX filed bankruptcy. You should not let the US President tell you how to invest your money.
Paulo said there is little reason for optimism on coal. I think there is very little reason to be pessimistic in coal:
The price incentive myth is debunked. The real price of NG at the utility is not cheap. The NG turbine usage is only 28%.
The coal usage down and NG usage up is not a switch. The utilities run their power plants based on seasonality. It's due to exceptional weather condition that is behind us now.
We have lots of good reasons to be optimistic on coal:
The NG industry has always been able to adjust production to ensure we do not over-shot the peak storage level while ensure adequate supply. There are plenty of months before October, so there is no chance the storage full condition will actually occur by October, like many claimed.
The US coal industry has always been prompt in adjusting coal production based on demand. In first week of 2012 the US coal production was up +2% from last year, in the week ending Mar. 31, 2012, the production was down -16.2%. The cut is swift.
US exported an unprecedented 107M tons of coal last year, accounting for 11% of US production. Now the market chatter said US coal export in March of 2012 nearly tripled. That's huge!
Australia imposed mining tax to limit coal exportation and they are experiencing difficulties due to flood, and worker strikes.
Indonesia imposes heavy taxation to limit coal export. This island country, having a mere 0.6% of global coal reserve, should not be in the coal export business to begin with, let alone claim to be the world's No. 2 exporter!
China's recently released its five year plan for the coal industry, indicating that it is acutely aware of the conflict between coal and water resources, vowing to cap domestic coal production and encourages importation.
China's Q1, 2012 coal importation is up +88.7% from the same period last year. According to custom stats, tonnage of all goods imports in Q1 is up + 17.6% from last year. Some must be coal.
Amid daily reports of coal mine accidents, China ordered all coal mine of 90K tons or below annual production capacity to shut down and carry out safety maintenance. These account for 25% of China's coal production capacity. If more accidents are reported in the next few weeks, a much wider crack down will be ordered impacting much of China's coal production.
Recent Indonesia strong earthquake may impact coal exports. There is a sense of panic amongst international buyers.
China, India, Japan all desperately looking around the world to buy more coal. The only country that can provide for that need is the USA, second largest coal producer in the world.
The US natural gas market will rebound, but I warned in the past, The United States Natural Gas (UNG), or United States Oil (USO), or for that matter any paper-based ETFs are never good long-term investment vehicles. I have some reservation on natural gas and oil companies like Chesapeake Energy Corp. (CHK), ConocoPhillips (COP), Anadarko Petroleum Corp. (APC), EOG Resources Inc (EOG), Devon Energy Corp. (DVN), Baker Hughes Inc. (BHI), Transocean Ltd. (RIG), BP plc. (BP) and Exxon Mobil Corp. (XOM). I don't see big discounts on the above names so why buy them?
The US coal sector is much better. All coal mining shares are at give away deep discounts. The sector is poised to rally more explosive than the 2007/2008 mini coal rally. The turn around is now.
These are the US coal stocks to buy: James River Coal Co. (JRCC), Patriot Coal Corp. (PCX), Arch Coal Inc. (ACI), Alpha Natural Resources Inc. (ANR), Cliffs Natural Resources Inc. (CLF), Peabody Energy Corp. (BTU), Walter Energy Inc. (WLT).