With both Ux Consulting and TradeTech boosting their spot price indicators for uranium this week by US$3 to US$78 per pound, the freefall in the short term spot price of uranium might have finally turned a corner. After peaking at $136/lb in June 2007, the spot price had plummeted to $75/lb until last week, when it rose (by $3/lb) for the first time in 17 weeks according to Ux Consulting.
In response to the price increase, RBC Dominion Securities analyst, Adam Schatzker wrote in a note released on October 17th:
With a spot price increase of $3/lb and relatively robust volumes, we believe we are seeing real renewed interest in the market. Buyers over the past two weeks have been of mixed types (e.g. utilities, speculators, traders) and we are hearing rumours that a utility is looking for first core material on the spot or term market. We believe utilities will continue to reenter the market as their 2008 spot requirements materialize. With this increased level of demand we expect the spot price will continue to trend upward. Given our forecast for a balanced market, we think that spot prices will rise with demand.
If the spot of uranium really has turned for the better, maybe we should focus our attention on some leveraged way to play it. This brings me to Uranerz Energy (AMEX: URZ). Uranerz has uranium properties in Saskatchewan (Canada), Mongolia and Wyoming (U.S.A.). It's most advanced projects are the Hank and Nichols Ranch projects, in the central Powder River Basin of Wyoming. Wyoming's Powder River Basin is presently the largest uranium producing area in the United States. Conventional mining for uranium in the Powder River Basin of Wyoming was conducted from 1955 to 1985. Commercial scale ISR mining commenced with Wyoming Mineral's Irigaray mine in the late 1970s. ISR mining has been ongoing since 1987, with production coming from Power Resources Inc.'s Highland and Bill Smith mines in the Southern Basin and from Areva's Christensen Ranch mine in the Pumpkin Buttes district. Power Resources Inc., a wholly owned subsidiary of Cameco Corporation, is currently operating at the Bill Smith and Highland mines. Areva's Christensen Ranch mine is presently on stand-by.
The company has 43,673,187 fully diluted shares outstanding, as of September 30, 2007 and between Mr. Catchpole (President and CEO), Mr. Hartman (Senior Vice President & Chief Operating Officer) and Mr. Brown (Senior Vice-President of Exploration), the company has a total of 45 years professional experience in Wyoming in in-situ recovery [ISR] exploration and mining. Did I mention that Uranerz Energy is aiming to be in production by 2010 at an initial rate of 750,000 pounds per year rate?
To read more about Uranerz's management, visit that page on their website.
The following is a short interview I did with Mr. Glenn Catchpole, M.S., P.Eng. - President & Chief Executive Officer of Uranerz Energy - on October 18, 2007.
Now that the price of Uranium has gone from $135/lb to $78/lb, what are your thoughts and outlook on it?

A: We are not experts on uranium spot price forecasting, but from what we have read on the topic, we remain optimistic that given the quality of our uranium properties in Wyoming, our production costs will allow us to have a respectable positive cash flow even using the most gloomiest of projections by the experts. I just finished presenting a paper at the Nuclear Energy Institute International Fuel Seminar in New Orleans and one market expert forecasted that we saw the bottom of the spot price at $75/lb. Another positive factor is that the long-term price has stayed at $95/lb.

Tell me a little bit about the status of your main (Hank and Nichols) projects? (Are you expecting any drill results to come out soon etc?)

A: As previously announced we have commenced the preparation of the environmental permit applications on Nichols Ranch & Hank and plan to submit those applications before the end of the year. Drilling continues on Nichols Ranch and on certain of our other Powder River Basin properties. An announcement on the results of the recent drilling is expected in the near term. We remain very pleased with the results we are seeing on these two properties.

Since I haven't seen or heard too much about Uranerz compared to some other Uranium juniors, is the company planning to a promotional tour, or host analyst visits to garner more attention from the brokerage community?

A: You are right, and I frequently get asked the same question despite the fact that we have been frequently attending investor shows, and Dennis Higgs and Lloyd Jacobs have spend a lot of time in the past few months visiting investor types in New York, Boston, San Francisco and elsewhere. We think part of the problem is that until recently we were only listed on the Amex and the Frankfurt exchange. Now that we have recently listed on TSX, we believe that this will increase our exposure in the Canadian markets, where there are many sophisticated commodities investors. In early November, we will go to Toronto to participate in the Company's new listing ceremony at the opening of the TSX, and while we are in Toronto, we will spend the remainder of our time introducing ourselves to the Canadian investment community, visiting fund managers, institutions, etc.

What does Uranerz's treasury look like - are you going to have to go to the markets to finance the Hank and Nichols projects?

A: Currently we stand at about $13 mm plus. We are considering various financing options to fund our continuing activities in Wyoming and elsewhere, including our Cap-Ex requirements for Nichols R. and Hank. We cannot comment further on possible sources of funding at this point, but we are confident in our ability to secure the financing required to fund all of the Company's continuing activities going forward. G.C.

Are there any upcoming catalysts or major events for Uranerz in the coming weeks or months?

A: As you can probably appreciate, as a public company, we can not answer this question other than as previously publicly disclosed. I would, however, refer you to our recent press release of September 19, 2007, in which the Company announced the execution of a definitive agreement to acquire further property interests in the Powder River Basin, WY. We believe this acquisition is a highly significant event for the Company.

Lastly, do you think Uranerz Energy is undervalued - if so, why?

A: Of course. We believe we are undervalued because of our confidence in the property position that we have in Wyoming. However, we appreciate the fact that investors may not think we are undervalued since our evaluation of these properties is ongoing, and we do not yet have the current data to provide the disclosure that substantiates our optimism.

Thank you Mr. Catchpole and Mr. Jacobs!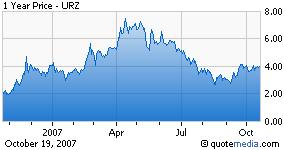 Disclosure: none