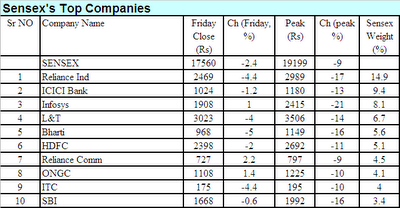 I was checking some data, and came across this intriguing set of numbers. These are the top 10 companies in the BSE Sensex.Together, they carry 65% weight in the index.
Now check the sixth column. Barring one, Reliance Comm, all the others have fallen farther from their peaks than the Sensex. Now, part of the explanation has to be that all of them did not peak the day Sensex peaked. Infy (NASDAQ:INFY) is one such example. IT companies have fallen over the last few months with rise of the rupee. So these companies did not participate in the latest Sensex run.
Yet, I am at a loss for an explanation. All Sensex leaders are more off their peaks than the Sensex itself.
This seems to suggest a temporarily spent market. Different companies have taken the market lead at various points (and this is perhaps natural). The last 3000 points or so was largely Reliance Group companies, and maybe a little bit of L&T and Bharti. At this point, it appears none of them are ready to lead the market, given how they are off their peaks more than the market.
The contenders in this group may be Infosys and the banks. Of course, the exchanges can try the other trick as well – get a DLF into the index, and hope it can lead the next round of the rally.