Apple (AAPL) is expected to report last fiscal quarter's results after the closing bell on April 24, 2012. We can review how Apple has performed recently.
Who They Are: OK, if you have been "away from it all," you may not know Apple and if so here is the quick version. The company was founded in 1976 and is headquartered in Cupertino, California. Apple trades an average of 25.2 million shares per day and has a market cap of $568.5 billion. This makes Apple the most valuable company by market cap.
Book Value: $96.60
Float Short: 1.04%
What To Expect:
On average, 32 analysts are expecting a drop of $-4.01 in earnings per share compared to last quarter's results of $13.87. A surprise above $9.86 per share will top the estimated per share earnings. Wall Street is expecting results within $8.46 and $11.80 per share.
One of the advantages shareholders have going into earnings is the ability to partially hedge gains with the "best of it" from an option premium point of view. You can even even lock in your current gains for little or no cost.
As I look at Apple trading at about $607 we can sell the May $625 calls for about $24 per contract. This means Apple must trade by the expiration date (third Friday in May) above $649 a share for this type of hedge to be a losing idea. At the same time and likely more important for many investors is selling a covered call as a hedge provides $24 in downside protection. If Apple doesn't fully give Wall Street the "wow factor" and shares drop in price, the first $24 of the drop is paid for by the option buyer. One last point about selling calls into earnings: There is no rule that says you have to hold the call position to the expiration date. If you sell calls now into earnings you are likely to see a big drop in time premium the next trading day after earnings come out. Even if Apple moves higher in price, you could still end up making money on the calls you sold.
Another idea that may make sense for some investors is a combination of selling a covered call and buying a put option for insurance in case Apple really misses (or something else happens). Looking at May puts (a put gives you the right but not the obligation to sell a stock to someone else) you can buy the $565 strike for about $14.50. If you use the premium gained from the calls to pay for the puts you limit your upside into earnings but you also are able to limit potential losses if Apple trades below $574.50. Knowing your downside is $574.50 can help make for a lot better sleep for some people. If you believe Apple will come out the other side similar in price to today's price this may make sense as well. You make money if the price stays the same and you have protection in case it doesn't and drops.
Take a look at what Apple has done in performance up to now to help you decide. I also provide ideas to the Roccco Pendola newsletter if you would like other option ideas.
Recent Stock and Valuation Performance:
The P/E ratio has been under pressure, as the current trailing twelve months P/E ratio is 17.4, while the forward P/E ratio is now 13.84. It will be interesting to see if pricing is currently at a discount, or if the market has been correct to price in lower growth expectations.
The stock has moved higher in price 0.62% in the last month, and changing from last year at this time 83.73%.
Here is a look at the fiscal year revenue.
(Click to enlarge)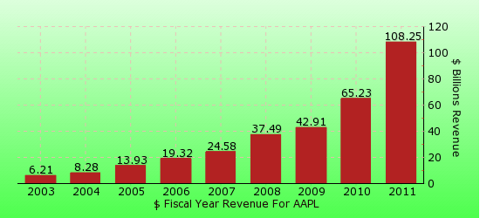 It is clear to see the stock is performing much better than the overall market with a relative double digit gain. When comparing to the S&P 500, the year to date difference is 36.12%.
The short interest is relatively low at 1.04%.
Here are the last few quarters to get an idea how well they perform compared to estimates.
(Click to enlarge)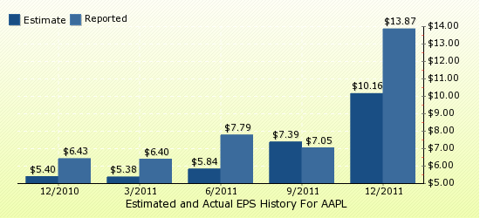 Reported earnings per share compared to the mean estimate. Differences are rounded.
I use information believed to be correct, but is not guaranteed and is not independently checked for accuracy You may wish to use this article as a starting point of your own research with your financial planner. Seeking Alpha, Edgar Online, Zacks and Yahoo Finance provides most of the data.
Disclosure: I have no positions in any stocks mentioned, and no plans to initiate any positions within the next 72 hours.