The American solar power industry took another blow on the chin in the ongoing battle of consolidation on Tuesday as two of its remaining public solar companies took progressive steps toward slimming down operations. First Solar (FSLR) based in Tempe, Arizona, and Sunpower (SPWR) based in San Jose, California, both revealed plans to draw back their production capacity in light of shifting dynamics within the industry.
First Solar announced it would be closing its Frankfurt (Oder) manufacturing facility. It would also idle indefinitely four of its 24 existing lines in Malaysia, as of May 1, 2012. Additionally, it would drastically reduce its global work force by about 30%, cutting 2000 positions worldwide. In doing so, the company expects to save $30-60 million in costs this year, and $100-120 million annually going forward. With these measures, First Solar realistically expects the following cost-per-watt advantages to mature: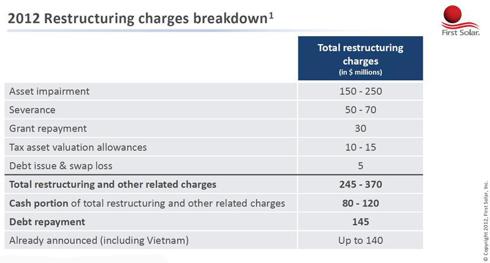 For its part, Sunpower also announced it will take steps to lower its manufacturing costs and improve the efficiency of its supply chain. The company announced plans to implement changes to its manufacturing lines. It also stated that it would re-purpose one of its fabrication facilities based in the Philippines. The company believes that these changes will help to cut production costs to $0.86/watt by the end of 2012.
For months now, falling polysilicon prices have added increased pressure from Chinese PV manufacturers such as Suntech (STE), Yingli Solar (YGE), and Trina Solar (TSL) as each company's cost-per-watt has drastically fallen. Combined from a large glut in inventory, fire-sale prices, and a tense European market, the race for solar companies to stay a head above water has actually worked well for these Chinese companies that have significantly chipped away at the advantages retained by leading thin-film company First Solar.
The breaking of a business model dependent on European subsidies has also hurt First Solar, which is now aggressively pursuing a model aligned with sustainable market opportunities outside of the subsidized economy. European woes and termination movements for existing subsidies surely played a significant factor in the company's decision to close its German facility. Yet the shutting down of the Frankfurt plant helped the company make additional strides in lowering the ever important cost-per-watt factor that is at the heart of the matter.
| | | |
| --- | --- | --- |
| First Solar | Pre-Restructuring | Post-Restructuring |
| 2012 Avg. Module Costs | $0.74/W | $0.70/W - $0.72/W |
| 2013 Avg. Module Costs | $0.63/W - $0.68/W | $0.60/W - $0.64/W |
On Tuesday, April 17, First Solar's announcement of the restructuring sent the company's stock soaring over 14% at one point in the day. The overhaul will serve as a catalyst to help the company meet its efficiency goals and move away from markets becoming ever unsustainable for the foreseeable future. With deep cost-cutting measures allowing the company to strategically retreat, the move was largely seen as a suitable reason to end the bleeding that had allowed for the company's stock to reach new year lows, as it dropped over 80% of its value in less than a year.
With Tuesday's announcement, investors found confidence in a more detailed plan going forward. For First Solar, the significant rise in the share price echoed the support for the company's cutting off of the umbilical cord as it departs from a reliance on the unsustainable European market. While the future remains less than stable for the leading company, the sell-off that had been gathering momentum over the past year appears to finally be stalling. As a company trading well beyond the metrics of being merely undervalued, First Solar's release actually served as a welcome sight for investors looking for a reason to stabilize the share price. For investors in First Solar, it appears that even the lukewarm news sometimes carries a silver lining worth counting on.
Disclosure: I am long FSLR.