There are roughly 1,400 exchange-traded vehicles on U.S. exchanges. And yet, only a small fraction of them (about 5%) can lay claim to $1 billion in assets under management.
These 70-75 influencers often explain the direction of stock, bond, currency and commodity markets. In fact, there have been times when a single asset defines the entire investing landscape.
For example, PowerShares DB U.S. Dollar Bullish (NYSEARCA:UUP) is frequently employed as a "risk-off" portfolio hedge. In the recent past, when UUP moved higher, you could confidently count on equity and commodity weakness. Conversely, when UUP moved lower, high beta assets like stocks soared in what many described as a "risk-on" rally.
Of course, influential indicators change over time. PowerShares DB U.S. Dollar Bullish (UUP) has actually gained ground since late October/early November, even as stock assets have appreciated dramatically in value.
At the present moment, five ETFs that currently reside below respective long-term trendlines (i.e., 200-day EMA) may be holding back riskier assets. While the current weakness in these ETFs do not necessarily portend doom, they certainly portray a less-than-rosy backdrop for risk-taking.
1. Questionable Demand For Materials - iShares MSCI Brazil (NYSEARCA:EWZ). One might think that an investment by the name of iShares Global Materials (NYSEARCA:MXI) could tell you all you need to know about worldwide manufacturing growth. However, iShares MSCI Brazil (EWZ) typically moves in lock-step with MXI, and the trading volume for EWZ is far more robust. Simply put, if China isn't importing, resources-rich Brazil isn't exporting enough to satiate the appetite of global growth investors.
2. Slow-Going For "Big Oil" - SPDR Select Sector Energy (NYSEARCA:XLE). Many analysts have been touting the current market as "earnings driven." Yet price-to -earnings ratios for integrated oil corporations have seldom been this attractive, especially after a horrific 2011 and a 2012 characterized by underachievement. Threats of geo-political interference, additional taxation and regulation may be part of the trouble. More likely, economic contraction in Europe continues to hinder the big daddy of energy, XLE.
3. The Debt Crisis That Keeps on Giving - Vanguard Europe (NYSEARCA:VGK). Some stock funds are within a percentage point of 52-week highs. In contrast, equity investments in Spain and Greece sit near 52-week lows. Ongoing fears of debt contagion spreading to France, Sweden, Austria ... you name it ... have pushed VGK back below a 200-day exponential moving average.
Click to enlarge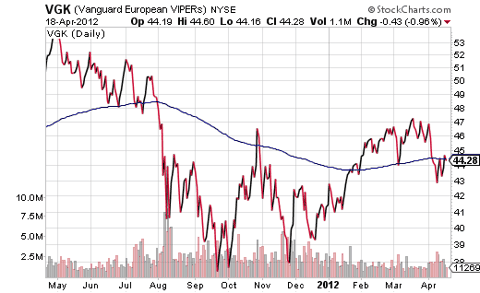 4. How Slow Is Too Slow? - iShares FTSI China 25 Index (NYSEARCA:FXI). There are a wide variety of China ETFs to choose from these days. In fact, I haven't used FXI for exposure to China in many years. Nevertheless, market-watchers, myself included, still pay attention to the price action of this exchange-traded tracker. The fact that the 50-day crossed beneath the 200-day exponential moving average gives some indication of investor wariness of the economic slowdown on the mainland.
Click to enlarge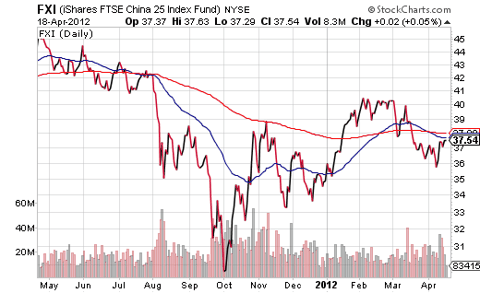 5. The Golden Rule Losing Its Luster? - SPDR Gold Trust (NYSEARCA:GLD). In July and August of 2011, stock assets were so volatile, investors began piling into one of their favorite safe havens from the prior decade. The price on GLD rose 27.5% in a matter of weeks. Since then, however, the yellow metal has bounced between $1,600 and $1,800 an ounce. Neither gold bugs or gold bears have been able to get an upper hand. Right now, though, GLD may be suffering from the collective hangover of weak emerging market demand, a stable U.S. dollar and the possibility that there will be an end to developed world quantitative easing.
Disclosure: Gary Gordon, MS, CFP is the president of Pacific Park Financial, Inc., a Registered Investment Adviser with the SEC. Gary Gordon, Pacific Park Financial, Inc, and/or its clients may hold positions in the ETFs, mutual funds, and/or any investment asset mentioned above. The commentary does not constitute individualized investment advice. The opinions offered herein are not personalized recommendations to buy, sell or hold securities. At times, issuers of exchange-traded products compensate Pacific Park Financial, Inc. or its subsidiaries for advertising at the ETF Expert web site. ETF Expert content is created independently of any advertising relationships.