Shares of capital goods manufacturer Terex Corp (TEX) are up over 70% so far in 2012. While this move is impressive, there are three reasons why TEX will continue to rally.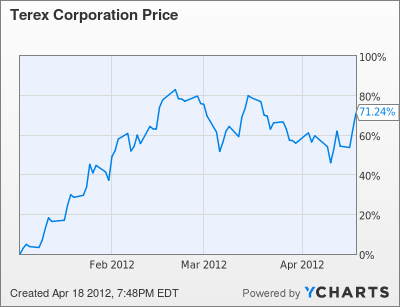 Options Activity
Options activity in TEX today was extremely heavy and bullish. 10,764 April 25 calls were purchased today against open interest of 8,425. Volume of this size suggest that institutional money believes TEX will make a sharp move higher before the end of the week, as the April 25 calls will soon expire. Institutional money is usually smarter, thus worth following.
Short Interest
As of the end of March (when short interest was last updated), short interest stood at just over 15.7% of the float or 14.75 million shares. While this number has likely declined some in April, the short interest likely remain very high. The high short interest means that TEX is a candidate for a short squeeze because investors are skeptical about prospects for the company.
Valuation
TEX trades at just 8.75 times forward earnings and at just 1.34 times book value. Historically, TEX has traded at as much as five times book value.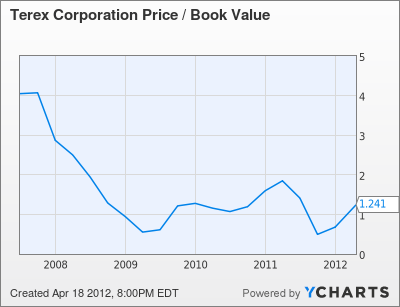 Conclusion
While TEX has had a massive run so far in 2012, it remains likely that the stock will continue to rise. The high short interest, bullish options activity, and valuation point to a higher stock price.
Disclosure: I have no positions in any stocks mentioned, and no plans to initiate any positions within the next 72 hours.