The last time I wrote about the precious metals (PMs) was after the HUI tiptoed across the all important 400 level. I warned of an impending "correction" which turned out shallower than I anticipated. The corresponding move in gold was barely noticeable, and did nothing to the commercial net short positions that has gone nowhere but up since then. Even though the COTs still foreshadow a sharp correction in gold (It's fun to dream that this time the "evil manipulators" get their heads handed to them but in reality trading successes against your bankers come rarely since they know exactly how many marbles you're playing with!), with the HUI having punched through the 400 level decisively, I'm now a foaming-at-the-mouth PM bull over the intermediate term.
My favorite PM companies are now silver juniors that start with the letter "E" – and I'm not joking! I've mentioned Excellon (OTCPK:EXLLF) before, and it just reported some nice drill results again. Endeavour (NYSE:END) is another producing junior highly leveraged to the silver price. Among gold miners, I tend to favor strong mid-tier companies with good charts such as AgnicoEagle Mines Ltd. (NYSE:AEM), Meridian Gold Inc.(MDG), and Kinross Gold Corp. (NYSE:KGC).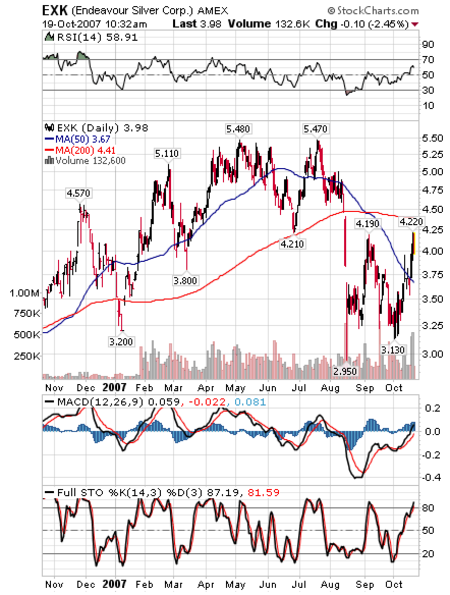 Again, let me be clear that my bullishness is over the intermediate term which goes towards middle to late 2008. Near term, some negative divergences are visible in PMs, as well as oil. However, they are a lot healthier than the financials, such as the brokers ($XBD) and banks ($BKX), or the Retail HLDRrs (NYSEARCA:RTH). They didn't rise to new highs with the SPX, and now all look about to break down.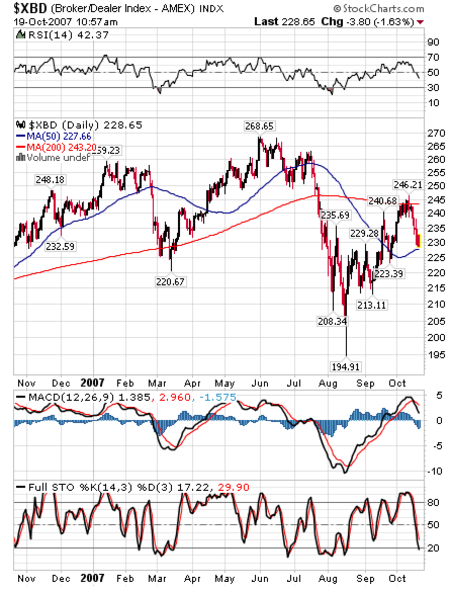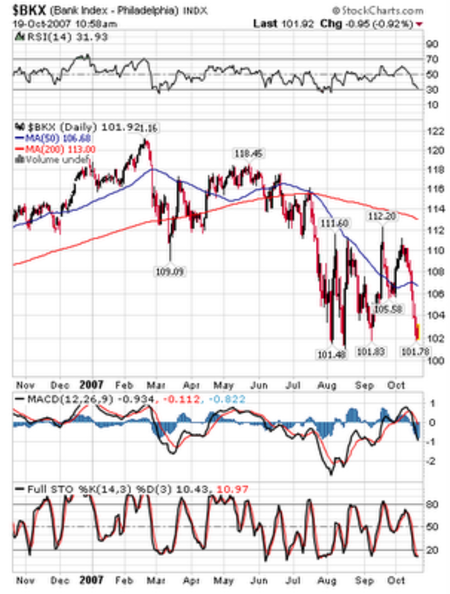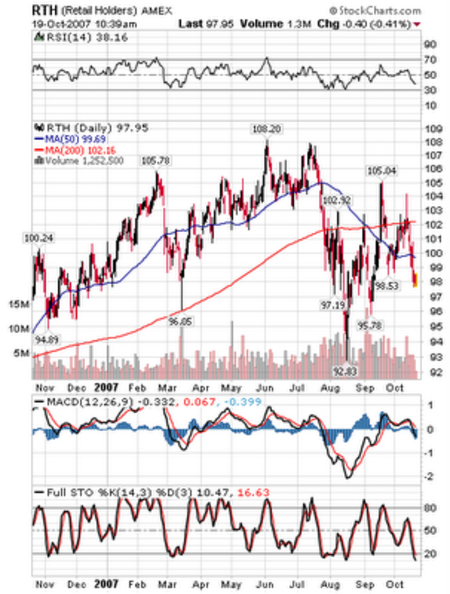 This market rally has been sustained by tech, industrials and energy/materials. Last Tuesday was the so-called "super Tuesday" with Intel (NASDAQ:INTC), Yahoo (YHOO), and International Business Machines (NYSE:IBM) reporting. They put in a solid quarter but the market was nonplussed, which is an indication that this latest rally is petering out.
Recession watch
I have written before that U.S. was on a recession path, and I haven't changed my mind. The housing bogeyman just refuses to go away. CalculatedRisk has been documenting the renewed decline in the ABX indexes which reflect the value of mortgage backed securities. For what it's worth, I personally won't consider buying a house until 2009, and that's me being very optimistic in assuming high inflation will arrest the decline in nominal prices by then.
Last week's commentary from John Mauldin went into the details for computing the GDP. I have just been using the MEW, and residential construction numbers to eyeball the impact of housing on GDP, and thought there was a good chance for a recession if one considers the negative multiplier effect. Mauldin went into a lot more detail, including showing the strong personal income growth this year. The result is a far more complete, and nuanced picture although he came to the same conclusion that although a recession is likely, it won't be a depression that the doom-and-gloomers are calling for.
Recession without a bear market?
Apparently this view is gaining some traction. Rick Santelli (one of the most intelligent commentators on CNBC) even mentioned it the other day. The idea is that the stock market reflects the global growth story, so much so that a little hiccup at home won't be enough to drag down the market. I wouldn't put it past this market, but I personally find it wishful thinking, if only because so much of the global growth is aimed at satisfying whims of the American consumer.
In summary, in the short term there are danger signs in this market. The leaders: tech, industrials, and energy/materials all seem ready to take a breather while the financials, and consumer discretionary are stuck in the down elevator where they belong. I expect recession worries to resurface as 4Q expectations are ratcheted down (don't you love this game?) The $64k question is whether those worries will be realized. Even though I have an opinion, I still find it prudent to treat any dip as the pause that refreshes unless things get really ugly (e.g. if this summer's lows fail to hold). For now, the only "sure thing" I can find is PMs which are going higher be it due to global liquidity or reflation.